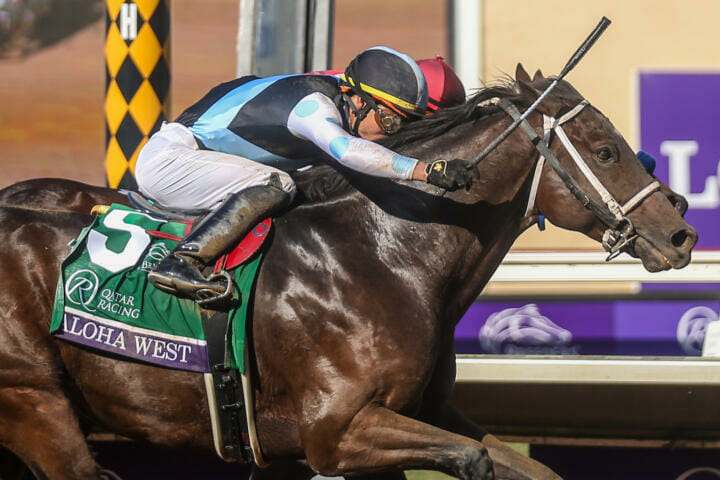 Aloha West to Stand at Mill Ridge After Breeders' Cup
Mill Ridge Farm will add a second stallion to its roster for 2023 in this year's defending GI Breeders' Cup Sprint champion Aloha West (Hard Spun–Island Bound, by Speightstown), according to Mill Ridge's general manager Price Bell.
Owned by Eclipse Thoroughbred Partners and trained by Wayne Catalano, Aloha West is from the family of Fappiano, out of a winner of the six-furlong GIII Winning Colors S. at Churchill.
"Aloha West himself very much resembles this side of his family with the speed of Speightstown and his physical quality and presence," said Bell. "Also, the granddam is a daughter of A.P. Indy, and this provides a wonderful pedigree blend of Danzig through Hard Spun, Gone West through Speightstown, and A.P. Indy. These are three of the most influential sire lines today."
A $160,000 2018 Keeneland September yearling, Aloha West was initially owned by Gary West and trained by Bob Baffert. Turning in impressive works at two, he was injured prior to his first start, requiring surgery. He was turned over to Catalano for his 3-year-old year, and didn't make his debut until February of his 4-year-season, breaking his maiden in his first start. He was purchased by Eclipse Thoroughbred Partners after his next outing. He went on to win five of nine starts that year, culminating with a win in the GI Qatar Racing Breeders' Cup Sprint over champion Jackie's Warrior (Maclean's Music).
"This history of brilliance in training also resembled that of Speightstown, who showed promise as a 3-year-old and was injured and missed his entire 4-year-old season before returning as a 6-year-old and winning the GI Breeders' Cup Sprint," said Bell. "With the speed Aloha West demonstrated winning the Breeders' Cup Sprint, and influence from Speightstown and the Fappiano family, as well as his physical good looks, we expect he will be attractive to commercial breeders."
Mill Ridge was formerly the home of champion sires Diesis (GB) and Gone West, but the farm took a hiatus from the stallion business for several years until Oscar Performance's arrival in 2019.
"To stand another Breeders' Cup winner in Aloha West is a great addition to the farm," said Bell. "He will be located in the Gone West stallion barn and paddock. We are so excited to announce Aloha West as our next Mill Ridge stallion. With his will to win, pedigree blend and outstanding physical presence, we believe breeders will be drawn to him. We think he has an opportunity to contribute to our breed.
"Over the years, we have stood a number of horses, including Bien Bien and Valiant Nature," said Bell, who added that as a smaller stallion operation, they needed to choose carefully. "In the end, we can't make mistakes," he said. "We have to carve our niche. The Amermans gave us a tremendous opportunity in Oscar Performance, who we raised, and we had the confidence we could buck the trend and stand a turf horse in America because he had the pedigree, the looks and the race record." Oscar Performance is currently the ninth-leading first-crop sire by earnings, and has three offspring pointing to next week's Breeders' Cup: GII Castle & Key Bourbon S. winner Andthewinneris; Lachaise, third in the GII Pilgrim S.; and G Laurie, third in the GI Natalma S.
Aloha West's stallion career will be managed in the same way, said Bell. "There are a ton of programs going to lifetime breeding rights, and share the upside, which are great programs and which have changed the market," he said. "We're trying to go the other way and have a traditional 40-share syndicate, with a diverse group of breeders. We're all on the journey together, paying the bills, and giving him the best chance possible. We are trying to price our horses as fairly as possible so everyone can `share the upside.' We said we were going to breed Oscar Performance to 150-160 mares, and we'll do the same in Aloha West."
Bell said that the Eclipse partners would stay in on the stallion. "There is a broad group of Eclipse partners in this horse and they're excited to try and experience the next stage of a horse's career in being a stallion," he said. "Eclipse is excited to provide that opportunity and they're some of the best at bringing people into the business."
Bell said that half of Aloha West would be syndicated. "We all believe in these horses for a variety of reasons and believe they should be given an opportunity at stud, while leaving enough opportunity for others who also believe.
"Aloha West was a great racehorse–a tough, hard knocking, great racehorse," said Bell. "If we're trying to further the breed, we need a greater body of work than just one race. For us, Aloha West and Oscar Performance have given us the confidence that they can contribute to the breed."