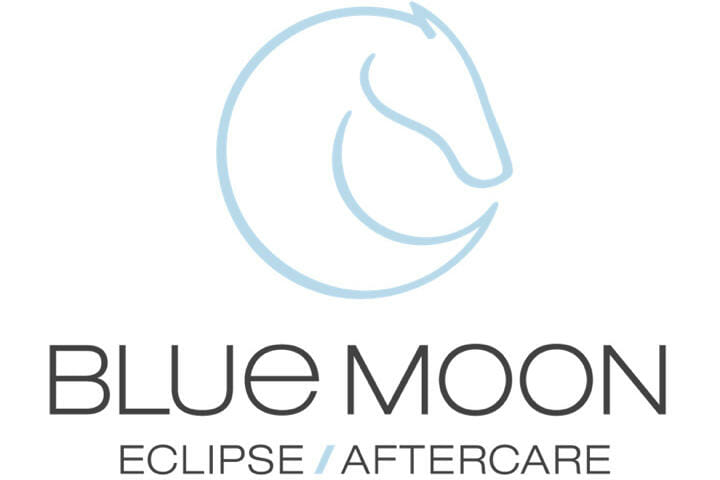 Blue Moon 2020 Happenings
We all know what a challenging year 2020 has been, but despite a global pandemic, the horse racing industry has proven its resilience and thanks in large part to our Blue Moon Aftercare Program, we have stayed true to our mission to do all we can to insure the health and safety of all Eclipse horses, past and present and to contribute to the overall welfare of the industry.
For our Blue Moon Aftercare Program, which was launched in July of 2018, it was a successful year helping horses in need.  Thanks to our partners, who make a contribution to Blue Moon every time an Eclipse partnership is formed, which is matched by Eclipse, Blue Moon has devoted significant funds towards meaningful causes, including donating to relevant charitable organizations, claiming horses in "danger zones" and also responsibly retiring numerous horses to Thoroughbred Aftercare Alliance accredited facilities.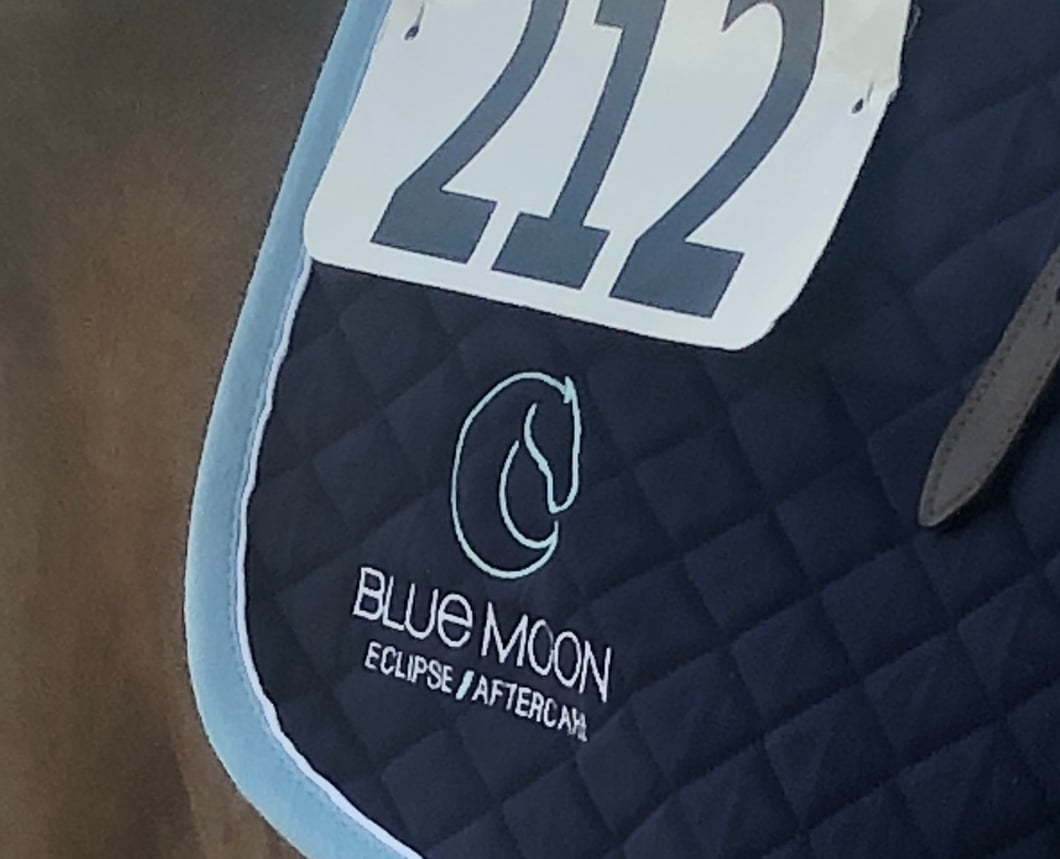 As you know, Eclipse does not consider the aftercare of our thoroughbred racehorses a choice. It is an absolute responsibility which is taken seriously and faithfully acted upon. We think 2020 has been our best year yet and we are determined to improve the scope of the work being done by Blue Moon with each passing year.
Here's a look back at what Blue Moon was able to accomplish in 2020:
$5,000 High Point Award
 We started the year in Aiken, South Carolina at the $50,000 LiftMaster Grand-Prix Eventing at Bruce's Field. Eclipse Thoroughbred Partners and Blue Moon Eclipse Aftercare sponsored the $5,000 HighPoint Thoroughbred Award. The $5,000 purse was divided among the top three finishing thoroughbreds: Mike Pendleton and Steady Eddie 1st, Buck Davidson and Jak My Style 2nd  & Allison Springer and Business Ben 3rd.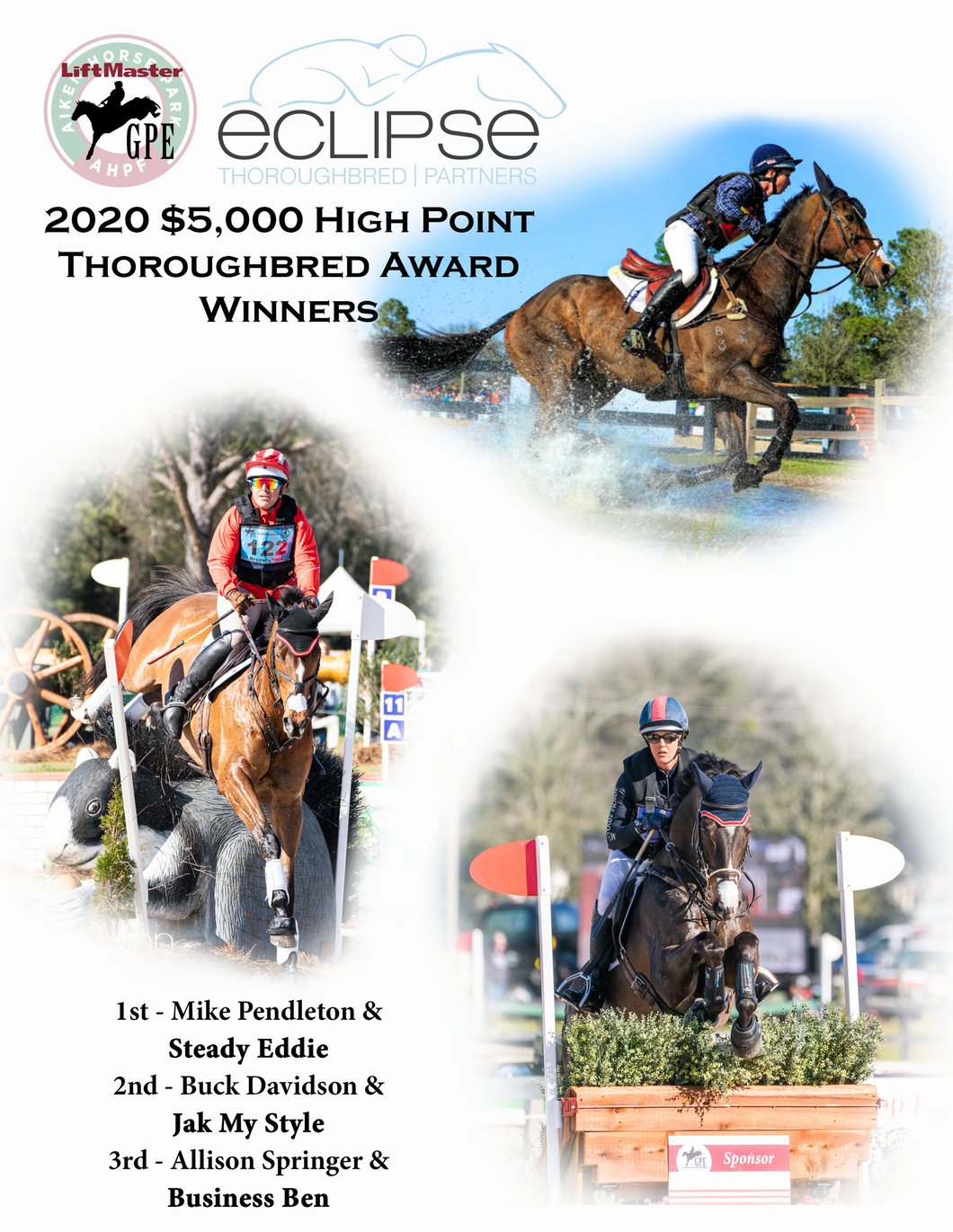 The purpose of this sponsorship was to help shine a light on the Thoroughbred breed in eventing and to showcase what they can do in a second career and to promote the ever-increasing programs rewarding Thoroughbreds in the show world.  The more shows that are willing to cater to Thoroughbreds, the more equestrians will be attracted to adopting Thoroughbreds and we view that as a positive every which way!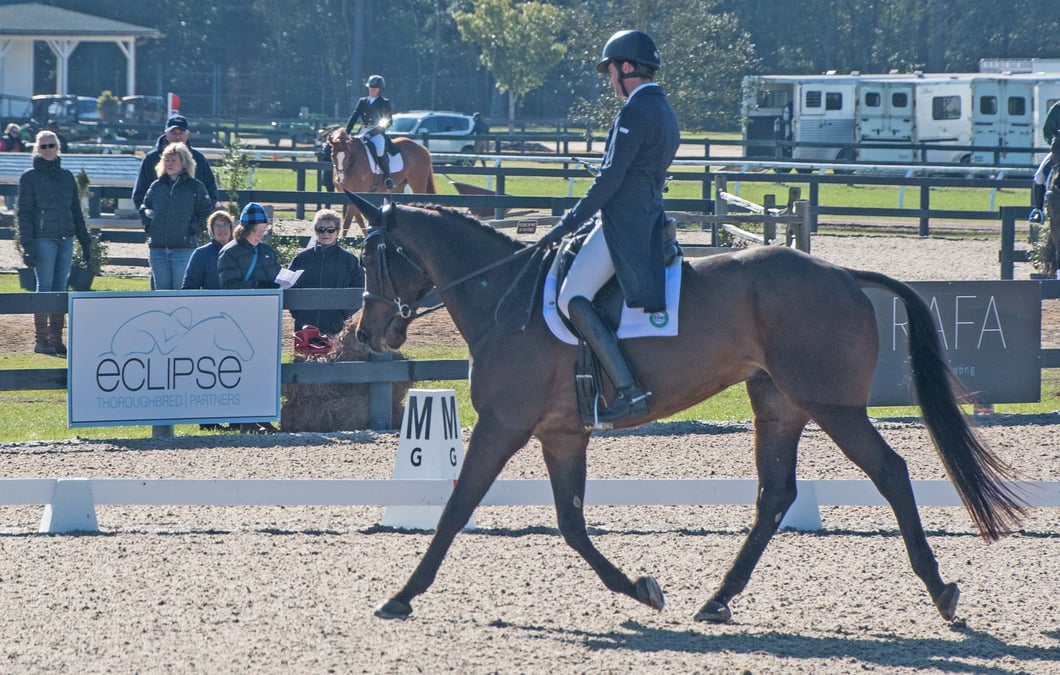 Retiring Our Horses
Shahroze, a Grade 3 winner during his time as an Eclipse team member, was donated to New Vocations after several bouts of bone-bruising throughout his career. He was brilliant and owed us nothing, so we wanted to provide him with the best chance at a great second career. After several months of turn-out and rehab at New Vocations to get him sound enough to embark upon a secondary career, Shahroze is finally up for adoption and he is certain to find a good home soon. You can check out his profile below:
https://www.horseadoption.com/horse_detail/333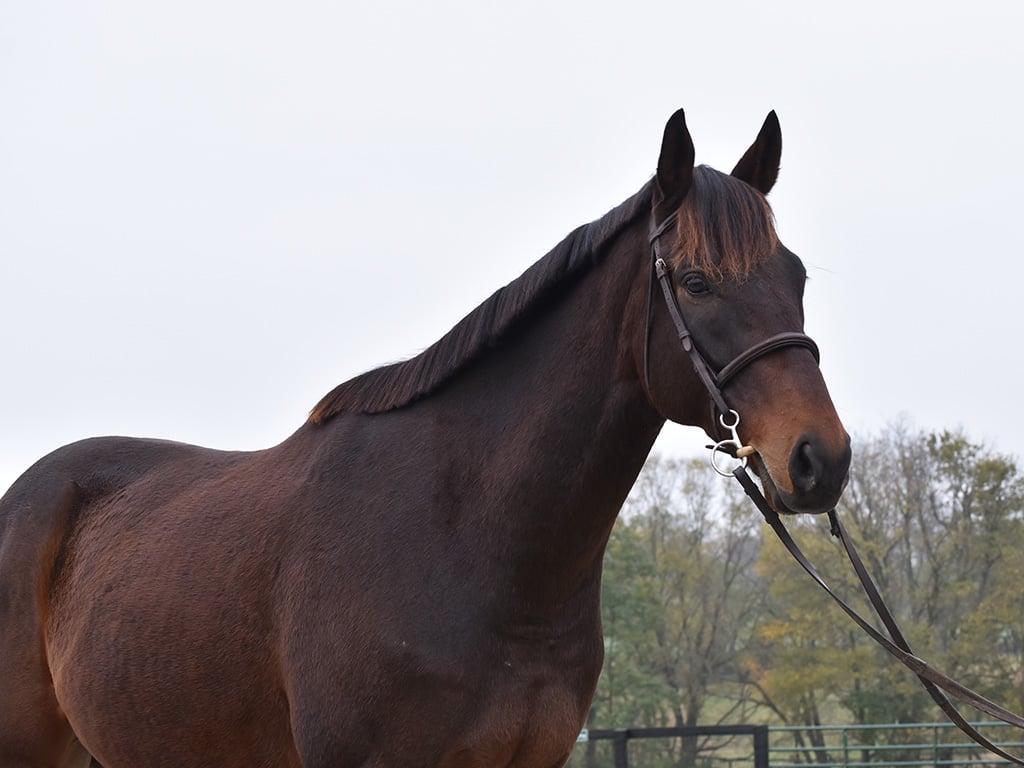 Curlingo, a full brother to our franchise filly, Curalina, was retired in July after a case of the slows. He was not going to be a racetrack star, so retiring him was the right thing to do. My husband, Byron Hughes, is an assistant to Todd Pletcher at Belmont Park and Byron has always wanted his own pony, so we decided to take Curlingo and convert him for pony duty purposes. Three weeks after his retirement, Curlingo was working the morning training sessions at Saratoga under outrider, Pepe. It was clear that he enjoyed this new phase of his life and was thriving. After more training and time, Curlingo eventually began working the races and caught his first loose horse after the runner unseated his rider during the Post Parade. During the Belmont Fall meet, Curlingo continued to work the races and led many winners into the winners circle. One special moment was when he led Happy Saver to Post, marking Todd's first ever Jockey Club Gold Cup Win.  Below is a video of Curlingo in action at Saratoga: https://youtu.be/64H4sU7mnq4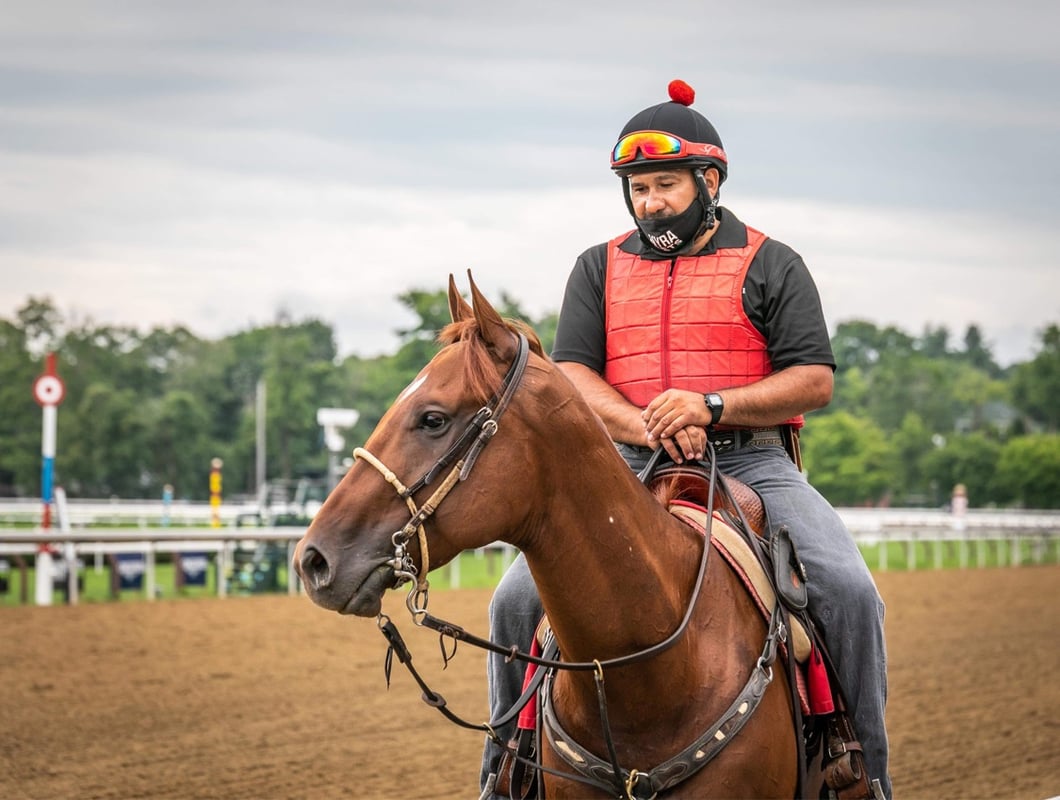 El Dulce was claimed from Eclipse in March of 2020 and we had been watching him since. After a few races and trying to make contact with the trainer and owner to no avail, we decided to put a claim-to-retire plan in motion. Charles Town has proven to be one of the hardest places to find someone to claim. After talking to 4 different trainers, we finally found someone thanks to partner Brittany Warden and Lizzy Benchoff. They both have connections in the Mid-Atlantic region and were able to recommend M. Joanna Boggs who would graciously carry out the mission for us. We had everything ready, the money wired and the claim slip filled out. El Dulce ran 4th and we were the only ones to put in a claim, BUT due to a clerical error the claim was voided. Thankfully, we were able to purchase him after the race and he was safe and sound with Joanna. We donated him to New Vocations where he was quickly adopted. He is now a Hunter and a pleasure horse with a young woman in Ohio. We wish El Dulce the best of luck!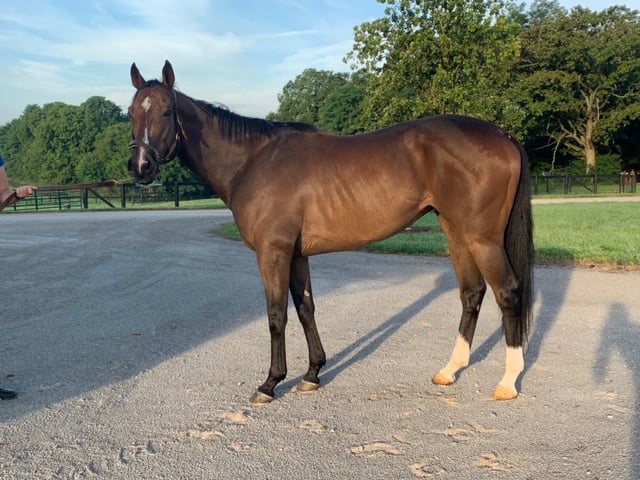 Got Blues (FR) and Celebre (IRE) were both European Imports and both in the Graham Motion program, but they just couldn't keep up with American racing. After some claiming type races to see if finding their friends would help them, it was clear they should retire and get some R&R. Both horses were adopted by a young rider named Ashley, at the recommendation of Graham Motion's acupuncturist. Ashley and her boyfriend have an event/show barn north of Ocala. Got Blues has been given a barn name of Calli and Celebre is now named Rory. They have both settled in well. Got Blues has started jumping and is schooling for shows while Celebre is turned out and relaxing with another ex Graham Motion trainee. They have both hit the jackpot! Below is a video of Got Blues at a show just taking in the scenery: https://youtu.be/aQHF8waYvNA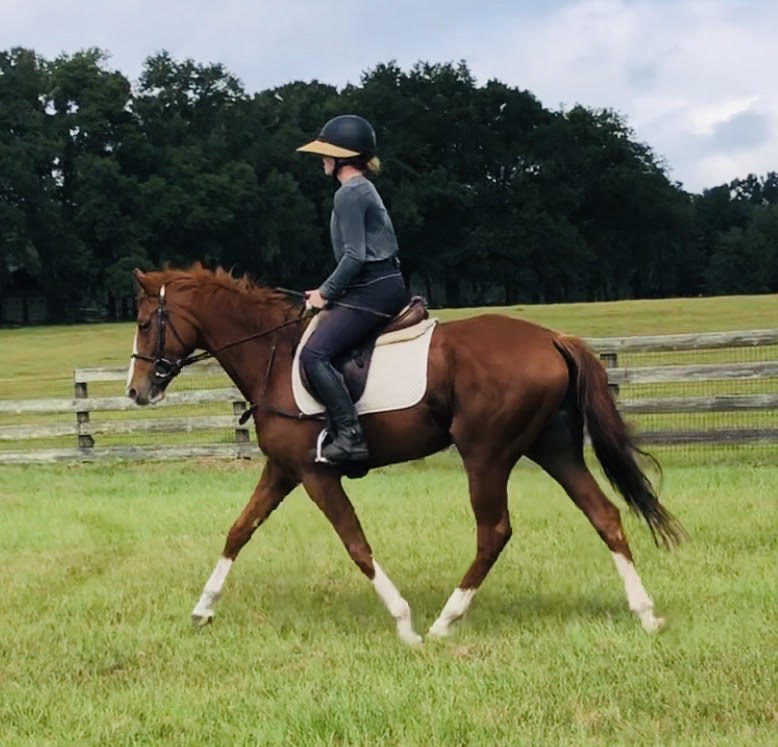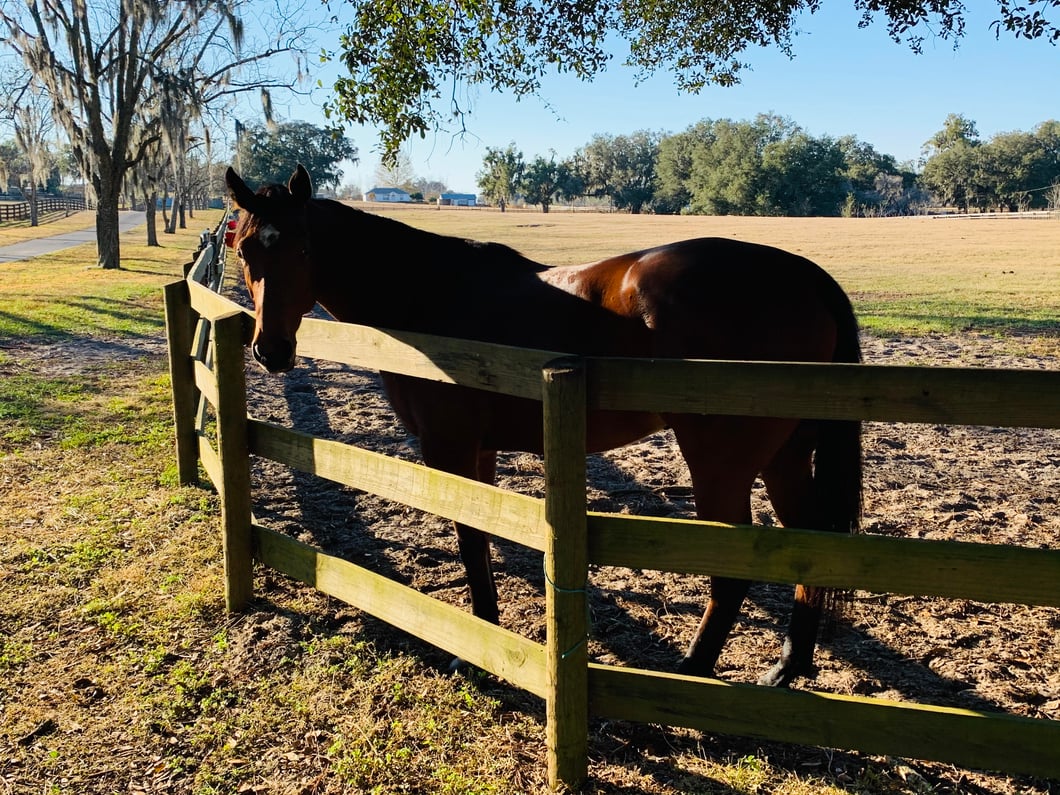 Cowboy Rhythm has been out of the Eclipse barn since 2017. We kept following him, checking up and asking trainers to contact us should he need a home and after no luck, he ended up in Puerto Rico. I was finally able to get in touch with the Caribbean Thoroughbred Aftercare program and after his only start at Camarero Racetrack, he was placed on their "watch list."  The call finally came to us that the owners agreed to retire him.  Cowboy Rhythm retired with a Left Front Base Sesamoid Fracture. He is currently waiting in Puerto Rico for quarantine and a flight to the US. He is getting the best care while he heals and we are thankful for the efforts the Caribbean Aftercare Program has put forth to collaborate with Blue Moon so as to ensure Cowboy Rhythm's safety. Kelley Stobie and Shelley Blodgett are both doing exceptional work in Puerto Rico to educate and also help bring North American horses home. We look forward to Cowboy Rhythm's arrival in the U.S. and providing him with a forever home. The photo below is right after Cowboy Rhythm came off the track.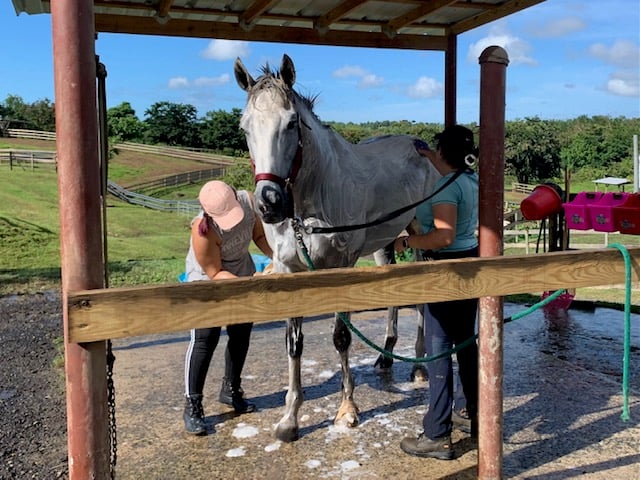 This year we added 3 former Eclipse horses to the broodmare band by way of claiming or rescuing.
Whisk was claimed from us and then retired to a farm in Washington State, but after a few years the woman who owned the farm decided to downsize. She emailed us and asked if we had any interest in taking her. We immediately said YES. Whisk made her long journey from Washington to Kentucky and now lives at Stone Farm. She is in foal to Mizzen Mast and has done very well with a bun in the oven.  We intend to breed her to Mr. Speaker in 2021.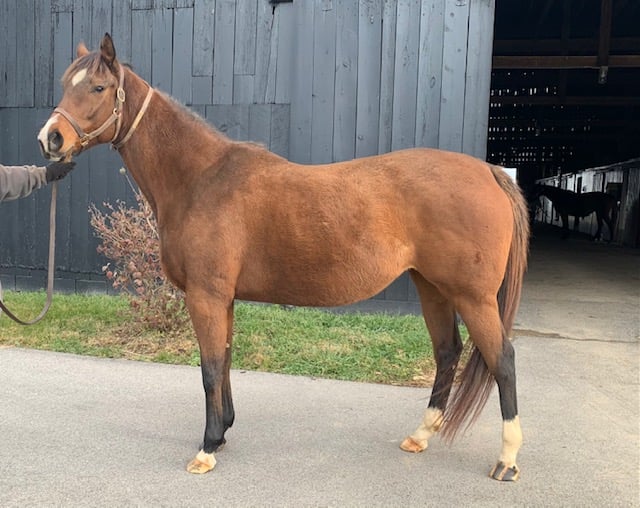 Camorra was claimed from us and seemed to be doing OK from what we could find out, but I kept an eye on her and had other people at Belmont do so as well. When she popped up for $5,000 at Finger Lakes, we thought the time had come to put in a claim for her so we could protect her, so to speak. We were able to claim her with the help of a local trainer, Paul Barrow. Her ankles were a problem and it was a good thing we claimed her because had she continued to race, we may have found her in a danger zone. Camorra is now at Stone Farm in Paris, Kentucky. She will be bred to Coal Front in 2021.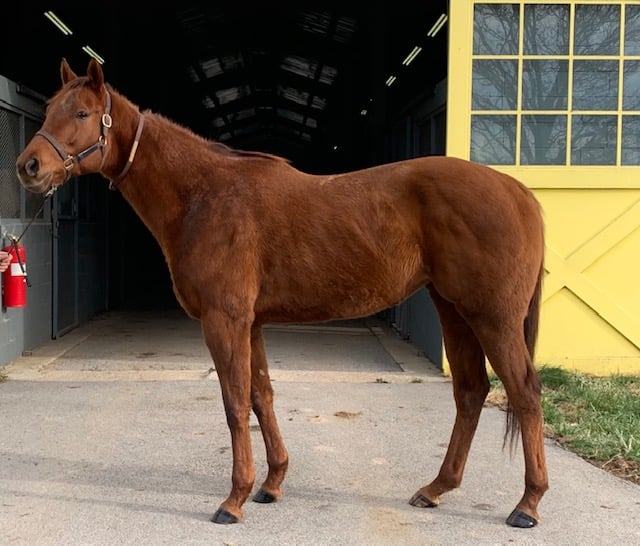 Speakers, our CA-Bred filly, was claimed from us towards the latter stages of her career and once she was retired from racing she eventually found a new home at Loveacres Ranch.  Sadly, Speakers' owners were unable to continue to care for her, so she was given to a California charity where she was put up for adoption. We found this out after we kept getting a mysterious van ride bill. Speakers had been out of the stable since November of 2018, so I thought it had to be a mistake. We made a few calls and were told it was a rescue so we were happy to pay for the ride. Eventually, we were able to negotiate taking Speakers as a broodmare and the rest is history. She is at Checkmate Thoroughbreds where she will be bred to Sir Prancealot in 2021.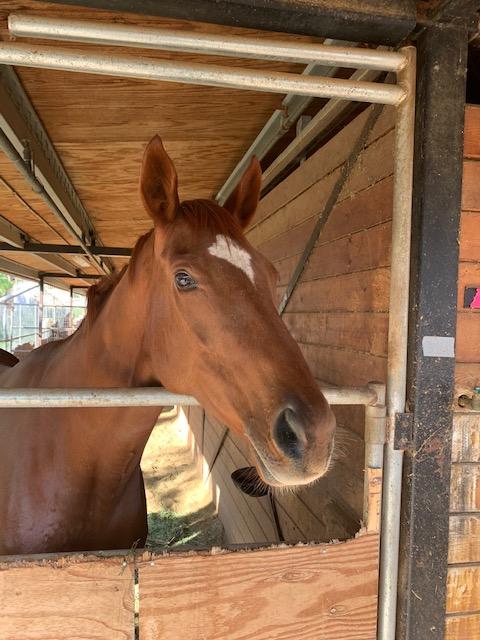 Interestingly and satisfyingly, the reason we kept getting the van bill for Speakers was due to our "sticker" that we place on all Eclipse horses foal papers, which clearly states that if this horse is ever in need of help or care, please contact me/Eclipse.  That's how we solved the Speakers mystery and we have also had several other similar calls from owners of former Eclipse horses who saw the sticker on the foal paper and who are looking for help or guidance to properly care for the horse.  A similar situation arose recently with former Eclipse runner, Crypto, and we were able to assist his owner with a safe placement.  It's really gratifying to see our mechanisms come to action!
Several other Eclipse horses have been retired this year and have gone to CARMA or New Vocations, including Penman (IRE), Epitomize and Precise. We are forever grateful to these wonderful organizations who help our Thoroughbreds transition from the racetrack to new careers while providing safe, forever homes.
Charity
Blue Moon has donated over $20,000 to several charitable organizations this year, including the Thoroughbred Aftercare Alliance, New Vocations Breeders' Cup Pledge, CARMA and Ride On – Therapeutic Horsemanship.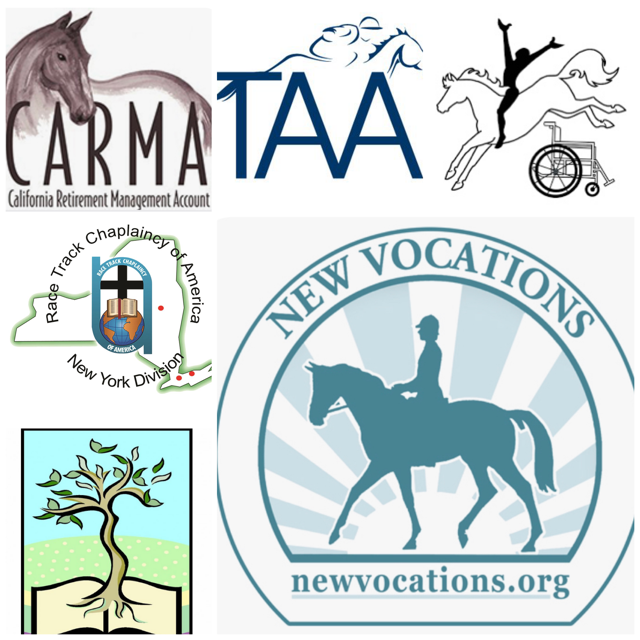 Since 2020 was a hard year for all, horses and humans alike, we thought we should also help the amazing stable staffs that take such good care of our horses by donating to the New York Racetrack Chaplaincy and the Edwin J. Gregson Foundation in California. Both of these organizations were able to provide food, health care and clothing during the time racing was shut down due to Covid-19. While we know this was not directly going to horses, we thought this was a justified cause that made sense due to the challenging times and in many ways, the horses would benefit from the people who care for them being cared for themselves. It takes a village and every little bit helps. We are proud to be able to do our part to keep this industry's horses and human participants who make it all possible safe and healthy on and off the track.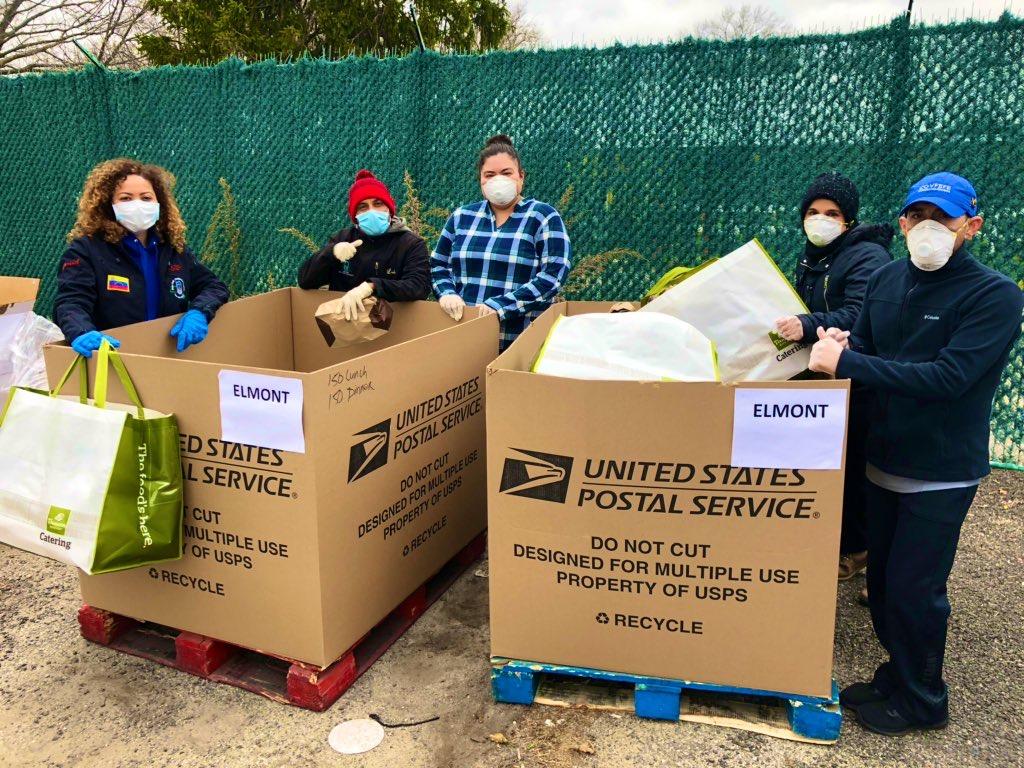 Thank you to all our partners who believe in our program and support the aftercare of our horses. We couldn't do this without all your generosity!
We are looking forward to what Blue Moon can do in 2021 and beyond!