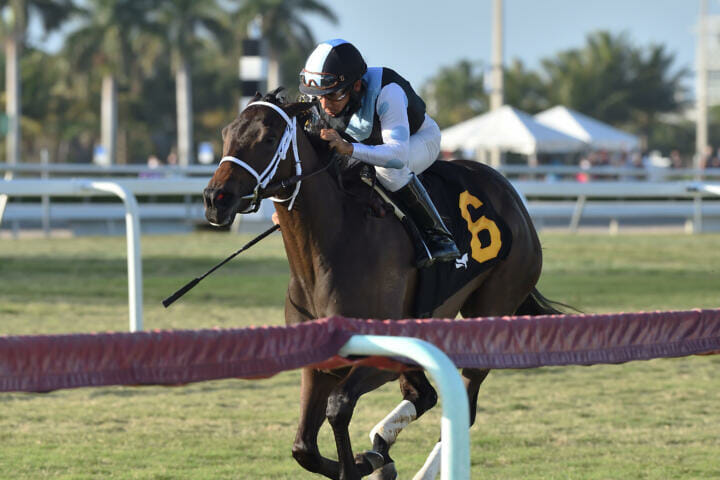 Con Lima Never Looks Back Winning Ginger Brew At Gulfstream
Eclipse Thoroughbred Partners, Joseph Graffeo, Eric Nikolaus Del Toro and Troy Johnson's Con Lima continued to show her affinity for the turf with a front-running triumph in Saturday's $75,000 Ginger Brew at Gulfstream Park in Hallandale Beach, Fla.
The one-mile Ginger Brew for 3-year-old fillies was the fourth of five stakes worth $400,000 in purses on an 11-race program highlighted by Mutasaabeq's victory in the $100,000 Mucho Macho Man for 3-year-olds, the start of Gulfstream's road to the March 28 Florida Derby (G1).
It was the first career stakes victory for Con Lima ($6.20), a daughter of Commissioner who finished second in back-to-back stakes taken off the turf last fall – the P.G. Johnson at Saratoga and Our Dear Peggy at Gulfstream. The winning time was 1:35.23 over a firm turf course.
"I think she's a quality filly that handles both surfaces, but definitely seems to have found her home especially on the Gulfstream turf course here," winning trainer Todd Pletcher said. "She's got good natural speed and it played to her strengths today."
A similar gate-to-wire winner in her grass debut going one mile on the Gulfstream turf Dec. 12, Con Lima was once again eager for the lead in the Ginger Brew under jockey Paco Lopez, setting fractions of 23.95 seconds for the first quarter-mile and 47.55 for the half, pressed to her outside by Karakatsie with Inthewinnerscircle rating inside.
Karakatsie moved within a half-length on the turn but Con Lima remained in control and began to separate from the field once straightened for home, running six furlongs in 1:11.45 and drawing clear by 3 ¼ lengths. Honey Pants, the 3-2 favorite, edged Designer Ready for second while I Get It, who got squeezed far back early, rallied late to get up for fourth, snapping her three-race win streak. Inthewinnerscircle, Karakatsie, Viking Queen and Sweet Pearl completed the order of finish.
"Todd told me to judge the race, if she was keen to go or if we needed to sit behind, to go with her," Lopez said. "She broke well and was a little strong. I had to hold her a little bit, but no one pressured us. I couldn't believe it, so I let her go and my filly finished very well."
Con Lima now has two wins and two seconds in four starts since joining Pletcher's string last summer. Pletcher had three wins on the day, including Mutasaabeq in the Mucho Macho Man and 3-year-old maiden Winfromwithin in Race 8.
"We handle her carefully. She's got a lot of energy and we try to keep it channeled in the right direction," Pletcher said of Con Lima. "She was actually very good in the paddock today. We stayed inside and stayed with the pony. She warmed up really nice, was good in the gate and broke alertly, and kind of towed Paco around there. He had a tougher time getting her back to the winner's circle than he did around the track."