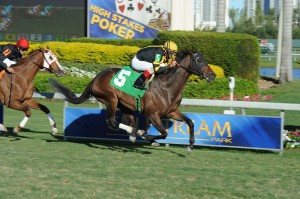 Amira's Prince Steps Up the Ladder Saturday in Allowance at 'Stream
Amira's Prince could not have been more impressive when capturing his stateside debut a month ago under a heady and confident ride from John Velazquez for his fellow Hall of Famer, Bill Mott. That victory came against entry level allowance foes, however, and if the handsome son of Teofilo is going to stay on course to state his case of becoming a major player in the turf marathon division this season, he's going to have to make a significant move forward when he tackles 8 rivals in a second level allowance going the unusual 1 7/16 miles distance over the Gulfstream Park greensward on Saturday.
Mott and Velazquez will combine again on Saturday for and Eclipse partnership which includes Adam Wachtel and Gary Barber. The black 4 year-old has drawn neatly in post 3 of 9 set to traverse 3 turns in Hallandale. Post time for the 2nd on the Sunshine Millions card is1:13pm ET.
Amira's Prince was about 80% fit prior to his 1 3/8-miles score 4 weeks ago, but with the race under his girth and 2 subsequent drills, Mott believes his charge is ready to take the requisite step to clear this condition.
"I've been really pleased with Amira's Prince since his race," Mott said. "He's been traveling well and he's kind of marched around the barn like he's the man, which I like to see. Physically, he's really starting to thrive. His body looks tremendous. His blowout on Sunday was similar to what we saw right before his first race for us, so that's also encouraging. I like the timing of this race and hopefully we can use this as a springboard for what we anticipate may be a nice Stakes-filled campaign. We expect another good performance."
Eclipse President,Aron Wellman said, "Bill (Mott) and his staff have done a phenomenal job developing Amira's Prince in a relatively short window of time. The colt's debut for us was spectacular without being over the top, which eases our concern that he's eligible to regress. It's always a possibility that a Euro will take a step backwards after a strong initial win, so we're not taking it for granted, but all signs indicate that this colt is on the improve and in a progressive rhythm. The competition he'll face Saturday is considerably stiffer than the horses he ran right over a month ago, so he better have his game face on to validate the initial impression he made on the racing community."