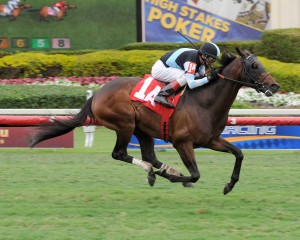 Amira's Prince Stays Perfect in U.S.A. with Decisive Win at Gulfstream
Amira's Prince validated the impressive nature of his stateside debut win in December with a dazzling score against tougher Allowance company on Saturday, January 19th at Gulfstream Park. Hall of Fame brethren Bill Mott and John Velazquez combined for the victory, which took place over yielding ground in Hallandale, Florida.
Always well placed under Velazquez, Amira's Prince was in cruise control behind the 2 pacesetters for the first 9 furlongs of the race and when given the cue at the 3 furlong marker, the son of the Galileo sire, Teofilo, tipped out and bounded home to an authoritative win without ever feeling the sting of the whip.
"This colt has really gotten more professional, even in a short period of time," Velazquez remarked after posing for photos. "Today, he was straight forward and went about his business. I really like this colt. He galloped-out amazingly well. He has a bright future and we're really excited about him."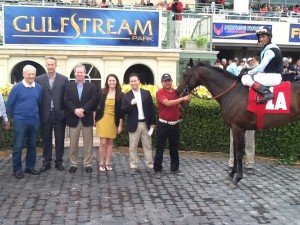 Eclipse President, Aron Wellman, offered, "Bill (Mott) and his crew have done a wonderful job developing Amira's Prince, so much of the credit goes to them. John (Velazquez) has given him 2 brilliant rides. They may have looked like easy wins, but John is so good that he makes it look that way and we know there's far more than meets the eye than just an arm chair journey.
"Amira's Prince has gone from strength to strength and it's always important to see a horse verify early promise with a subsequent effort," Wellman acknowledged. "We're very pleased for out partners at Eclipse as well as Gary Barber and Adam Wachtel, who graciously joined us in forming the partnership to campaign this colt. We've been fortunate to get him through his conditions to serve as a launching pad for what we expect will now be a steady diet of Stakes races for the remainder of his 2013 campaign and beyond."