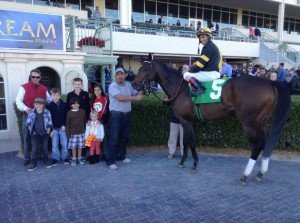 Amira's Prince Scores Dominant Victory In U.S. Debut At Gulfstream
Amira's Prince broke last, weaved his way through a huge field, lost ground while 6-wide around the far turn and powered home to a decisive 1 1/4-length victory as he pleased today in his North American debut today at Gulfstream Park.
The 3 year-old son of Teofilo was acquired by Eclipse Thoroughbred Partners in October and was originally scheduled be his unveiled in the Grade 1 Jamaica in New York in November, but Hall of Fame conditioner Bill Mott applied the brakes to that plan and instead geared Amira's Prince up for a winter campaign in South Florida.
"This colt has really come right for us the past month or so and even though we didn't have him close to fully cranked for this, we felt he was up to the task," Mott said. "He did everything we could have asked of him and more. He's hinted he may be the real thing in his training and his performance at Gulfstream today may have verified that. We're excited about him."
Jockey John Velazquez put forth a chilly ride in guiding Amira's Prince to the authoritative victory. "This colt is still a little green, but he's very talented and he'll run all day. I liked him."
Eclipse President, Aron Wellman offered, "We used discretion to peel back off the Jamaica plan and by the looks of today's performance, we're going to be rewarded for our patience. I absolutely loved the tools Amira's Prince showed inIrelandand I'm glad his abilities have transferred well to North America style racing.
"We appreciative of our partners for putting their faith in us with this acquisition and hope we can now deliver at the Graded level," Wellman said. "Kudos to Bill (Mott) and his team for preparing Amira's Prince in superb fashion."