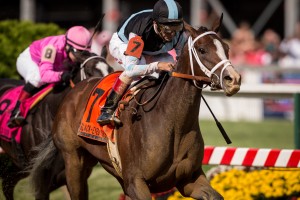 Grade 1 Winner In Lingerie Retired From Racing; To Be Bred To Frankel
Eclipse Thoroughbred Partners and Gary Barber's In Lingerie, the winner of the 2012 edition of the Grade 1 Juddmonte Spinster at Keeneland in October, has been retired from racing and will be bred to 2-time Cartier Horse Of The Year, Frankel.
A daughter of the # 1 sire on the General Sire List in North Americafor 2012, Empire Maker, In Lingerie is out of the Grade 2-winning daughter of Storm Cat, Cat Chat. In Lingerie's granddam is the Champion 2 year-old filly of her generation, Phone Chatter.
In addition to the Juddmonte Spinster, In Lingerie captured the Grade 2 Black-Eyed Susan on conventional dirt in brilliant fashion as well as the Grade 3 Bourbonette Oaks. She was second in the Grade 1 Alabama and third in the Grade 1 Coaching Club American Oaks, both at historic Saratoga Racecourse. She retires with greater than $712,000 in earnings.
Eclipse Thoroughbred Partners President,Aron Wellman, and co-ownerGary Barberjointly offered, "It was a true privilege to be able to campaign In Lingerie this past season. She is a magnificent filly and took us to the top of the mountain from coast to coast, providing many glorious thrills along the way."
"We want to extend our gratitude to Mr. Santulli and his Colt's Neck Stables for breeding such a talented specimen; to the Lyster family for the horsemanship they displayed in developing In Lingerie in the earliest stages of her career; to John Velazquez for guiding her to 3 Graded victories with power and grace; and toTodd Pletcherand his staff who performed an absolutely dazzling job of training this filly and maximizing her potential through an illustrious season," Wellman and Barber acknowledged.
"Being in this game for the sport of it, it is difficult to let go of such a phenomenal racehorse capable of headlining major races in coming seasons, but when the opportunity to breed In Lingerie to Frankel became a reality, the decision was a no-brainer. Seeing as though In Lingerie is by a Juddmonte colorbearer in Empire Maker and won the marquis Grade 1 race sponsored by Juddmonte, it is apropos for her to be bred to Juddmonte's All-World stud, Frankel. We are honored and thankful to Juddmonte for this opportunity and we look forward to following the offspring of In Lingerie and Frankel."