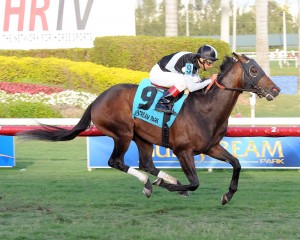 Amira's Prince Invades Bayou for Grade 2, $400,000 Mervin Muniz 'Cap
Amira's Prince has been outright brilliant in each of his 3 races since arriving on U.S. soil.
But, come Saturday, those scores will register as mere turf history as the son of Teofilo accepts a whole new challenge when he reverts to 9 furlongs for the Grade 2, $400,000 Mervin Muniz, Jr. Handicap at historic Fairgrounds Racecourse in New Orleans, Louisiana.
Amira's Prince has been dominant in South Florida this winter in grass marathons, most recently seen annihilating his foes in the Grade 2 Mac Diarmida at Gulfstream. The form of that race has proved fierce, as the 3-4 finishers since came back to run 1-2 in the Pan American.
Rather than take the path of least resistance, trainer Bill Mott and the ownership group of Eclipse Thoroughbred Partners, Adam Wachtel and Gary Barber, are thinking outside the box by sending Amira's Prince on a road trip to the Bayou to see if the black monster can be as effective at 9 furlongs as he has been at 11 and 12.
Eclipse President, Aron Wellman explained, "The decision to head to Fairgrounds for the Muniz was truly a joint effort. Bill (Mott), Adam (Wachtel), Gary (Barber) and I have spent the better part of the last month strategizing and weighing the pros and cons of all our options. Considering our short and long term objectives, combined with Amira's Prince's current condition, we mutually agreed that now was the time to see if the colt could act against Graded caliber runners at a sharper trip."
Mott added, "Amira's Prince has run 3 impressive races and he seems to improve subsequent to each effort. His training has been spectacular. He's turning into a real monster. We had thought about waiting for the Woodford Turf Classic in May, but I just couldn't see keeping this colt in the barn for that long. He's doing so well that we thought this would be an ideal opportunity to see how he handles shipping and 9 furlongs. If he excels, it would open up a multitude of options for us beyond just the marathon program. We're excited to see how this will play out."
Wellman continued, "We have a lot of respect for our competition in this race. Optimizer is a heck of a horse. He has quality and serious guts, not to mention he has a real affinity for the Fairgrounds sod, which can be an acquired taste. Doubles Partner and Willcox Inn are both classy individuals more than capable of winning a race like this. But, in all candor, to be able to experiment at 9 furlongs for $400,000 without having to go toe-to-toe with Point Of Entry played a large role in our ultimate decision to show up for the Muniz.
"There is certainly concern about whether Amira's Prince will be as powerful at 1 1/8-miles as he has been in 3-turn races," Wellman acknowledged. "That said, Bill (Mott) thinks he's training really sharp and with the typically taxing turf inNew Orleans, combined with the longest home stretch in the country, we think those factors may equalize the cutback in distance. We're very excited to see how Amira's Prince fares in this important race."