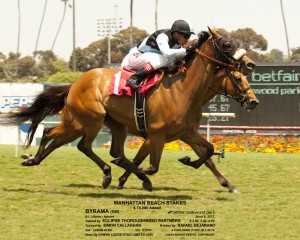 2 So Cal Based Eclipse Fillies Invade Keeneland for Important Graded Stakes this Weekend
Byrama has been a wonderful filly for the Eclipse stable. As the flagship roster member for the fledgling company, Byrama has done her connections proud as a multiple Stakes-winner in addition to her several Graded Stakes placings. A winner of 4 races in 16 trips to post and 9 other starts on the frame, which has resulted in greater than $271,000 in lifetime earnings, Byrama doesn't owe anyone anything. She is the consummate professional.
On Saturday, the frisky bay filly will be presented with the opportunity to prove she can compete at the highest level the sport offers when she travels to the mecca of the horse racing world to essay the Grade 1, $300,000 Madison at historic Keeneland Racetrack in Lexington, Kentucky.
Best as a late-running sprinter on the turf in So Cal, Byrama seems to be stretched at distances greater than a mile, but just getting going at 6-6 ½-furlongs. On Saturday, she will try the quirky 7 furlong trip for the first time, a distance that Simon Callaghan and Eclipse believes should suit her style perfectly.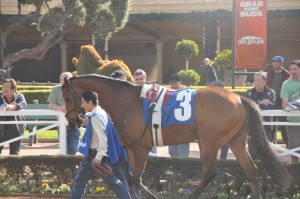 "Byrama runs well at all distances, but seems most effective as a 1-turn filly," Callaghan noted. "We've had the Madison in our minds for some time because she seemed to really like the Poly at Del Mar and she trained and ran well on it last summer and the 7 furlong distance may suit her ideally. The 6 ½-furlong race down the hill at Santa Anita has gotten a little sharp for her this season, so we expect the 7 to really be to her liking. If she takes to the Poly at Keeneland, we could be in for a treat. As usual, she's training exceptionally well."
Eclipse President, Aron Wellman added, "The Madison has been on mine and Simon's radar for quite awhile and we feel as though we're coming to Keeneland with a legitimate shot to make an impact in an important Grade 1. Byrama has made a name for herself as a classy filly in California, but to be able to showcase her talent in the heart of Kentucky in one of the most revered races during the Keeneland Spring meeting is a special opportunity.
"We believe the conditions of the race suit Byrama really, really well," Wellman said. "An elongated sprint should be a sweet spot for her in terms of distance and if she relishes the Poly in Lexington as much as she did at Del Mar, the surface should be a real positive. She's well drawn, the race shape looks to play to her strengths and we've long wanted Joel Rosario to ride her as his style should suit her to a T, so you put all those factors together and it appears to be a live shot at a Grade 1."
Byrama has drawn the pine in the 8th on the Bluegrass Stakes Day card, the hallmark day during the spring meeting. Post time for the Madison is 4:35pm ET. The race will be shown live on TVG and can be seen streamed via the internet on www.tvg.com, www.betfair.com, www.expressbet.com or www.twinspires.com.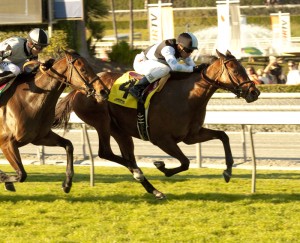 Judy In Disguise has been a pleasant surprise for the Eclipse stable this season. A promising prospect when acquired last May in the U.K., Judy had a tough experience at Royal Ascot and then took seemingly forever to get her legs underneath her in So Cal for Simon Callaghan. But, when it comes to game time, Judy has got her mojo going and has posted 2 impressive wins stateside, including a logic-defying win in the Sweet Life Stakes at Santa Anita 2 months ago.
After drawing a wide box for the 1 mile China Doll, Judy was declared from that fixture and Eclipse and Callaghan have taken aim at the Grade 2, $150,000 Beaumont at historic Keeneland Racetrack in the heart of the horse world: Lexington, Kentucky.
On Sunday, Judy In Disguise will have to contend with 10 other sophomore fillies who will be clawing their way to the wire after 7 grueling furlongs over the Keeneland Polytrack. Perhaps the best big money rider in the game, Hall of Famer Mike Smith, will be in town to receive a leg up from Callaghan. Judy has drawn post 4. Post time for the Beaumont is 4:42pm ET. The race can be seen live as the TVG Race of the Day or via the internet at www.tvg.com, www.betfair.com, www.xpressbet.com or www.twinspires.com.
Callaghan reported, "Judy has never knocked our socks off in the morning, but she certainly has been a real treat to watch run in the afternoon. We have seen considerable improvement from her workouts the past few months and she's very well in herself. She seemed to adore the synthetic at Golden Gate and the 7 furlongs should be OK. We think we've come to Kentucky with a live shot."
Eclipse President, Aron Wellman, offered, "We came to Kentucky meaning business. Judy has blossomed through the winter and deserves an opportunity in an important race like the Beaumont. If she can showcase herself in front of the blue bloods like she was able to in California, it would be a tremendous feather in her cap."
"Judy has shipped in really well," Wellman added. "She seems content as can be. She trained each of the last 2 mornings and appears quite happy with herself. We're looking forward to seeing her strut her stuff on Sunday."