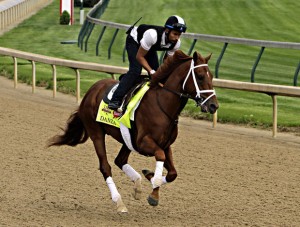 Young Eclipse Partnership has Long Roots
By: Alicia Wincze Hughes | awincze@herald-leader.com
LOUISVILLE – Lee Midkiff has officially given those around him permission to tell him to shut up.
On the instances when the chairman of Eclipse Thoroughbred Partners finds himself bemoaning certain duties – the 5 a.m. treks to see the partnership's horses on the racetrack, the managing of partners who want to be there for the top-level races – Midkiff is learning to maintain perspective.
"I always tell everyone anytime I start complaining about anything that I have to go do… I catch myself and say 'I know, it's a high-class problem to have. Tell me to shut up,'" Midkiff laughed. "Whenever I'm like 'Oh, I've got to go down to Churchill early tomorrow morning and this and then, and I'll be like, 'I know, I need to be quiet.'"
Each day brings Midkiff and Eclipse Thoroughbred president Aron Wellman a reminder that what their organization has achieved during its relatively short existence is something many of their peers will never enjoy.
The demands on their time have grown of late. It's what happens when one of the charges carrying their colors is among the major buzz horses for the first leg of the Triple Crown.
While many in Thoroughbred racing will never boast a Kentucky Derby contender, Eclipse Thoroughbred can tick that box less than three years after it was formed. In what was just his fourth career start, Danza upset the field in the Grade I Arkansas Derby at odds of 41-to-1 and has been one of the more visually impressive contenders this week while training for the first Saturday in May at Churchill Downs.
Launched by Wellman in August 2011, Eclipse Thoroughbred Partners has delivered on its motto to be "best of all worlds" for racing partnerships, campaigning Grade I winners Byrama, In Lingerie, Capo Bastone, and now Danza in addition to a fistful of other graded stakes performers.
Tempting though it is to slap the "overnight success" label on Eclipse Thoroughbred, the years of work that went into its recent results can't be summed up so succinctly. Wellman previously served as vice president of Team Valor International – which campaigned 2011 Kentucky Derby winner Animal Kingdom – before striking out with Midkiff.
"On the surface it may appear that Eclipse is an overnight sensation but in reality, it's been a work in progress for the last 8-9 years," said the 36-year-old Wellman. "When I was practicing law (in California), I was forming racing partnerships on the side as a sort of a hobby on an informal basis and …that is what attracted (Team Valor founder) Barry Irwin to me at the end of 2007.
"The first wave of support when I decided to resign from my position at Team Valor was Lee, who was actually a partner of Team Valor's at the time. He was right there for me to get Eclipse off the ground and has been with me every step of the way. And to illustrate how blessed we've been since we started the company, the first horse we ever bought under the Eclipse banner was Byrama."
Racing partnerships as a whole have gained more traction in recent years as the likes of Team Valor, Dogwood Stable – which merged with Eclipse last July – and West Point Thoroughbreds have all regularly had horses at the top echelon.
Eclipse joined such ranks so quickly because of the expertise the entire team brings to the table. Wellman, whose parents are longtime owners and breeders, spent years working under noted former California-based trainer Jude Feld until he graduated from law school.
Midkiff, whom Wellman describes as a serial entrepreneur, is the operations and finance guru of the bunch who went from racing fan to industry player in a handful of years.
"I used to go to the races a lot and then I kind of drifted away from it," Midkiff said. "Around 2008-2009, I took the family to Keeneland one day, had a good time and came home and said, 'You know, I want to own horses.' That's a pretty daunting statement when you don't know where to begin."
"The partnership model is a great vehicle to bring people that are in my scenario into the business and help them get a feel for it without it being a completely overwhelming and intimidating experience. You look at the success, whether it be Team Valor or Starlight Racing or ourselves, guys can actually compete at the highest level. And there are very few other sports where a guy from middle America can play at the highest level."
Adhering to the theory that good horses – and opportunities – can come from anywhere, Eclipse doesn't set limits on how many horses it buys each year or where said horses come from.
Purchased for $105,000 at the 2012 Keeneland September yearling sale, Danza broke his maiden at first asking at Belmont last July and was a fast-closing third in the Grade II Saratoga Special in August.
Injury sidelined the chestnut son of Street Boss for the rest of his juvenile season, and once he returned to training, his morning works lacked edge.
"He wasn't really as flashy or impressive in his workouts as he had been as a 2-year-old, which certainly was a cause for concern," Wellman said. "But we were hoping that if we could get him to a race, hopefully the light bulb would go on. And that's exactly what happened."
After running third in his seasonal debut against a quality allowance field over a speed-favoring Gulfstream Park surface, Danza wowed the betting public when he slipped through on the rail in the Arkansas Derby and exploded for a 43/4-length win in his first try going two turns.
"I think he got lost in the shuffle a little. If you go back and looked at his past performances, the horse hadn't really done anything wrong," said trainer Todd Pletcher, who has conditioned several of Eclipse's top runners. "He finished up really strongly, had his legs up underneath him at the end, it's all encouraging stuff.
"Sometimes it takes years and years to get a horse like that, but Eclipse done a great job finding them."
With the level of success Eclipse has already enjoyed comes a self-inflicted pressure to make sure every experience is of the highest level.
At some point next Sunday evening, Midkiff hopes he and Wellman and their partners can sit back and exhale in appreciation of their most recent achievement.
"Sometimes you need to take a deep breath and be like, 'You know what? This is what everybody always talks about,'" Midkiff said. "A lot of people spend many years in the industry, and they all strive to get to the point that a handful of us are blessed to be at."