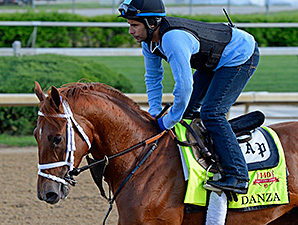 Danza Puts Eclipse in Derby Spotlight
By: Lenny Shulman | April 29, 2014 8:26 AM
Danza did more than help resurrect the career of an aging TV star when he ran off the screen in the April 12 Arkansas Derby (gr. I).
Named for Tony Danza, who starred in "Taxi" and "Who's The Boss," Danza has brought owners Eclipse Thoroughbred Partners to the Big Dance in Louisville, and he will more than likely be one of the top three favorites in the May 3 Kentucky Derby Presented by Yum! Brands (gr. I).
Eclipse principals Aron Wellman and Lee Midkiff have some Derby experience. The former was a staffer at Team Valor International and the latter an investor with the group that campaigned Animal Kingdom to Derby glory three years ago.
"To be doing it with our own stable and partners is a very special experience," said Wellman.
Danza, owned by a handful of partners, represents another in a string of successes for Eclipse, which has enjoyed a lightning-fast ascension for an organization that was formed just 2 1/2 years ago. Already the Eclipse silks have been carried to winner's circles by In Lingerie, who won the Juddmonte Spinster Stakes (gr. I) at Keeneland and two other graded stakes in 2012; Capo Bastone, who took last year's Foxwoods Kings' Bishop Stakes (gr. I); and Byrama, winner of the 2013 Vanity Handicap (gr. I). Silsita and Amira's Prince are further graded stakes winners for Eclipse and partners.
Wellman and Midkiff began by buying yearling fillies at modest prices at Keeneland in 2011 and 2012. But Wellman spied a son of Street Boss that caught his fancy at the latter auction. Having been attracted to fillies for their residual value as potential broodmares, Wellman liked the fact that his partners could recoup funds and churn them into more horses. But he decided to take a swing at colts, which he calls "an all or nothing play."
"Either you get a bona fide stallion prospect and knock it out of the park, or you're looking to find him a good home and a second career when he's done racing," Wellman said. "And we have three colts that are truly stallion prospects—Capo Bastone, Amira's Prince, and Danza. We're very fortunate to be in that position."
Wellman parted with $105,000 for Danza, out of the French Deputy mare Champagne Royale, in part because Capo Bastone, another Street Boss son, had already started and shown promise.
"The Street Bosses weren't that popular at the sales and weren't commanding a premium," he noted. "Danza had the size and strength in all the right places and a fluid walk, and then you try to pick up on the intangible components—presence, quality, and class, and he seemed to have those. I tracked him for a couple of days and he handled everything with ease."
Wellman, now in his mid-30s, grew up in the Thoroughbred world. His parents have been breeders and owners in California for years, and Wellman as a kid was listening to experts such as John Gosden, Eddie Gregson, Bill Shoemaker, and Eddie Delahoussaye, the latter of whom helps Wellman at the yearling sales. Wellman worked for Shoemaker when the Hall of Fame rider took to training, and also completed law school before returning to the horses.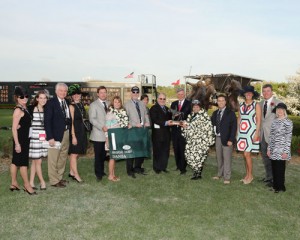 With Eclipse enjoying early success, the organization received another lift when Cot Campbell, the father of partnerships and master of Dogwood Stable, announced he was backing off from buying new prospects and forged a merger whereby Eclipse would use Dogwood's training facilities in South Carolina and perhaps incorporate some of Campbell's longtime Dogwood investors.
"The joint venture has worked out well," said Wellman. "It's is humbling that such an iconic figure as Mr. Campbell would give us his endorsement. I take a lot of pride in making him and his people proud and we're starting to see some traction whereby Dogwood people are turning into Eclipse partners. It's becoming one big, happy family."
Eclipse currently owns 20 horses of racing age with another 15 2-year-olds on the way up. Wellman estimates that 200 people have participated in or have reached out to Eclipse for ownership information.
And Danza will only increase that number. After breaking his maiden at first asking last July at Belmont Park, Danza ran third, beaten just a half length, in the Saratoga Special (gr. II). His first start of 2014 resulted in a third-place finish going seven furlongs at Gulfstream Park just before the Arkansas Derby.
"We wouldn't have put him on the plane for Arkansas unless we felt he had a chance of competing," said Wellman. "We hoped he would outrun his odds (41-1) and hit the frame. But to say we saw him powering away from the field, I'd be lying. But timing is everything when it comes to the Derby, and we hope we're in the right place at the right time."
Even Tony Danza's representatives reached out to Eclipse recently, and are trying to work out the logistics to have the actor on hand to watch his namesake run for the roses—and prove he is the new boss of the racing world.