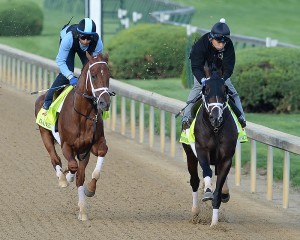 Who's the Boss? It Could be Danza…
By: Jeff Greer, USA TODAY Sports | 10:56 p.m. EDT April 27, 2014
LOUISVILLE – The theme song for the 1980s television show Who's the Boss? couldn't hit a better note:
Nights are long but you're on your way

To a brand-new life,

Brand-new life,

Brand-new life around the bend.
The nights were long this winter for Kentucky Derby buzz horse Danza, a muscular sprinter with a rich, dark mahogany coat. But that brand-new life might be just around the turn.
In the two weeks since Danza beat Ride On Curlin to win the Arkansas Derby by 4¾ lengths, the horse named after Who's the Boss? star Tony Danza is running with the confidence and authority of a serious Kentucky Derby contender.
He's the same sidelined horse that spent seven months over the fall and winter nursing a knee injury in Ocala, Fla.
"In the last month, he's definitely become a boss," said Aron Wellman, president of Eclipse Thoroughbred Partners, the racing company that owns Danza.
"(Danza) wants to do what he wants to do when he wants to do it."
The horse got his name from Kelsey Marshall, Eclipse's director of partner relations, during a company brainstorming session.
SPORTS ON EARTH: A look at the horsey name game
The name honored Danza's sire, Street Boss, and embraced the toughness of Tony Danza, who in addition to acting has won nine matches as a professional boxer and attended college on a wrestling scholarship.
The 3-year-old colt was always athletic, always muscular, always powerful, always tough.
Danza finished a close third in the Saratoga Special in August, becoming a highly regarded future Kentucky Derby horse.
But he fell off the map, Wellman said, after the knee injury that didn't require surgery. Danza recuperated at a farm run by trainer Todd Pletcher's father.
"It turned out to be the right move," Pletcher said.
The setback bred a horse with renewed confidence. He's sharp. He's frisky.
"He's got that King Kong mentality," Wellman said.
Onlookers said Danza floated as he worked out last week at Churchill Downs.
"It feels like I'm on air out there," said Danza's exercise rider, Nick Bush. "It's so smooth. He's really bouncing."
The Arkansas Derby win – the first time the colt had raced farther than seven-eighths of a mile – clued in the rest of the world. Danza entered the race at 40-1 odds. Even Bush bet only $2 across the board on Danza. He thought that was enough.
Danza stayed in the leading pack for the entire race, saving ground throughout on the rail under jockey Joe Bravo. He broke through on the turn for home to blow past Bayern and leave fellow Kentucky Derby candidate Ride On Curlin in his wake.
Tony Danza gushed with excitement on Twitter, posting links to stories of Danza's success in Arkansas. He has become so enamored with the horse that Wellman said there are plans for the actor to be in Louisville for the Derby.
But the Arkansas win didn't necessarily surprise Wellman or Pletcher.
How Danza won did.
"If I said I wasn't surprised, I'd be lying to you," Wellman said. "It hits you like a ton of bricks."
And now the bricks of expectation stack up as the Kentucky Derby draws near. The first week of training at Churchill Downs did nothing to quell the buzz after Danza's Arkansas run April 12.
That he has what many consider the best name in the Derby adds to the lore. But nothing he's experienced this month would match what would come with a Derby win.
"There are two schools of thought: One that says the Arkansas Derby had to be a fluke," Wellman said. "The second is people delving deeper into his form and saying he hadn't done anything wrong and that maybe it wasn't a fluke.
"This could be the horse that's in the right place at the right time."