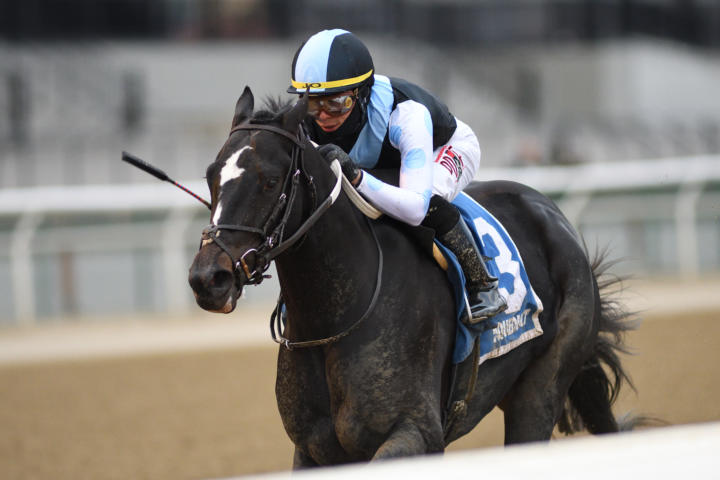 Q&A: Wellman on Independence Hall, Florida Derby
March 25th, 2020 By Tom Pedulla
Tom Pedulla is interviewing prominent owners, trainers and jockeys for America's Best Racing as they travel the Road to the $3 million Kentucky Derby Presented by Woodford Reserve. The Derby has been rescheduled for Saturday, Sept. 5, due to the COVID-19 pandemic.
Aron Wellman is featured this week. He heads Eclipse Thoroughbred Partners, which was started in 2012. Eclipse, which counts 2017 Belmont Stakes winner Tapwrit among many successes, joined Twin Creeks Racing Stables in purchasing a stake in Independence Hall from Kathleen and Robert Verratti after that colt made an auspicious seven-furlong debut last Sept. 21 at Parx Racing in Bensalem, Pa.
Independence Hall swept his first three starts by a combined 21 lengths, adding the Nov. 3 Nashua Stakes and the Jan. 1 Jerome Stakes at Aqueduct, before he was upset in the Feb. 8 Sam F. Davis Stakes at Tampa Bay Downs by Sole Volante, finishing second by 2 ½ lengths.
Independence Hall is viewed as a prime contender in the $750,000 Curlin Florida Derby, set to run at a mile and an eighth without spectators on Saturday at Gulfstream Park. He is trained by Michael Trombetta and will be ridden by Joel Rosario. He certainly has the pedigree to get the job done as the son of Constitution and the grandson of Cape Town, both Florida Derby winners.
The Florida Derby awards Kentucky Derby qualifying points on a 100-40-20-10 basis to the top four finishers.
PEDULLA: What is Eclipse's philosophy when it comes to buying Thoroughbreds?
WELLMAN: We believe a good horse can come from anywhere at any time. We're very active in the yearling and 2-year-old in training markets. We've been very fortunate in the public auction arena, but we have always participated in the private market as well. A big part of our program is searching for "blue sky" prospects who have done something at an early stage of their career on the racetrack to catch our eye and suggest they could be Grade 1-caliber individuals.
PEDULLA: How many horses are under the Eclipse umbrella?
WELLMAN: We've got about 70 racehorses right now and we've got about a dozen broodmares. We've started to develop a boutique broodmare band as well for our partners to expose them to a different sector of the industry and to participate literally from the time of conception until they hopefully become racehorses.
PEDULLA: How did you get involved with Independence Hall?
WELLMAN: He broke his maiden at Parx on Pennsylvania Derby Day and the performance in and of itself caught my eye as a horse with serious potential. As soon as this colt crossed the wire, I was on the phone with Mike (Trombetta) and Mike was gracious enough to put me in direct contact with the Verrattis. We had some discussions over the next 24 hours. There seemed to be a real good synergy and a meeting of the minds with our goals as they related to the colt, and within 24 hours we had inked a deal for Eclipse to buy into Independence Hall. During the 24 hours, Twin Creeks (Steve Davison and Randy Gullatt) contacted me about Independence Hall. They had campaigned Constitution, so it was a natural fit for Independence Hall to come on the Twin Creeks radar.
PEDULLA: What was it about Independence Hall's debut that was so compelling?
WELLMAN: Tapit is a sire line that has been very good to Eclipse. Constitution was a first-year sire that was certainly worth watching. I'm a visual guy and a gut guy, so I watch a lot of races every day from all across the world, trying to identify what we refer to as "blue sky prospects." This colt was visually very impressive. He was very sensible, rating just behind the pace up the backside, listened to Joel Rosario's commands at all times. He was against the bridle but well within himself. As soon as Joel gave him the cue, Independence Hall split horses like an old pro and powered down the lane impressively despite Joel never turning his stick over or flinching a muscle.
PEDULLA: Why did you decide to race in New York for his next two starts, going one mile each time?
WELLMAN: There was a bit of serendipity involved, to be honest with you. After we purchased the colt, we really wanted to take a more conservative approach with him and run him in an allowance race. He was entered in an allowance race at Laurel Park in late October, going a one-turn mile. Joel Rosario had actually taken off his mounts in New York and made the trip to Maryland. About two hours before the first post, Mike Trombetta called to tell me a pipe had burst around the finish line at Laurel and that races had been canceled. We went back to the drawing board and really the only option in front of us was the Nashua (which Independence Hall dominated by 12 ¼ lengths).
PEDULLA: What went wrong that he was beaten in the Sam F. Davis?
WELLMAN: A few things went against him that day. He lost his tongue tie in the post parade and, coming out of the gate, he lost his right front shoe. The tongue tie might have been minor, but we do believe losing his right front shoe had a substantive impact on his ability to provide his best effort. That said, he was beaten by a very good gelding (in Sole Volante). Even in defeat, we were very pleased with the effort. It was his first time around two turns. He chased a very hot pace on the occasion. He was the only man left standing behind very, very hot fractions.
PEDULLA: Some observers became discouraged about Independence Hall's Kentucky Derby potential after that race. Why were you not discouraged?
WELLMAN: We're the ultimate what-have-you-done-for-me-lately game. A lot of pundits have the ability to have 20-20 hindsight. We don't have that luxury. We have to keep moving on and learn from each experience and try our best to improve for the future. When we really sat back and digested his Sam Davis performance, everybody on the team was quite impressed with what he was able to do, especially after what we knew after the race with the shoe. It was a situation where we felt we might have lost the battle, but we were still in position to win the war.
PEDULLA: You've given him considerable time off since the Sam F. Davis. Did he need that?
WELLMAN: Honestly, he's always been a high-energy colt. He came out of the Sam Davis his typical high-energy self. We really just wanted to sit back and evaluate what was in the best interests of the horse and what was in the best interests of the partnership. Unfortunately, now on the Road to the Kentucky Derby, there are only a few options that are Grade 1 qualifiers. The stallion potential for a colt like Independence Hall should he win the Florida Derby is highly attractive, particularly considering that his sire won it and his dam's sire won it. If Independence Hall should be fortunate enough to follow in their footsteps, it would be a huge feather in his cap for stallion potential.
PEDULLA: Independence Hall has shown bad-boy tendencies before races, rearing and bucking. Can he shake those?
WELLMAN: Remarkably, no matter how many times Mike and his team school him at whatever venue he's racing at, he just happens to know the difference between practice and game day. He's a very smart colt. He does nothing wrong around the barn or on the racetrack. He just has that swagger when it comes to game time. He just wants to get out there and show the world what he can do. Obviously, we would prefer if we could put a lid on his antics and he would reserve that energy for the racetrack. That's just him. It's his way of announcing his presence with authority. It's something we hope he grows out of as he matures.
PEDULLA: Everybody faces a lot of uncertainty. Do you have any idea how Independence Hall will be managed to try to get to the first Saturday in September now?
WELLMAN: This is unchartered territory for everybody. Everybody is in the same boat. We had a very methodical six-month plan and we're in month five now. Our only focus right now is the Florida Derby. If we are fortunate enough that Independence Hall runs well on Saturday, we will have to take a deep breath and regroup and work our way back from the first Saturday in September.
PEDULLA: Would winning the Kentucky Derby on the first Saturday in September be as much of a thrill as the first Saturday in May?
WELLMAN: I hope I get to know the answer to that question.