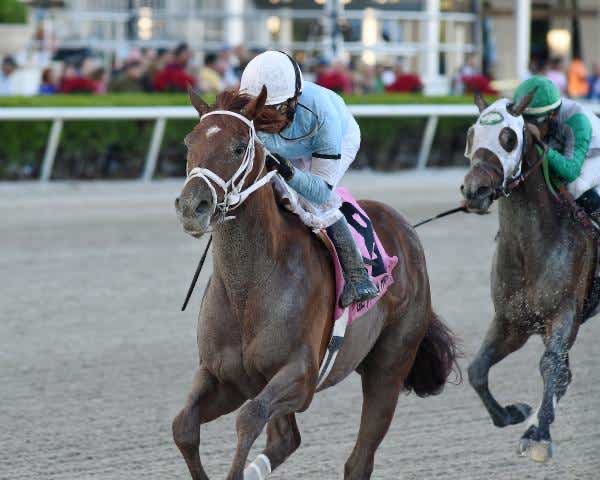 Soros begins 3-year-old campaign in salty optional-claiming mile
David Grening Mar 25, 2020 DRF
A first-level optional-claiming race for 3-year-olds at Gulfstream Park Friday came up so strong that Aron Wellman, whose Eclipse Thoroughbred Partners is part-owner of contender Soros, dubbed the race "Florida Derby Junior."
Moreover, Wellman said that Soros, despite having not raced since Nov. 30, would be cross-entered in Saturday's Grade 1, $750,000 Florida Derby to give him and owner-trainer Gustavo Delgado time to evaluate each race.
Soros would be one of several contenders in Friday's one-turn mile race, scheduled as race 9 on an 11-race program that begins at 1 p.m. The race drew 13 and would be limited to 12 runners. Trainer Ken McPeek said he scratched Mister Candy Ride, who was drawn on the also-eligible list.
Three stakes originally scheduled for Friday have been moved to Saturday's Florida Derby Day card.
Soros, a son of Commissioner, finished second to Fort McHenry in a Nov. 2 maiden race at Gulfstream Park West. Despite still being a maiden, Soros won the Smooth Air Stakes with a solid off-the-pace run under Edgar Prado.
"He showed a lot of different dimensions, rated kindly, took dirt," Wellman said. "He made a big, imposing move from the three-eighths pole to the quarter pole and cruised in from there. He was impressive as though he had something left in the tank."
Wellman said Soros did have a hiccup in January that delayed his making it back to the races until this week.
"He seems to have had a really excellent month of training," Wellman said. "Gustavo tried to put a lot of stamina in him in his breezes and he's done it pretty impressively."