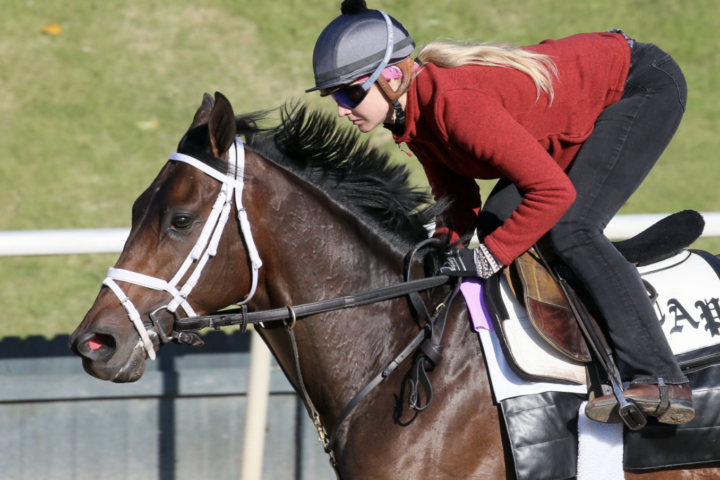 Wellman: Farmington Road 'Can Make His Presence Felt' In Belmont Stakes
by NYRA Press Office | 06.11.2020 | 3:42pm
Since the day Farmington Road joined trainer Todd Pletcher's shed row, he was seen by his connections as the type of horse that would be a contender for the Grade 1, $1 million Belmont Stakes.
Despite the rescheduled date for the Belmont Stakes, now set for June 20, and a scaled back distance from 1 ½ miles to 1 1/8 miles due to the COVID-19 pandemic, co-owner Aron Wellman said he is delighted to have a contender in the Classic race.
"It's still the Belmont regardless of how you slice it," said Wellman, president and founder of Eclipse Thoroughbred Partners who co-owns Farmington Road with Robert LaPenta and Chrysalis Stables. "It's still a very meaningful race with a rich history. It would be an enormous honor to add another Belmont to our trophy case. Any number of owners, trainers and breeders would be happy to have a representative."
Wellman and Pletcher captured the carnations when Tapwrit won the Belmont in 2017.
Third time was the charm for Farmington Road when breaking his maiden in his two-turn debut on January 12 at Tampa Bay Downs as the overwhelming favorite. The son of Quality Road has been competitive against stakes company, posting a second-place finish in the Oaklawn Stakes over a sloppy track on April 11, and enters the Belmont Stakes off a fourth-place finish in the Grade 1 Arkansas Derby.
Despite Farmington Road being touted as the type of horse that could get the traditional mile-and-a-half Belmont Stakes distance, Wellman said the colt remains a strong contender.
"It's a bit of a bittersweet feeling," Wellman said. "From the moment he walked into Todd's barn, we had him pegged as a Belmont horse. Obviously, we know the unforeseen circumstances but nevertheless, we still believe that the horse is doing exceptionally well. With better luck and a better trip, he can make his presence felt with money on the line."
The standout in the Belmont Stakes, which will be run as the Triple Crown's first leg this year, is two-time Grade 1-winner Tiz the Law, who will attempt to become the first New York-bred to win the Belmont since Forester in 1882.
Wellman said he has nothing but respect for the probable Belmont favorite but is not letting his presence make him call an audible with his horse.
"Tiz the Law is a horse that's done it all, so we have the utmost respect for him, but after him it's wide open. We don't dodge any race for one horse," Wellman said.
Pletcher will also saddle St. Elias Stable's Dr Post in search of a fourth Belmont Stakes win following Rags to Riches [2007], Palace Malice [2013] and Tapwrit.