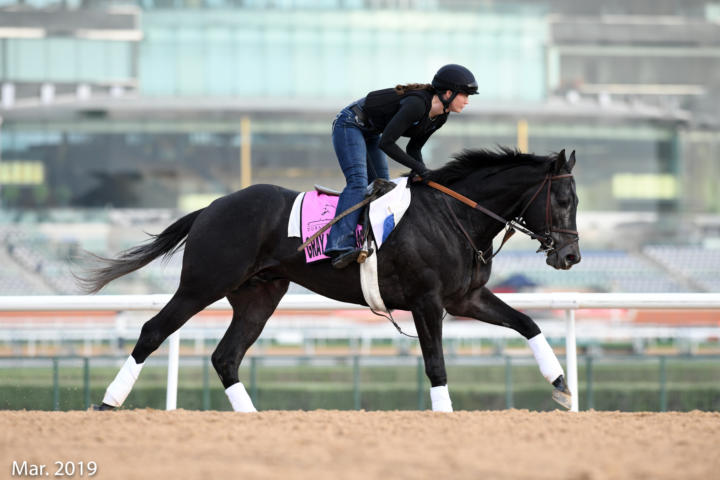 UAE Derby Runner-Up, 'Road Warrior' Gray Magician Bound For Indiana Derby
by Jennie Rees | 07.11.2019 | 9:20pm
The two-hour ship from Churchill Downs to Indiana Grand for Saturday night's $500,000 Indiana Derby should feel like a mere sprint to Gray Magician, runner-up in the $2.5 million UAE Derby in Dubai.
After starting his career out in Southern California, the 3-year-old dark gun-metal gray trekked to Maryland and back, to Dubai and back and then to Churchill Downs for the Kentucky Derby. But Gray Magician has been able to stay and chill at Churchill since coming for the first leg of the Triple Crown.
"I feel good," trainer Peter Miller, who has been increasing his presence in Kentucky this year, said by phone from California. "The horse is training very forwardly. If he runs his A game, I think we'll be right there."
Gray Magician, a son of Graydar, is the 10-1 fifth choice in the field of 11. He'll break from post 3 and be ridden by Ricardo Santana Jr. for the first time in the 1 1/16-mile, Grade 3 Indiana Derby.
"Best available rider," Miller said of the jockey selection. "He's obviously a great rider. Any time you can get Santana on a horse, you take him. We were lucky he was available."
Originally owned by trainer Hector Palma, Eclipse Thoroughbred Partners bought into Gray Magician after he was third in his first start. After the colt was third behind the well-regarded Improbable in another maiden race, Gary Barber and Adam Wachtel bought out Palma's share and Gray Magician was sent to Miller.
"We thought two turns would be where he would ultimately excel," Eclipse president Aron Wellman said of buying Gray Magician privately after his first start. "It just so happens that he ran into a few monsters in maiden races at Del Mar and Santa Anita."
Gray Magician's only win to date came on his fourth attempt, first time racing around two turns and as far as a mile and for Miller, taking a Del Mar maiden race by 9 1/2 lengths. He was a respectable fourth in his next start in Santa Anita's Grade 3 Sham Stakes, a Kentucky Derby points race, fifth in an allowance race in the slop and then second in Laurel's $100,000 Miracle Wood won by multiple stakes-winner and Indiana Derby contender Alwaysmining.
The trip to Dubai followed, with Gray Magician closing strongly to finish second, three-quarters of a length behind UAE Derby winner Plus Que Parfait.
"He came so close to winning that day," Wellman said. "It was an agonizing defeat, but it really validated our belief in his overall abilities. We thought that was sort of his Kentucky Derby that day. But he trained so well when he came back home that it was really tough not to shoot for the Run for the Roses."
As happens every year to many horses, the Kentucky Derby was pretty much a disaster, with Gray Magician never a factor and languishing home 19th of 19. Miller considers the race a throwout.
"The track, the rain, all of it, I think you can just draw a line with it," Miller said. "We gave him a month off after the race and it seemed to do him a world of good. He's training very forwardly, so we're thinking he's going to run a big race."
Gray Magician got some R&R at WinStar Farm to recharge his batteries.
"This is where we always thought he'd be come summertime of his 3-year-old year, these lucrative Derbys throughout the country," Wellman said. "We're really pleased with where he's at and hope to get a big slice of the pie on Saturday night.
"He's been a road warrior and we've tried to chase the money a little bit with his campaign of late. WinStar did a fantastic job with him. We just wanted to replenish his energy. He's really only been in a breeze pattern since the last three-four weeks. But he's come to hand so rapidly, and worked so impressively, according to Pete's staff over there that we thought this race was essentially in his backyard. It's a relatively convenient ship. Look, it's not an easy race; it's a very deep race. We have a lot of respect for Mr. Money. He's clearly the horse to beat. But we think we've got a nice, fresh horse on our hands. Time will tell whether the post positions make any difference. But Mr. Money has drawn wide (post 11) and he's spotting us six pounds. So we'll take every edge we can get in that respect and hope we make a good account of ourselves."