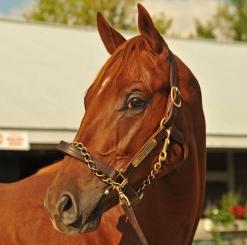 Twinspires.com Presents Derby Dreams: Danza
By: Natalie Voss | 04.22.2014 | 3:42pm
"Believe Big."
That's the tagline on all the promotional materials for Eclipse Thoroughbred Partners, and the philosophy paid off with Danza. Although he was a shocker in the Arkansas Derby with odds of 41-1, Eclipse president Aron Wellman had been hoping the colt would be the ownership group's ticket to the Kentucky Derby since 2012.
Eclipse has been in operation for just under three years, and Wellman said that Danza's $105,000 purchase out of the Keeneland September Yearling sale was the first time the group had sought out a colt with such a lofty goal as a trip to the Derby.
"I can't say that he was bought as a Derby prospect; he was just bought with the potential of being a high quality athlete," said Wellman. "I don't know how anyone could calculate the odds on that [getting a Derby starter on the first focused attempt] but I'd be lying to you if I said that we could have predicted in September of 2012 with the one shot that we fired with a colt at that sale that we'd be 15 days out from the Derby with a leading contender."
The goal when Wellman and co-founder Lee Midkiff started Eclipse was to have horses running at graded stakes levels, allowing shareholders to get a high-end experience without a huge investment. So far it has worked: the group has campaigned the likes of graded stakes winners Capo Bastone, Byrama (GB), In Lingerie, and Silsita among others.
"We do believe big, and we believe that translates into big things," said Wellman.
Wellman and Midkiff were both involved with 2011 Kentucky Derby winner Animal Kingdom (Midkiff as one of the horse's owners, and Wellman as a member of the Team Valor team), so Danza's trip to Louisville will not be their first in the Run for the Roses. For Wellman, it will be the first time he has gone as an owner and as they say, 'heavy lies the head that wears the crown.'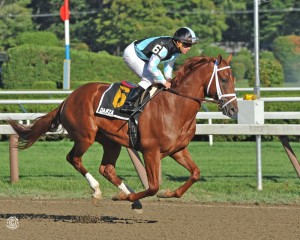 "The lead-up to the Derby with Animal Kingdom was significantly different because he won the Spiral Stakes at Turfway Park six weeks out from the Derby," said Wellman. "He was very much under the radar all the way up to the week of the Kentucky Derby.
"This experience has been different, of course, Danza was basically off the map until he ran away with the Arkansas Derby. It has created a much more intense experience already for us. I think it's only natural for people in this position to be nervous to some degree. You just want everything to go smooth every minute of every day until they cross the wire. There is no margin for error."
Danza's journey is an even bigger first for Micah Feingold, a Kansas City commercial real estate agent who is one of the partners in the horse. Danza is the first horse lifelong racing fan Feingold has ever invested in.
"It's been unbelievable," said Feingold. "It's just been so much fun to follow a horse and see him when he's running and hope you get your picture taken."
"For people who are thinking about doing this, it's been an awesome way to get into the sport."
Now, Feingold owns small percentages in six horses through Eclipse, and three of them are running on Derby weekend. After he traveled to New York to see Danza finish third in the Grade 2 Saratoga Special, he booked a ticket package to the 2014 Kentucky Derby.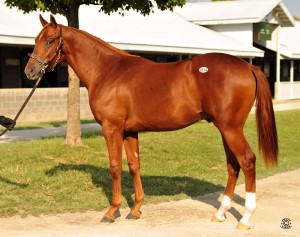 "I didn't know [he'd go] but I knew if he was gong to be there I wanted to make sure I was there," he said. "You don't dream that high, you know? But you're hoping. This is just a dream, particularly for someone who loves horse racing like I do."
Wellman said it has been rewarding for him to see partners excited about the journey, especially first-timers like Feingold. Although he wasn't counting his roses quite as soon as Feingold did, Wellman recalled having Derby on the brain after Danza's third place effort in an allowance event at Gulfstream in March. The horse was coming off a seven-month layoff for a minor injury sustained in the Special, and Wellman and trainer Todd Pletcher believe the time off did him good.
"He was a horse we thought highly of from the very beginning," said Wellman. "He'd gotten a little wise during his time off."
Despite missing the allowance wire by seven and a half lengths, Danza became sharper than ever in morning works, and the connections sent him to the Grade 1 Arkansas Derby believing he had a serious shot.
"He certainly thought he was on top of the world and he went out and proved it," said Wellman. "That confidence going into the Arkansas Derby has maintained, if not enhanced itself."
For Eclipse Thoroughbred Partners, the confidence is contagious.