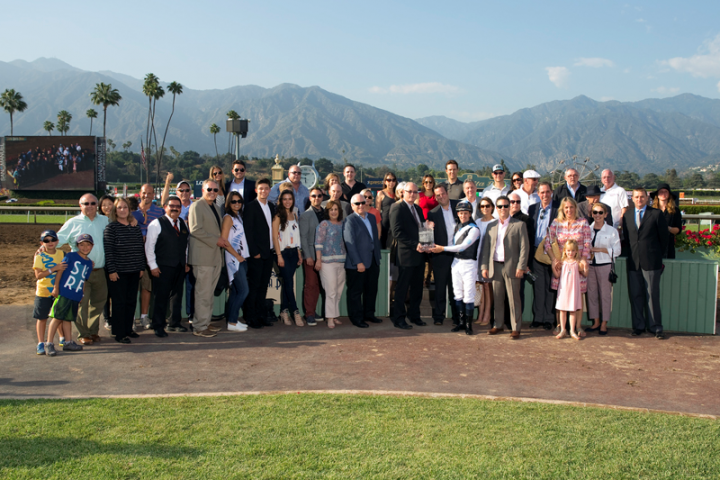 Total Eclipse: Top 12 Highlights Of 2016 & Launching 2017
Believe Big!
That's the Eclipse motto and it's the mantra the stable and company has lived by now for 5+ years.
Thanks to an incredible partner base, who have put their faith in the Eclipse program, the baby blue and black has firmly established itself as the undisputed leader in the racing partnership space in terms of overall success and yearly output in all major racing statistical categories and as a household name among the elite of all owners throughout the country.
A look back on the 5 full seasons from 2012-2016 since the Eclipse stable was started from scratch and it is remarkable to see how the stars have aligned for $12.5 million in total purse earnings, 33 Stakes wins, 8 Grade 1 wins with 6 individual horses, 139 total wins for a 20.38% win strike rate and an overall in-the-money clip of 50.73%.
Add in a 3rd-place finish with Danza in the Kentucky Derby and a 2nd-place result with Destin in the Belmont Stakes and it is clear that the stable is well on its' way to forever etching itself into American turf history.
There's a reason our partners Believe Big!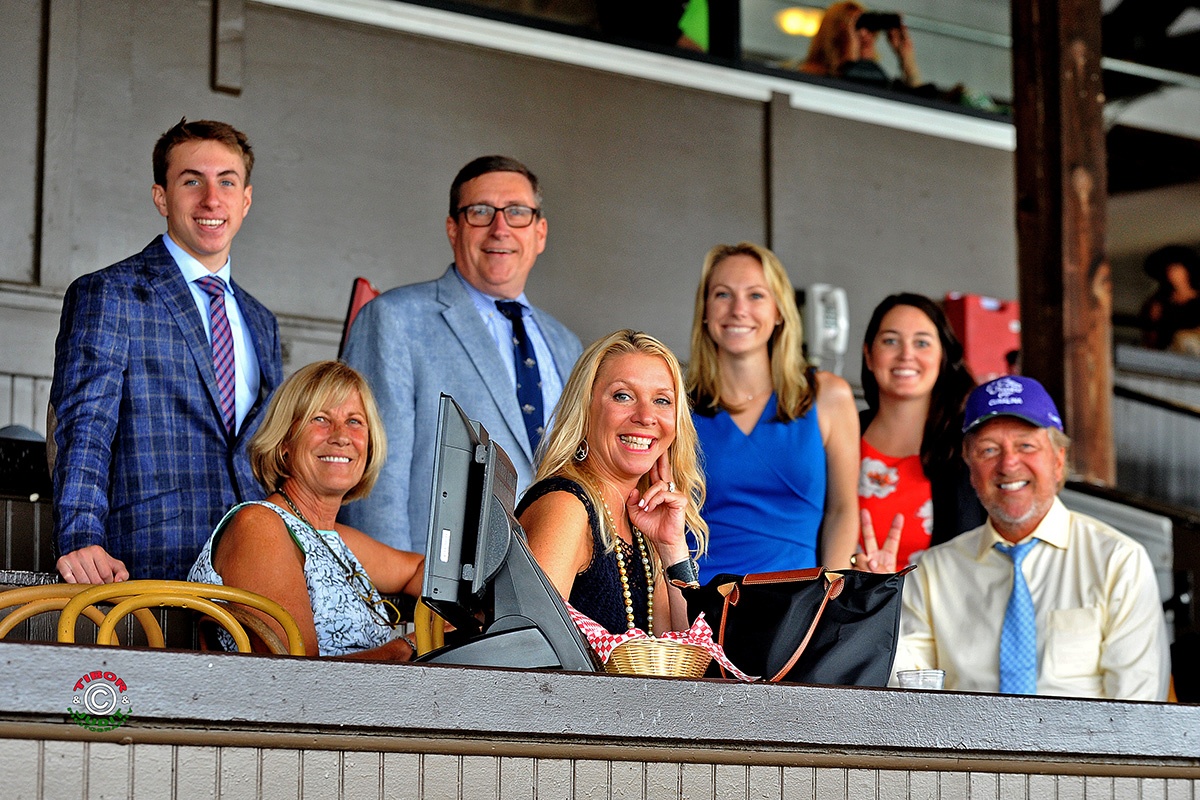 The Eclipse team is humbled by the support the stable has received from our enthusiastic partners and credit our partners with allowing the Eclipse stable to continually reach new heights.
We make no secret about our belief that horse racing is truly the ultimate "what have you done for me lately?" game, so our desire to keep the success rolling and to provide our partners with 1st class racing results and a 1st class lifestyle experience remains deeper than ever.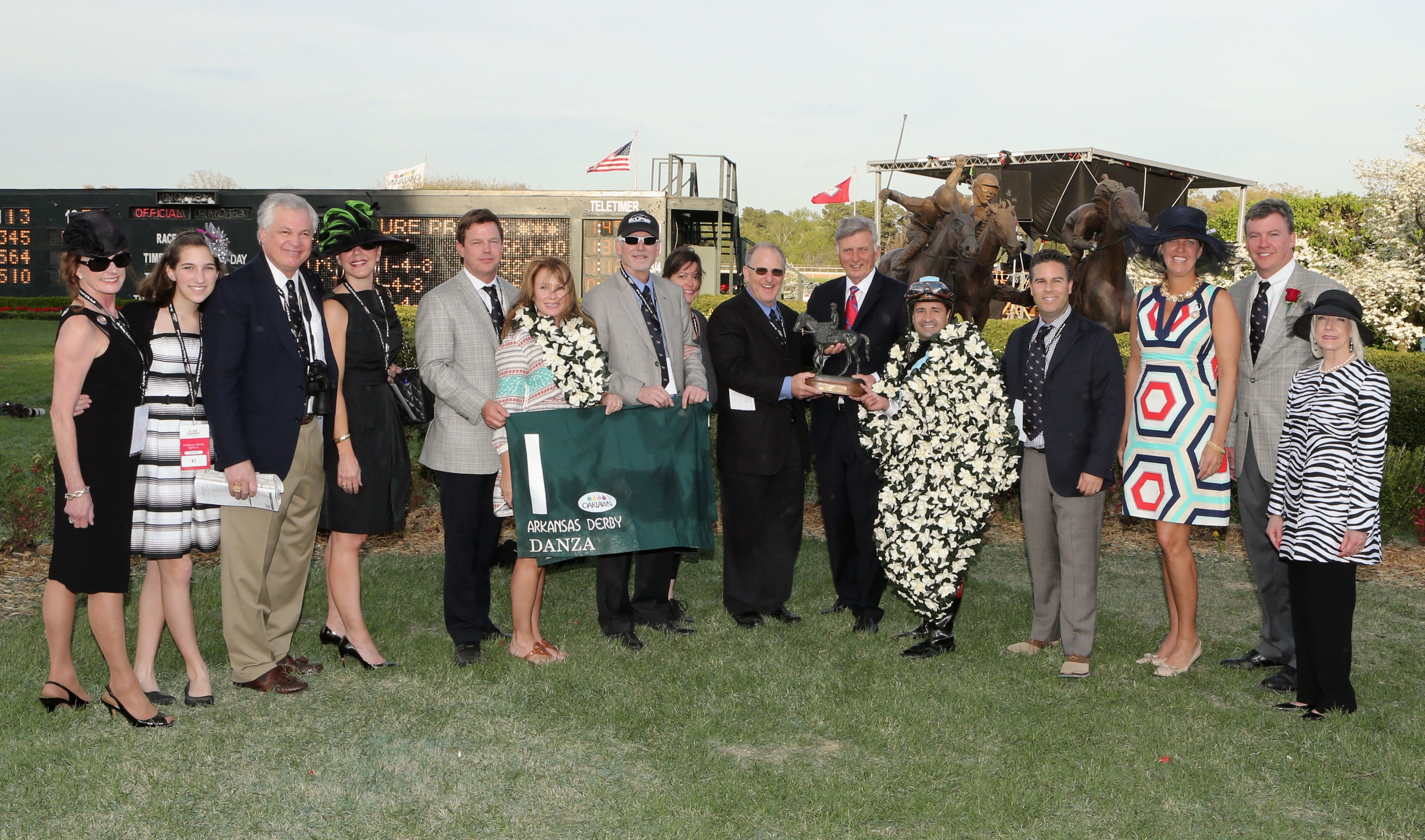 The 2016 season was a banner stand for Eclipse, as the stable closed out the year ranked 11th among all owners in the country with close to $3.3 million in purse earnings. Eclipse won 45 races with 30 individual horses, good for a robust 23.08% win percentage and the in-the-money rate landed at 54.36%.
9 times the Eclipse colors posed for photos in Stakes races in 2016, including a pair of Grade 1's with Curalina in Kentucky and Illuminant in California. The baby blue and black won at 18% in Black Type events and hit the frame 50% of the time in Stakes, including an additional pair of Grade 1 performers in Comfort and Lady Valeur.
For an illustration of all North American-based racing partnerships stats, check out:
https://www.ownerview.com/syndicate
And, to further emphasize the strength of the Eclipse program, the Thoroughbred Racing Commentary has just released their global owner rankings, in which Eclipse was ranked #74 among all owners throughout the world. Not a single other American racing partnership was ranked inside the top 200 owners globally, while Eclipse was within the top 75, a proud honor to be sure.
https://www.thoroughbredracing.com/rankings/category/owner/

While we are all certainly excited to turn the page and get the 2017 season launched with a quintet of runners this coming weekend, let's take a moment to enjoy a dozen highlights from the 2016 stand: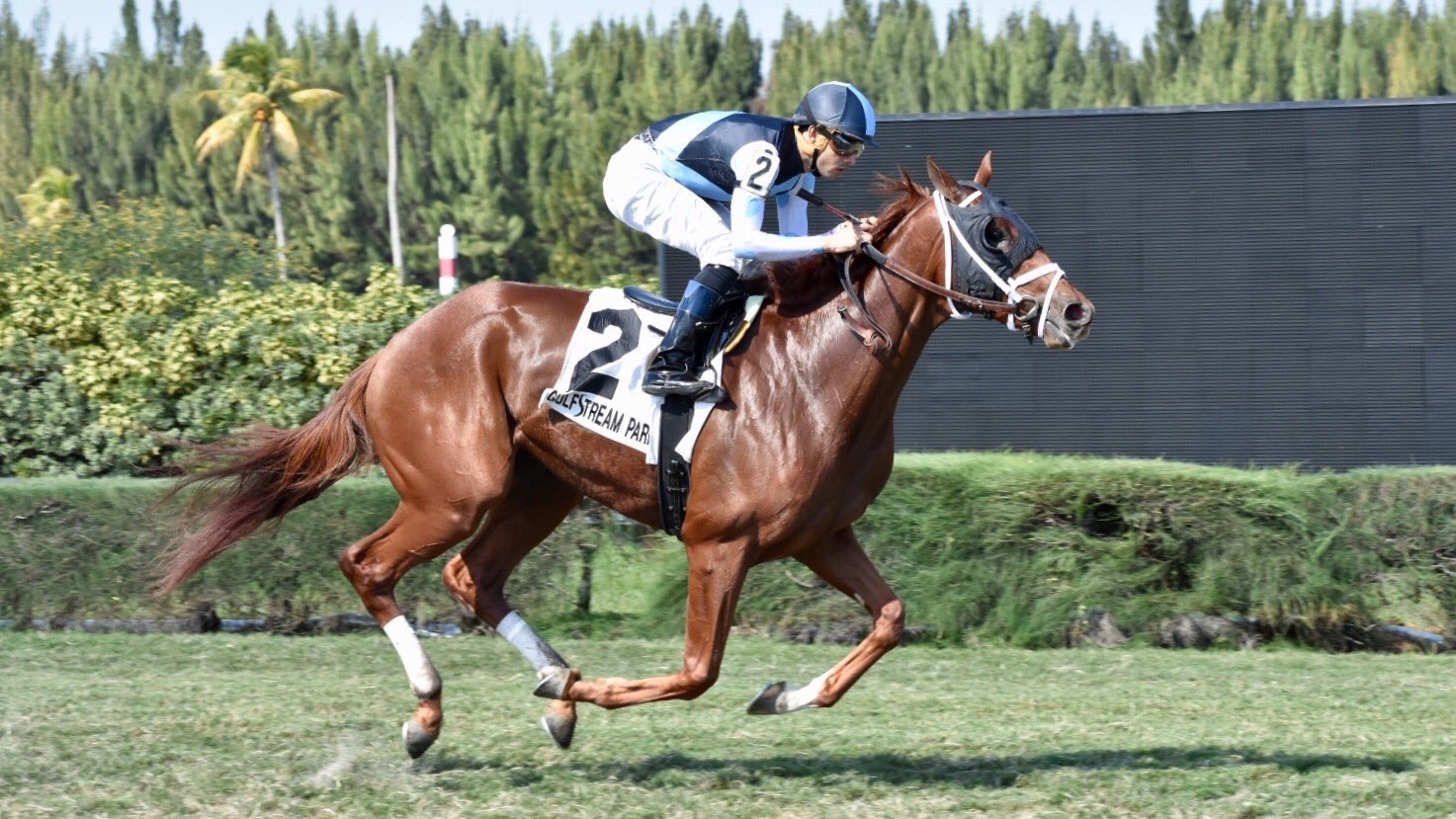 12. Squadron winning the $100,000 Juvenile Turf Stakes in November at Gulfstream Park West was a real hoot for the partners who didn't let the son of Midshipman's modest $60,000 yearling price tag dissuade them from jumping in. For those familiar with Squadron's development as a 2 year-old, he was quite the character and his antics necessitated a castration event prior to his career debut, which he won courageously sprinting on the dirt. Stretching out to 2 turns and trying the weeds for the 1st time in start #2, Squadron fired a huge shot in the Juvenile Turf and rifled home an authoritative victor. Squadron has already exceeded his purchase price in earnings and will get the acid test tomorrow in the Grade 3, $100,000 Dania Beach Stakes at The Gulf.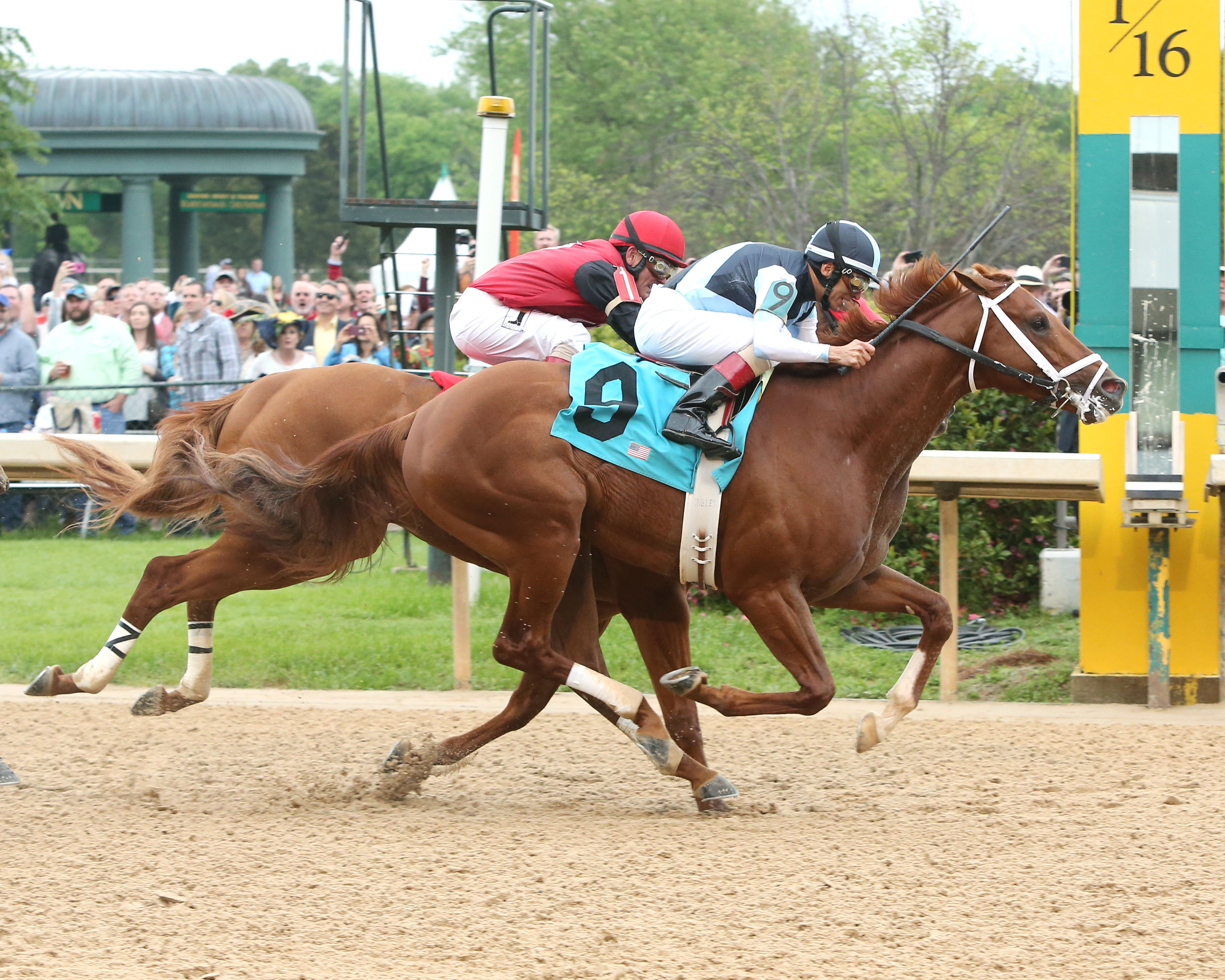 11. Decorated Soldier defied logic when he willed his way to victory in the $150,000 Northern Spur Stakes at Oaklawn Park in just his 3rd lifetime outing. A troubled colt as a freshman with just a single start to his name, Decorated Soldier thrived after being given some time to mature into his sophomore campaign and he flourished with a jaw-dropping Maiden win at Tampa sprinting and then endured a ridiculously wide trip around 2 turns to take home the Northern Spur spoils from Hot Springs, Arkansas. The strapping son of Proud Citizen went sour into the summer months, but is back in serious training for Todd Pletcher and is subtly hinting that he could be ready to make some noise as an older horse.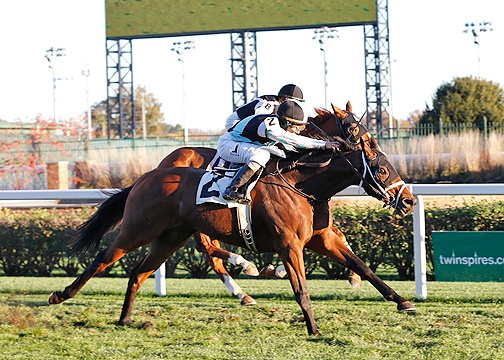 10. Patrioticandproud will forever be embedded in the hearts of the Eclipse brethren and while he did not win a Stakes race this past season, he did win a pair of races for the stable, making him a winner for Eclipse at ages 2,3,4,5,6 and 7, including going down in history as Eclipse's 1st ever starter and, simultaneously, winner, in October of 2011. The consummate professional, Patriotic was a bona fide warrior for the team year in and year out, running consistently at a high level, capturing a Stakes, getting Graded-placed numerous times and earning over $650,000 during his blue collar career. It was a sad day last month when someone haltered Patriotic, but Eclipse is keeping a close eye on the old boy and it would be no surprise if the baby blue and black played a role in securing him a "forever home" when the time is right.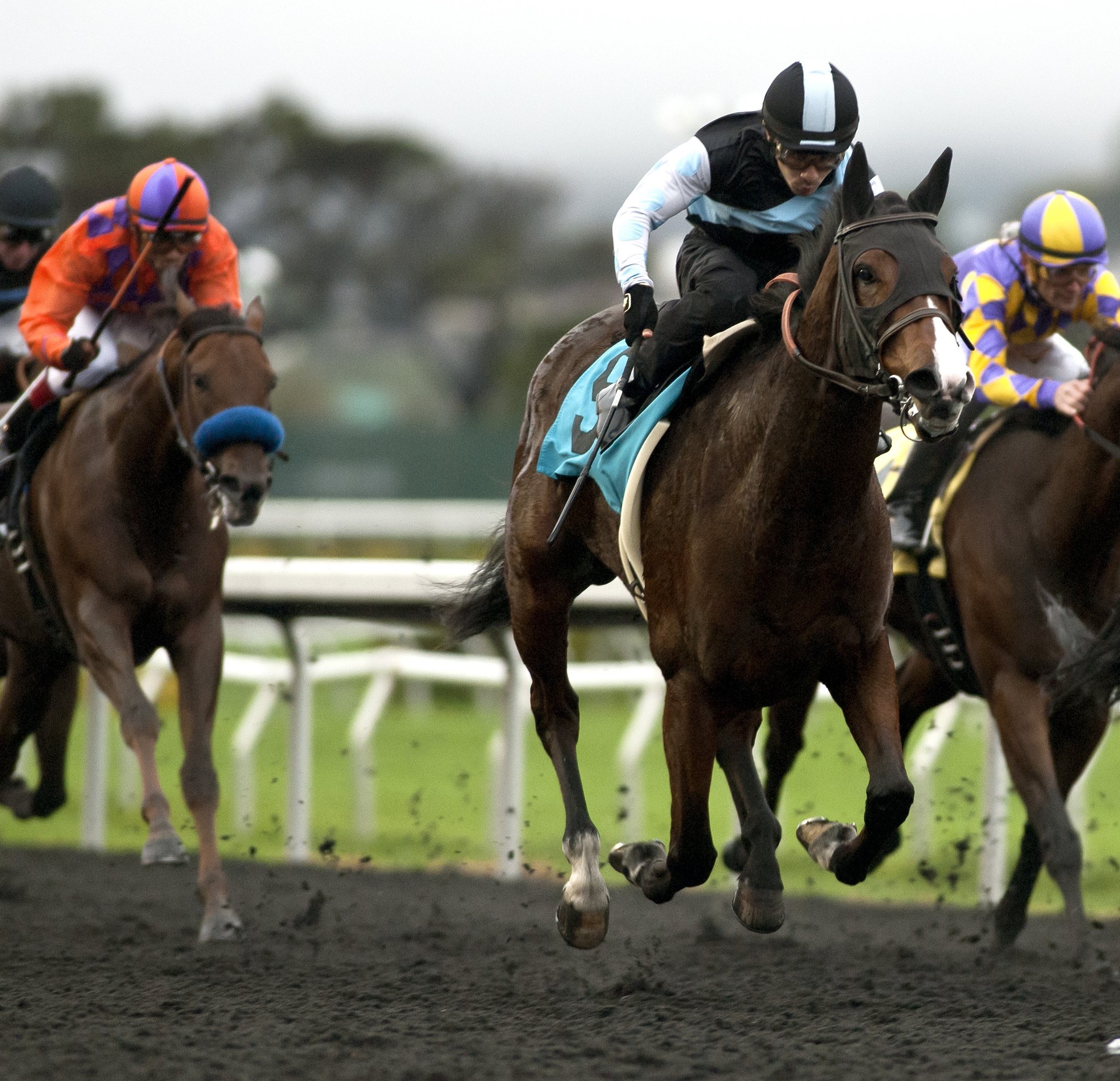 9. Lady Valeur is reminiscent of another Eclipse Hall of Famer, Byrama, who proudly wore the nickname, "Nails," originally for the stable. Lady Valeur's win in the $50,000 Miss America Stakes at Golden Gate was a deserving accolade for the gutsy and classy Irish filly import. Just a $125,000 pluck from Europe, Lady Valeur earned in excess of $200,000 in a hardy 12 outings in 2016, including 3 wins and placings in a Listed Stakes, a Grade 2 and she came within a neck of setting off a massive fireworks show for Eclipse on New Year's Eve in the Grade 1, $300,000 American Oaks last Saturday evening. Lady Valeur has a rock solid constitution, Grade 1 talent and she's only getting better as she turns the page to her 4 year-old year as 1 of the top turf fillies in California. Her entire season deserves its' own highlight reel, but her Miss America win and 3rd in the American Oaks were the headliners.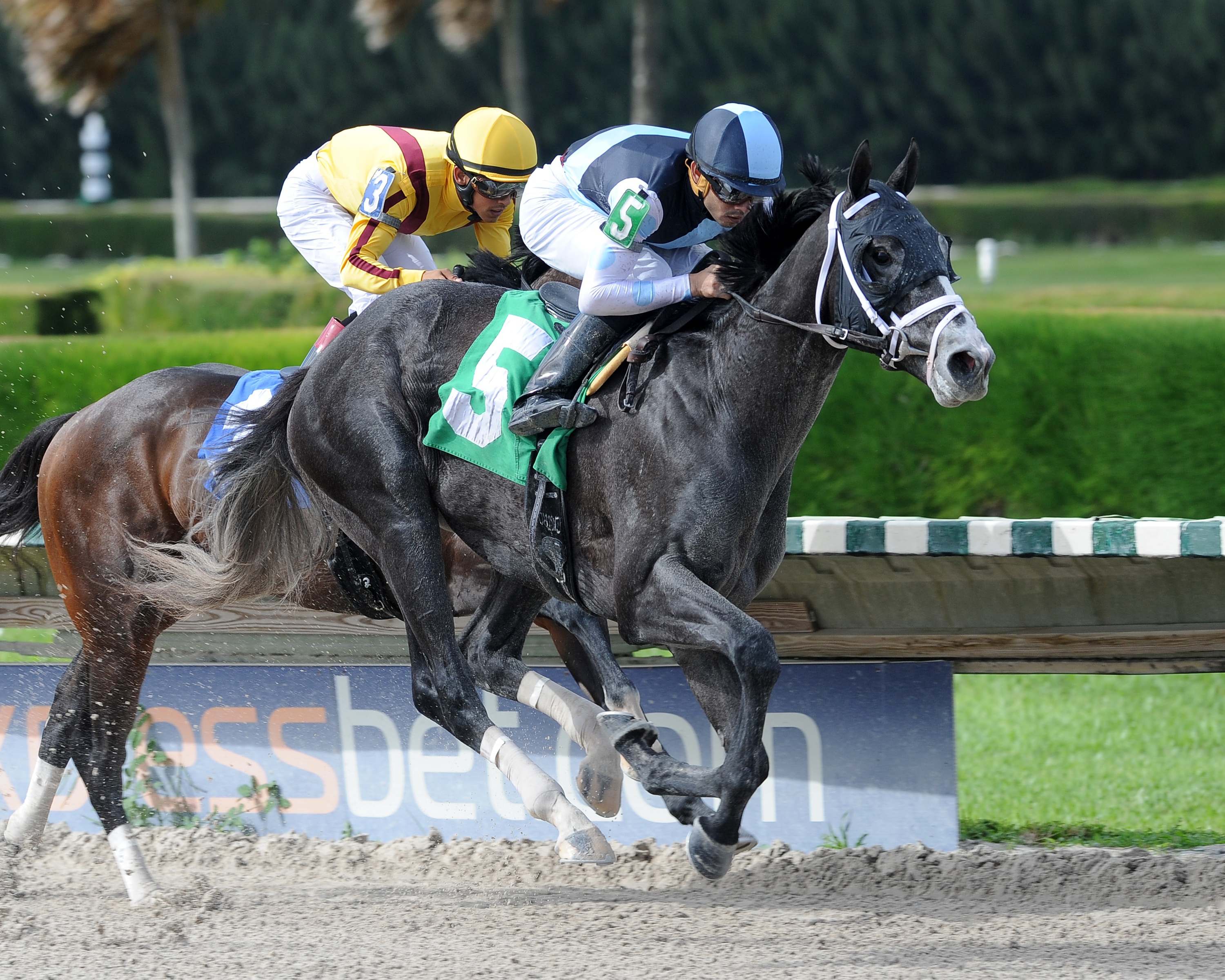 8. Tapwrit was and still is by far the most expensive horse ever acquired by Eclipse at public auction when he commanded $1.2 million as a Saratoga yearling in 2015 and his score in the $75,000 Pulpit Stakes at Gulfstream Park in December was a strong indication for Eclipse and racing partners John and Leslie Malone of Bridlewood Farm and Robert LaPenta that the large gamble might just pay off. As a son of Tapit out of a Grade 1-winning mare, capturing a Stakes race in the Big Leagues as a 2 year-old is serious stuff and with a 2-turn win already under his girth, Tapwrit is taking his partners right onto the Kentucky Derby Trail this coming season. If that isn't a highlight worthy note, you better check your pulse!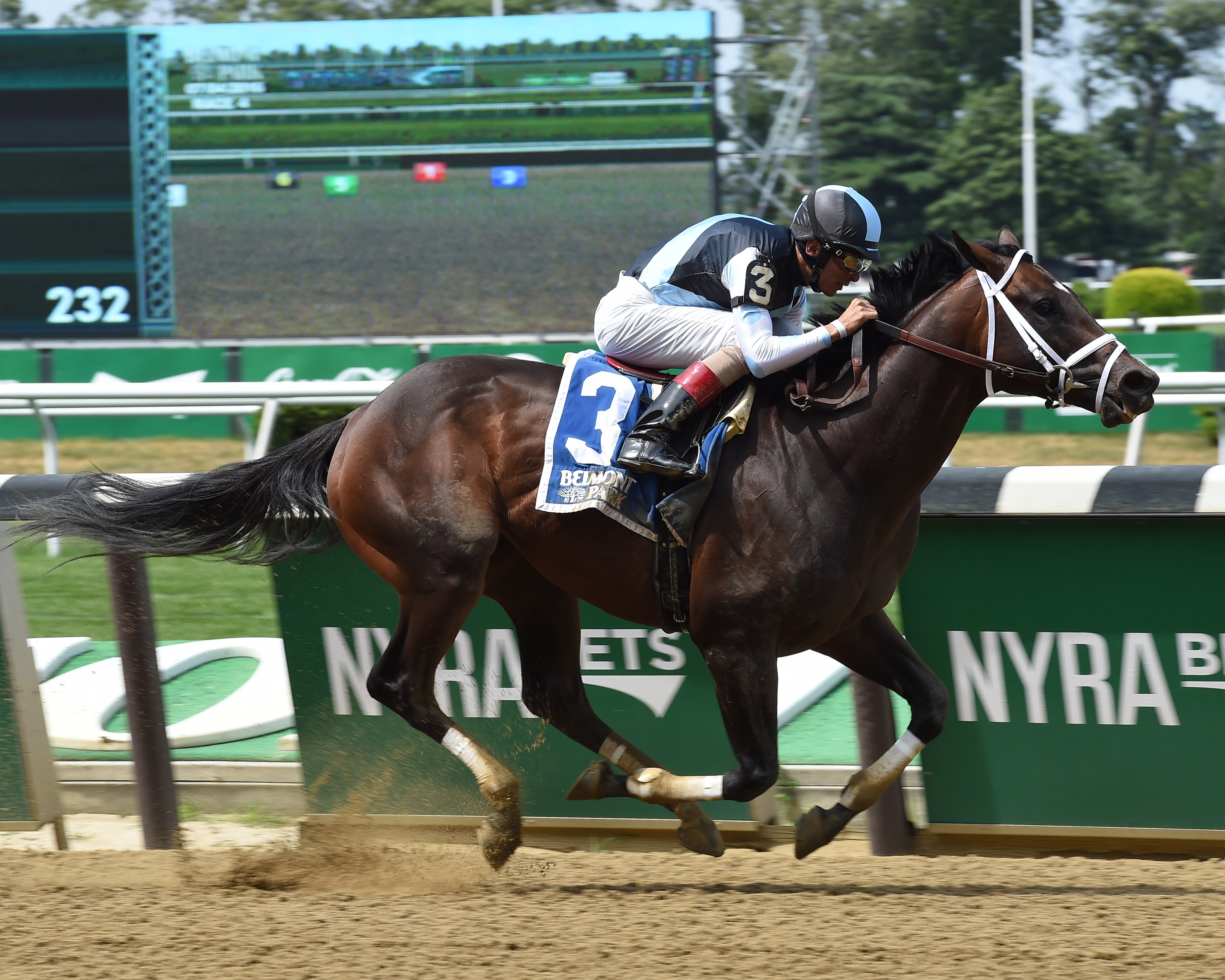 7. Comfort put together as close to a miraculous campaign as his partners could have ever conjured after getting punched in the gut a few times with news that their colt had to go to the sidelines on multiple occasions. The most frustrating thing for any horse owner is to know that your horse has world-class talent, yet the horse never gets to prove it. Comfort was at risk of falling into that category, but his courage and class and natural talent won out, as he won an Allowance at Belmont Park, which led to a trouncing of his rivals in the State Dinner Stakes at Big Sandy and another game victory in the Seattle Slew Stakes over the same legendary strip. A late-season setback again forced Comfort to the sidelines, but not before he earned the respect of every pundit in the land who ranked him among the top 5 in Handicap horses in the U.S.A. Comfort will return in 2017 with a vengeance, seeking to capture that elusive Grade 1 and stamp himself a prime-time stallion prospect.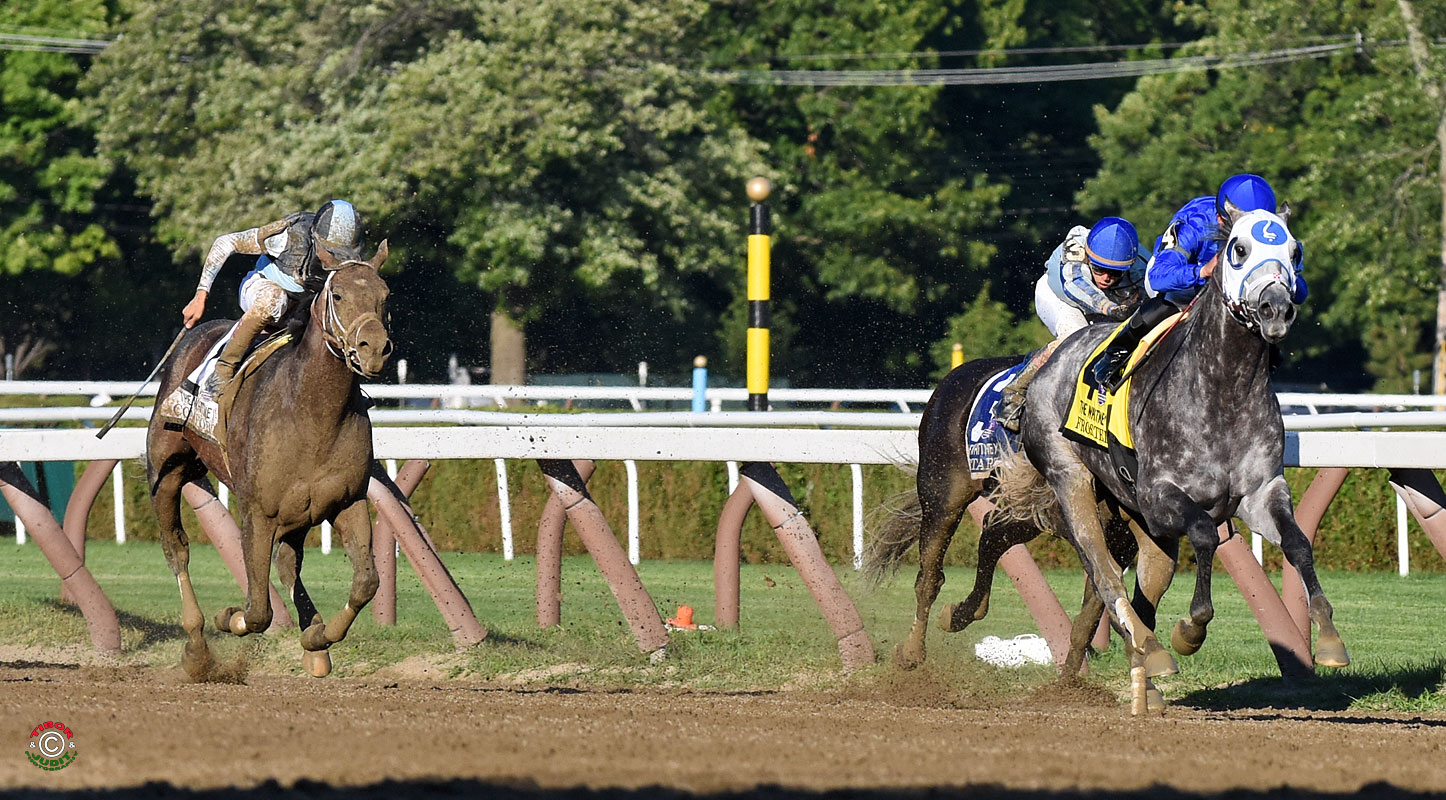 6. The aforementioned Comfort did not win the Grade 1, $1.25 million Whitney at Saratoga this past summer, but his bold 2nd-place finish certainly was a massive highlight of the year for the Eclipse brethren. Everything went against Comfort on the day, including a bad stumble at the start and a disgusting trip in general, but he willed his way around the historic oval and was a gallant 2nd behind the mighty Frosted. It was perhaps the most courageous effort put forth by any Eclipse runner throughout the year and deserves its' own spot on the highlight reel for sure.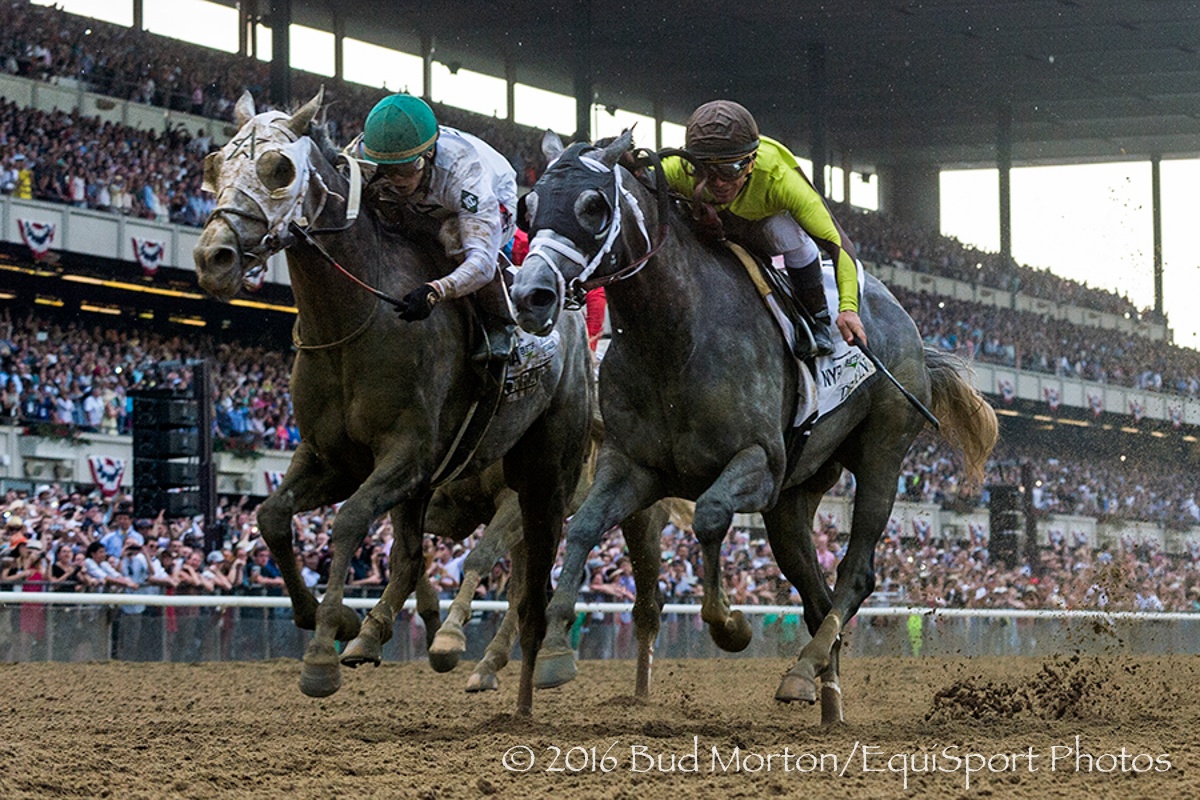 5. While Eclipse does not typically celebrate 2nd-place finishes and much prefers to focus on wins, the 2nd-place effort by Destin in the 2016 edition of the Grade 1 Belmont Stakes must be applauded. The nostril defeat went down in the record books as the closest finish to an American Classic. It was a heart-stomping experience for the partners who are involved in the Destin partnership and heart-breaking, all at the same time. But, in the end, it was a historic moment in which Eclipse and our racing partners, Twin Creeks, simply got the worst of the bob. Eclipse could not be more proud of Destin's performance, the class with which our Eclipse partners and Twin Creeks handled themselves in the wake of such a gut-wrenching loss and we have total conviction Destin will make amends for that nasty beat with some major wins in 2017.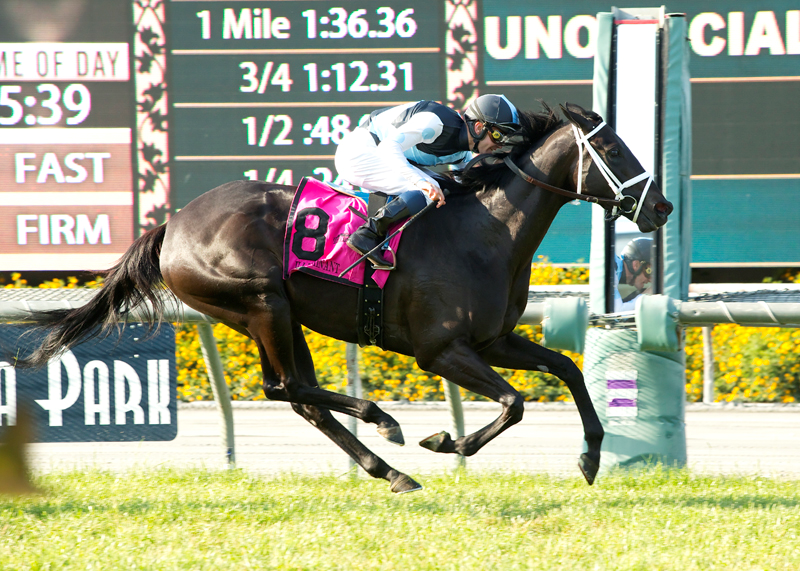 4. Illuminant streaking to victory in the Grade 1, $300,000 Gamely at Santa Anita was undoubtedly a bright spot for Eclipse in 2016. A high-maintenance filly who required enormous attention throughout her development, providing the young trainer, the Todd Pletcher disciple, Michael McCarthy, with his 1st ever Grade 1 win was a hugely gratifying moment for everyone involved with Eclipse. One of the many ways Eclipse tries to emulate our esteemed joint venture partner in Cot Campbell of Dogwood Stable is to give real and meaningful shots to young, deserving trainers just starting out and while it will take several more chapters, if not an entire novel, for Eclipse to match for Michael McCarthy what Dogwood did for Todd Pletcher's career, Eclipse is thrilled to play a role in Michael's future success. There wasn't a dry eye in the Gamely winners' circle and with Eclipse retaining an interest in Illuminant after SF Bloodstock acquired the filly in November at Fasig-Tipton for $900,000, there are high hopes that there are more Grade 1 races out there in 2017 with Illuminant's name on them.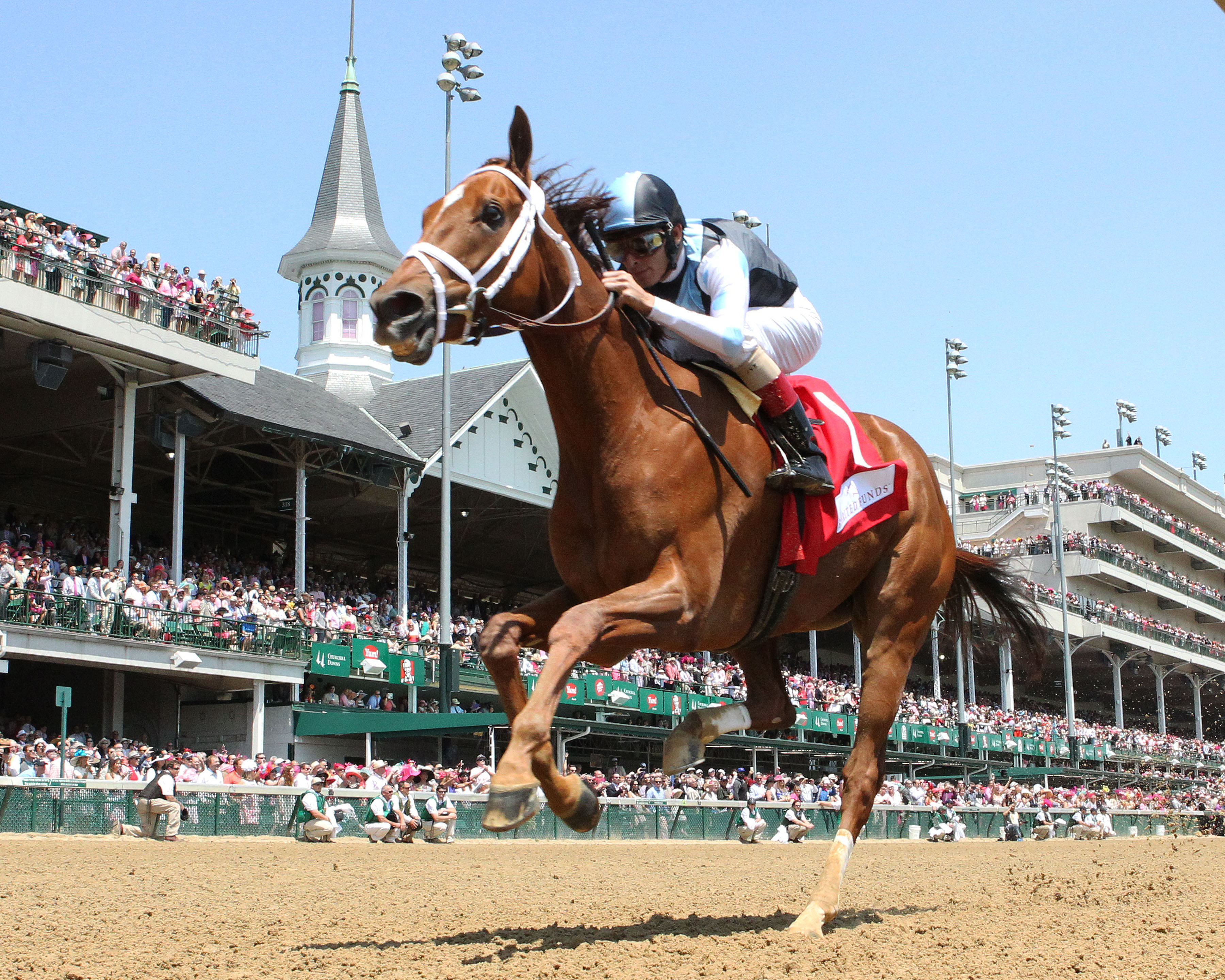 3. Curalina was the franchise filly for Eclipse in 2015 and 2016 and it was a statement to the world which she made when she bolted home 8+ lengths to the good on Kentucky Oaks day beneath the Twin Spires in the Grade 1, $300,000 La Troienne. Snubbed by the Eclipse voters for her sensational sophomore season the year prior, Curalina put on an unforgettable show at Churchill Downs that day, stamping herself once and for all as an elite filly of her generation and as one of the best in the world. The raw display of speed, grace and pure class which she exuded on the occasion will forever be engraved in the minds of her partners and fans.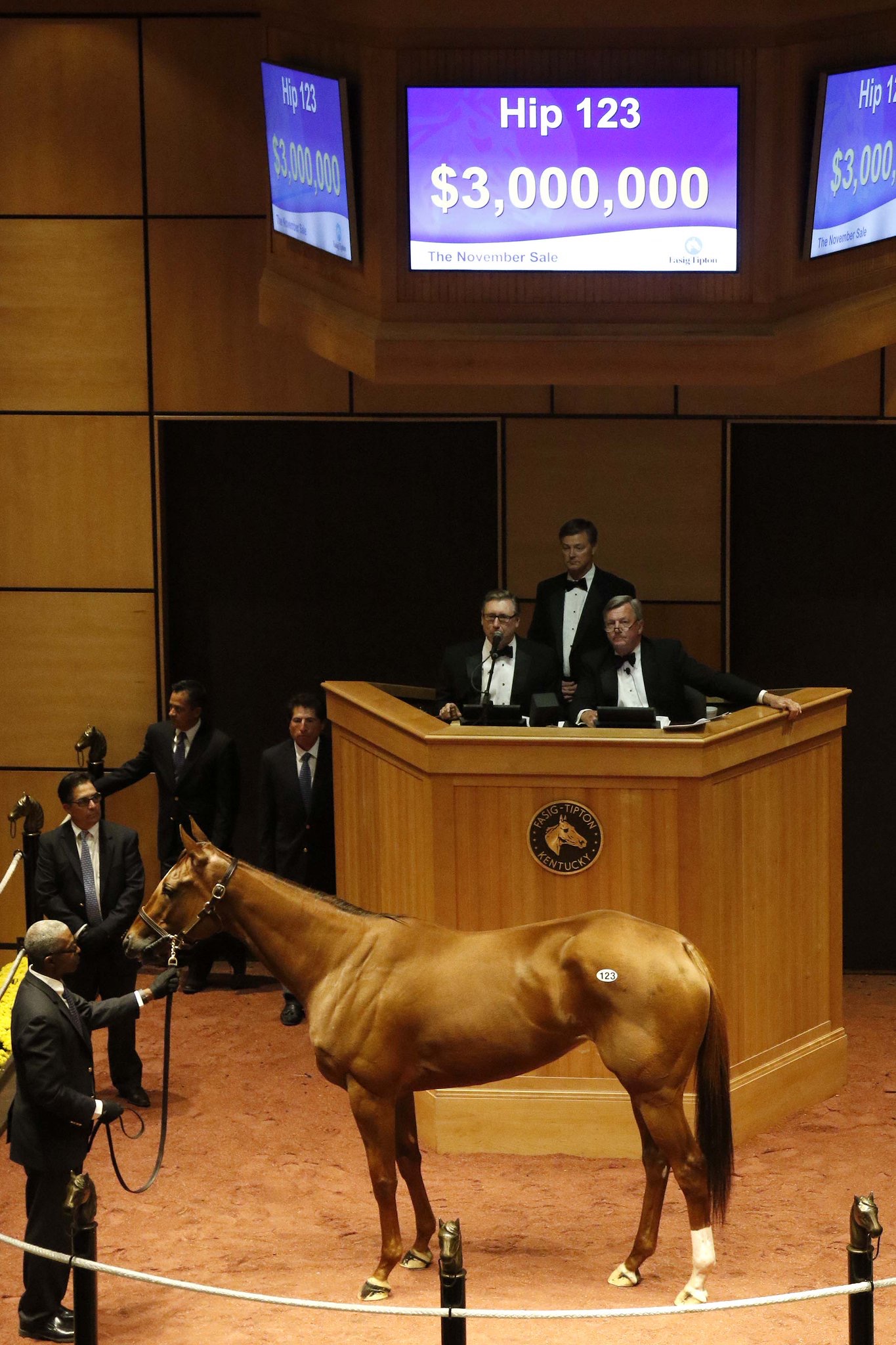 2. It's another non-winning highlight, but a highlight nevertheless, as Curalina commanded an astronomical sum of $3 million when she was offered for sale at Fasig-Tipton's "Night of the Stars" in November. Just a $125,000 yearling find for Eclipse, Curalina had an illustrious career through 3 seasons, winning a trio of Grade 1's, placing in several others, including the Breeders' Cup Distaff and compiling a bankroll of over $1.5 million. It was unquestionably a bittersweet moment to see Curalina leave the Eclipse stable, but she will always be part of the Eclipse family and will forever be remembered as a once-in-a-lifetime filly. Her $3 million price tag earned Curalina the honor as the single most expensive and valuable off-the-track broodmare prospect sold at public auction the world over in 2016. It may not provide you with quite the thrill of watching a horse race, but if you'd like to see what it was like when Curalina rang the bell at Fasig-Tipton, take a moment and check out this link: Curalina Fasig – Tipon
1. SAFETY. At the core of everything Eclipse stands for is pure horsemanship and a totally devoted appreciation for the equine athletes who are the stars of the Eclipse program. Therefore, the #1 highlight of the 2016 season is the fact that each and every one of the 195 horses and jockeys that Eclipse sent out onto the racetrack to compete in a race came home safe. Inevitably, the stable is frequently experiencing injuries to equine members of the roster, some minor, some crushing. This comes with the territory and Eclipse exercises every ounce of skill and effort to minimize this risk. We also recognize the risk taken by horse and jockey every time they go to battle and this is something Eclipse never takes for granted and we take extreme pride in the care, attention and horsemanship that goes into every member of the stable. It is our wish that this can be our #1 highlight every single year.
*HONORABLE MENTIONABLES: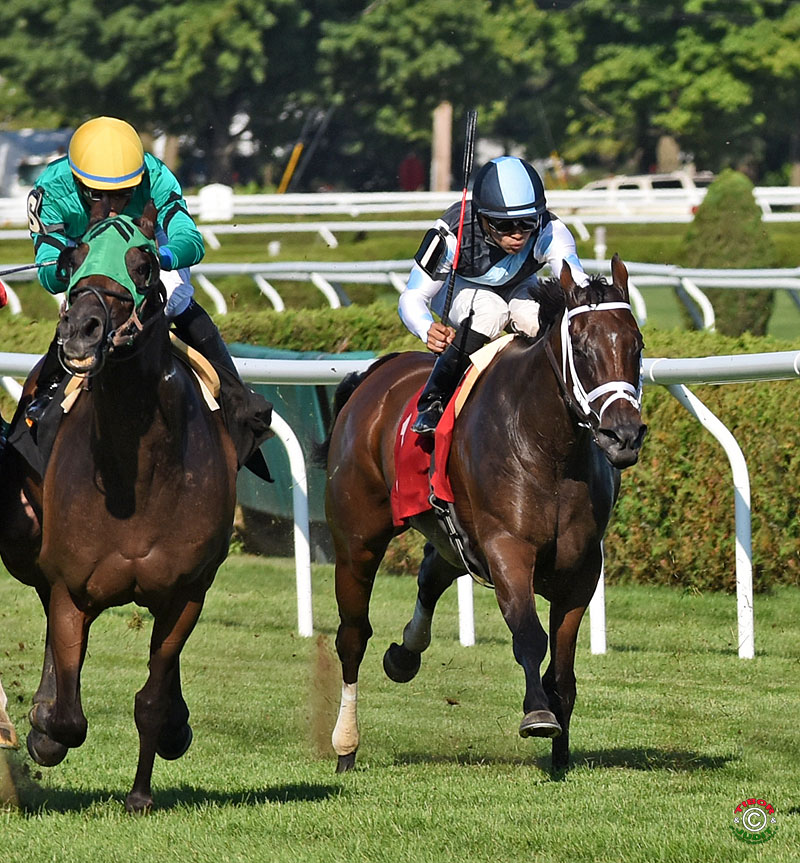 Brinkley (left) had a lovely season in her own right, flashing wicked speed in winning a pair of grass dashes at Gulfstream and Keeneland and then getting Stakes-placed at Saratoga. The lightning quick City Zip filly was sold in November for $180,000 and we wish her all the best in her new career as a broodmare;
Whisk became a real fan favorite for her moxie and grit. She was no Zenyatta, but she did the Zenyatta prance-dance every time she showed up in the paddock to race. She went out a winner for Eclipse at Del Mar this past summer and is still going hard for her new connections.
Capriana may rank among one of the most gifted horses to ever grace the Eclipse stable. Just a $50,000 yearling, Capriana was plagued by injury throughout her career, which prevented her from ever achieving the glory she was capable of, but she was brilliant when right. She, too, went out a winner this past summer at Saratoga and was bought back in November by Eclipse, who will retain the daughter of Street Boss for the squad's broodmare band. Capriana will be bred to Shanghai Bobby next month in foal share with JJ Pletcher, who adored the amazon mare ever since he broke her as a baby and rehabbed her on several occasions.
Big Papi is not a name that is familiar for anything other than the shoe-in Hall of Fame baseball player, but the equine version of Big Papi is meaningful to the partners who endured 18+ months of trials and tribulations with the Scat Daddy colt until they were rewarded with a scintillating, open-lengths win in the colt's debut in November at Tampa. It was just a Maiden Special Weight score late in the year for a soon-to-be 4 year-old, but the victory was a gratifying moment for Big Papi's partners, whose patience and support of the colt has been unwavering from Day 1 and a testament to the belief in the Eclipse program to maximize a horse's potential and productivity even when dealt ugly hands.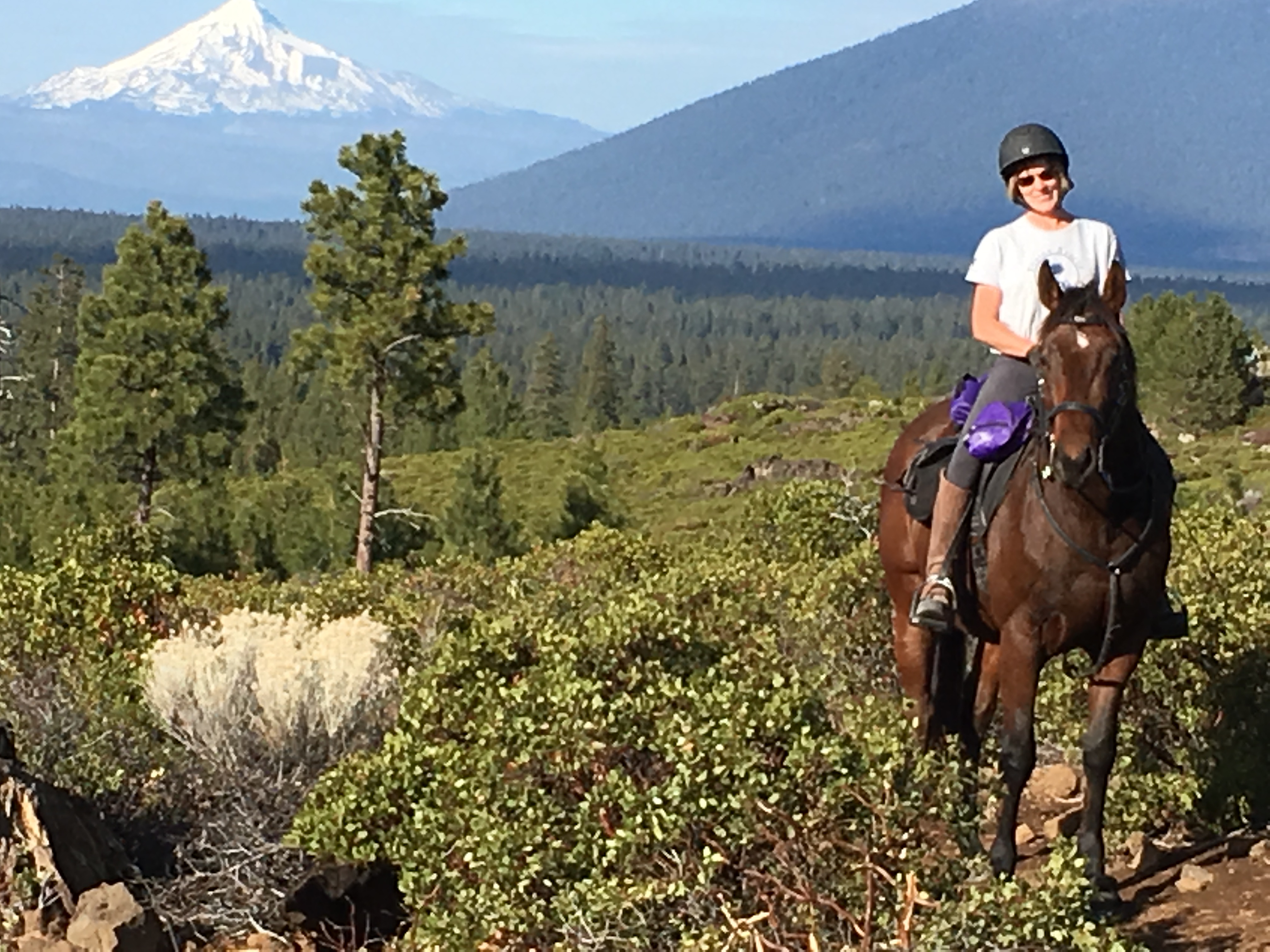 All World is a colt most would just as soon forget, as the Classic aspired son of Curlin was rounding into a true force early in his 3 year-old campaign, only to suffer a career-ending injury in the wake of his promising Maiden win. It was the lowest of the lows for the partners associated with the hulking All World and a classic case of Classic dreams being shattered. While the sting of that squandered talent and stamina will likely never heal, the All World story did adopt a feel-good vibe when the husband-wife team of Eclipse partners Mike and Kari Schneider took All World on and retrained him as a riding horse at their home in Oregon. Once a ferocious racehorse known for once having run off during a training session for over 3 miles at Palm Beach Downs, All World now handles all terrain in the trails of Oregon and he epitomizes the term, "pleasure horse." Eclipse takes aftercare very seriously and the All World story is a prime example of a creative way to find "forever homes" in a safe, nurturing environment where our x-runners can find ulterior purpose in their lives. A similar transition was made with Optical, who was retired with a case of the "slows" and has since begun the transition of becoming a jumper at partner Mike Warden's farm in Virginia.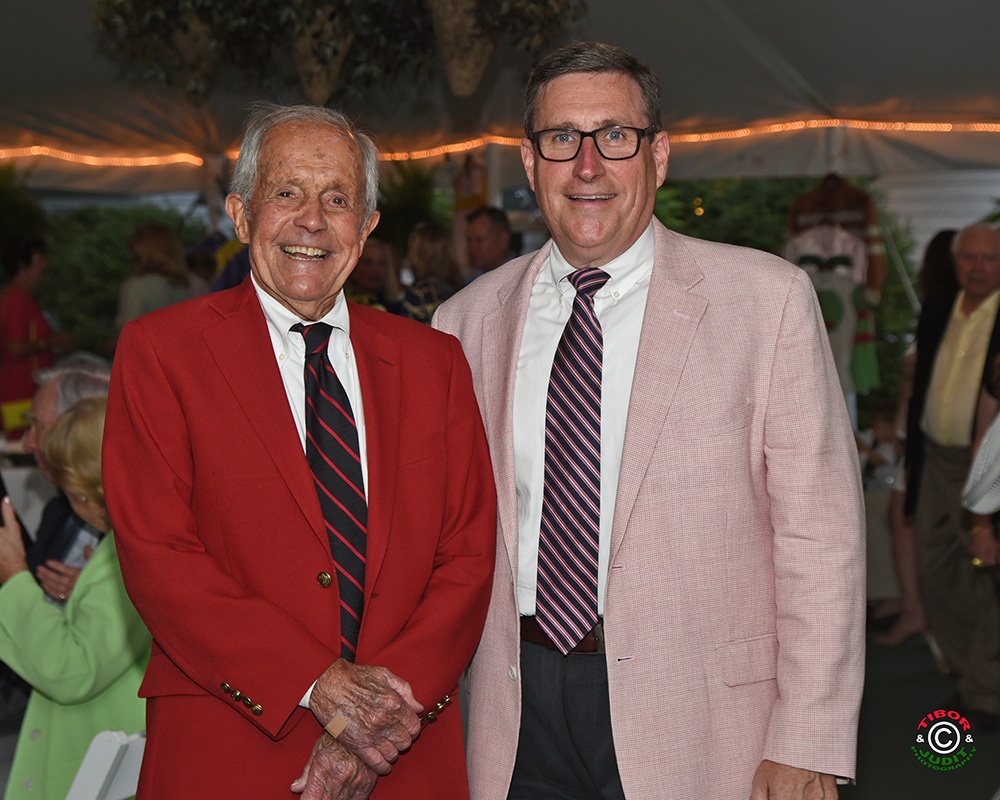 Cot Campbell (left) being inducted into the Saratoga Walk Of Fame was a monumental and special moment for Cot, his family, the Dogwood faithful and for the Eclipse family as well. For a legend like Cot to mention Eclipse Thoroughbred Partners in his acceptance speech while sporting the famed red jacket was the most humbling of experiences for all associated with Eclipse and to be able to celebrate Cot's induction with a party at The Reading Rooms the night of the ceremony was an off-the-charts highlight appreciated by all involved.
Brian Spearman (right) being voted Chairman of Saratoga War Horse speaks volumes about the Eclipse Chairman's character and commitment to the veterans of our military as well as industry related philanthropic initiatives. Brian took the reins over from Eclipse partner, Paul Oreffice, both men whom Saratoga War Horse is extremely lucky to have in their corner. Brian's involvement as Eclipse's Chairman has allowed the company to scale new heights and Eclipse is postured to continue to thrive and it goes without saying that his leadership will have a similar positive impact on Saratoga War Horse.
OK…with the 2016 seasonal highlights summarized in typical verbose fashion, we can energetically turn the page to 2017!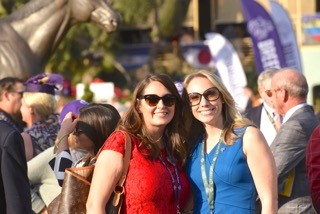 One happy announcement that Eclipse would like to make known to our partners and supporters is that Kelsey Marshall, who has been with the company since its' inception as the Director of Partner Relations, has been promoted to Vice President of Partner Relations. Kelsey has proven to be an invaluable asset to Eclipse and our partners on countless fronts and we are proud to elevate her title to that of a V.P. We are certain those of you who have encountered Kelsey at any point agree that her contributions and commitment to Eclipse's success and our partner's experiences are worthy of this promotion.
Believe Big!