 Total Eclipse: 2015 Year In Review Edition
Pinstripe's smashing 5 length debut win at Gulfstream Park on Wednesday polished off the season on a high note for Eclipse Thoroughbred Partners as the stable closed the book on its' 4th full year since the company was launched in late 2011. In those 4 seasons, Eclipse has become a household name throughout the industry as a national racing stable that competes at the highest level from coast to coast.
2015 marked one of Eclipse's finest seasons on the track to date. Pinstripe's sensational score marked the stable's 33rd win of the year, translating into a robust 21.85% strike rate. Of the 33 victories tallied by the baby blue and black, 4 came in Graded Stakes, including a pair of Grade 1's in New York from the magnificent franchise filly, Curalina.
The $2,693,305 in earnings in 2015 topped the stable's prior single-season bankroll of $2,414,522 in 2015 and from the 151 starters sent to post, Eclipse runners averaged $17,836 per start.
In 4 seasons to date, Eclipse partners have posed for win photos 95 times, 24 of which came in Graded or Listed Stakes races. Therefore, Graded or Listed wins have accounted for a healthy 25% of overall wins since the stable's inception. Eclipse runners have now hit the board in 81 Black Type races, including the stable's 3rd Breeders' Cup top 3 finish this past October when Curalina joined Sweet Cat and Capo Bastone as Eclipse team members who finished in the money in Championship events when she was a gallant 3rd in the Grade 1, $2 million Breeders' Cup Distaff at Keeneland.
Since 2012, Eclipse runners have a solid 19% win rate and starters are averaging $18,955 per outing. The Eclipse banner has been carried to victory in 6 Grade 1 races by 5 different horses in 5 different states and was 3rd in last year's Kentucky Derby with the brilliant colt, Danza. With $9,401,746 in cumulative earnings, Eclipse is on pace to well surpass the $10 million earning plateau sometime in 2016, which will be the stable's 5th full season of operation.
Eclipse President, Aron Wellman remarked, "As I always say, horse racing is the ultimate what have you done for me lately business, so we have no choice but to keep it going. To have established the Eclipse brand, our stable and our partner base in such a narrow window of time is hugely gratifying, but we still view ourselves as a start-up and we wake up each day hungrier and hungrier to win at the top level and to provide our partners with an unparalleled racing experience.
"We have been so fortunate to be blessed with such phenomenally supportive partners and to have our horses deliver the goods on the world stage on a consistent basis," Wellman reflected. "We know we must provide results on the track and thankfully the horses have cooperated on that front. Doing it year in and year out is what separates the men from the boys in this game, so we know we must continue to improve our program both on and off the racetrack. We are intent on striving to provide our partners with the treatment they deserve, partnership opportunities at value for money and world class racing success."
Top 10 Highlights of 2015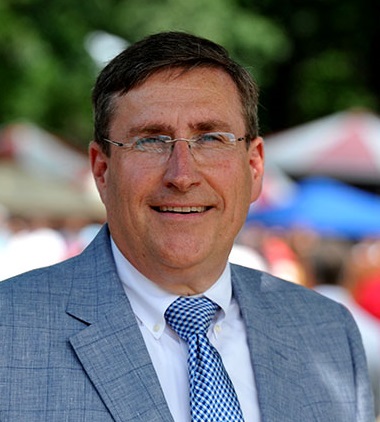 1. While there were some incredible thrills on the racetrack for Eclipse in 2015, unquestionably the #1 ranking highlight came in March when Brian Spearman joined the company as Chairman. Brian is a horse lover and passionate for horse racing, which is the key ingredient to any long term participant in the sport. Combining Brian's enthusiasm for horses and racing with his extensive business acumen as a Senior Vice President for PepsiCo is a surefire recipe for success for Eclipse as he delves deeper into his involvement as one who bleeds baby blue and black. It comes as no surprise that Brian has already been named to the Board of Directors of Saratoga War Horse, a charitable organization linking the majesty and compassion of horses to the rehabilitation of damaged veterans who served in the U.S. military. While Brian's advanced involvement on the Board of SWA was no surprise, he did spring a bit of a surprise when he recently announced his retirement from PepsiCo after 32 years of service. Brian's retirement from PepsiCo is a loss for that company, but will surely prove to be a huge gain for Eclipse as the Saratoga native can now spend more time focusing on how to accomplish Eclipse's mission of becoming the undisputed #1 partnership company in the United States.
2.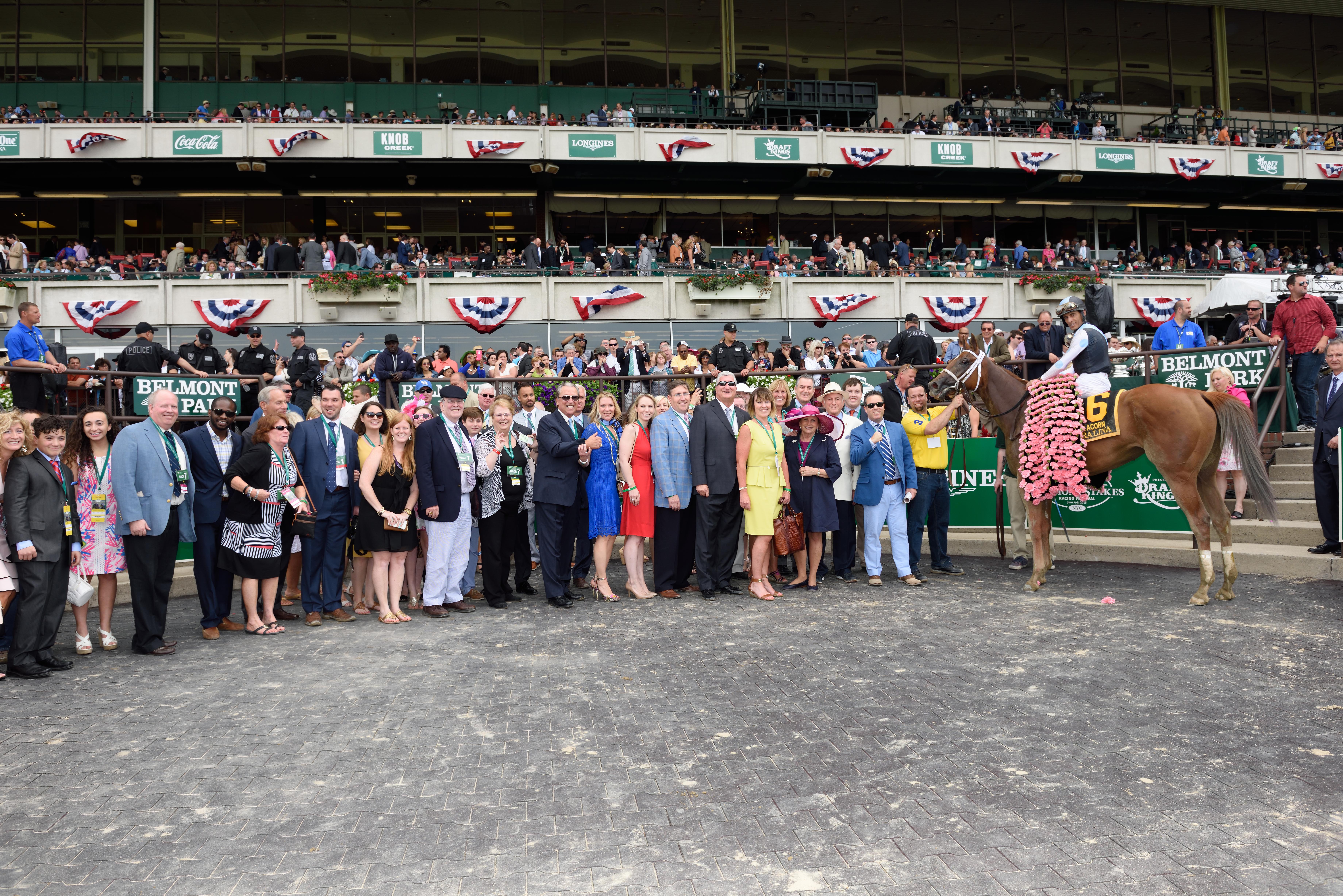 The #2 highlight of the year goes to Curalina's breathtaking triumph in the Grade 1, $750,000 Acorn at Belmont Park. After getting crushed from all angles at the start of the 1 mile affair, Curalina made a premature big up the long backside at Big Sandy, loomed boldly on the far turn and found gears and courage reserved only for the most special of equine athletes to prove victorious in the prestigious fixture in front of a massive crowd on hallowed grounds. It was a magical day to have Curalina make a bit of history for Eclipse in such an important race just hours before American Pharoah conquered the Triple Crown on the very same surface. Curalina, a $125,000 yearling acquisition by Eclipse, truly epitomizes the Believe Big! mantra and could very well be the stable's first ever Eclipse Award nominee when the candidates are announced next week.
3.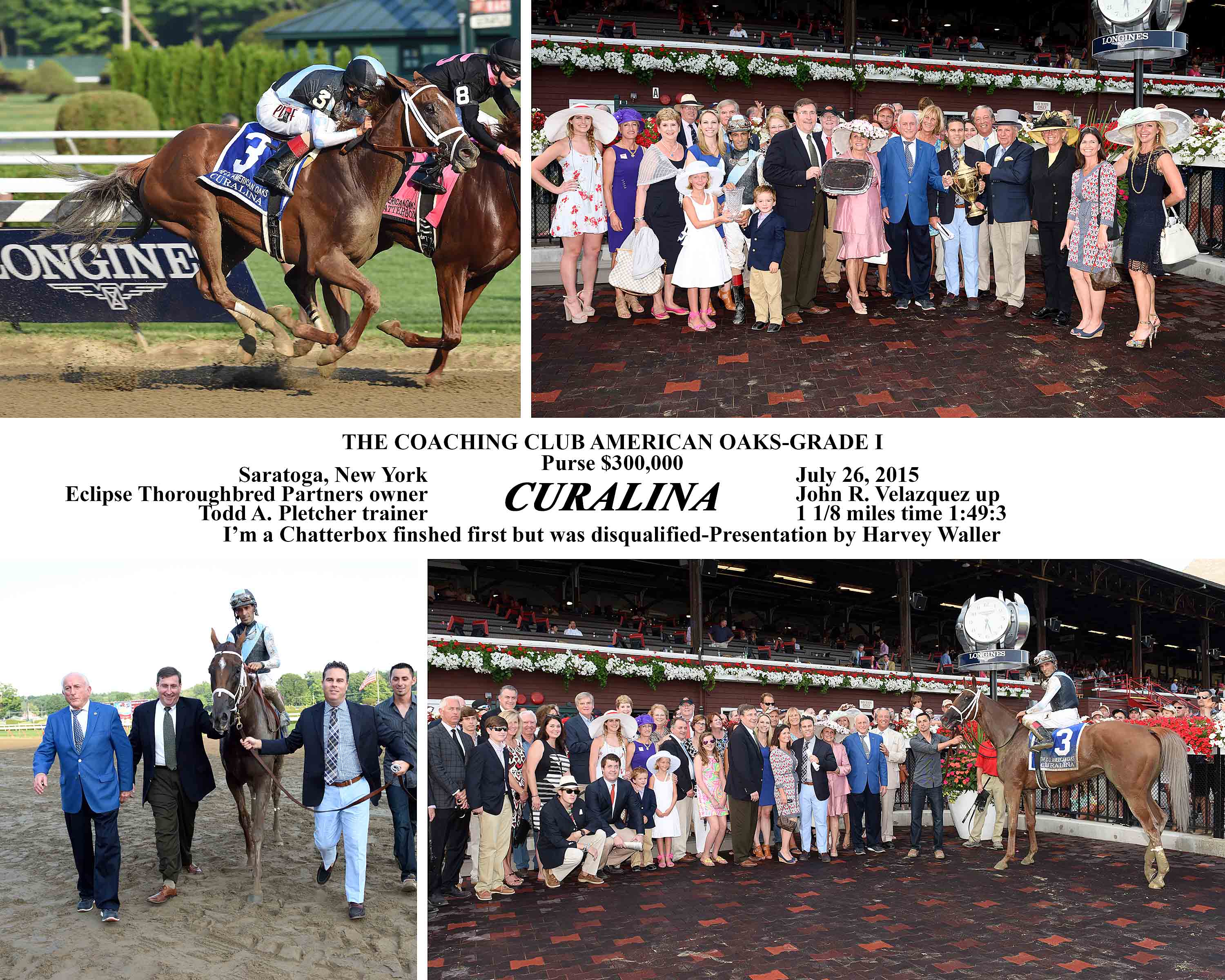 Curalina's win in the Grade 1, $300,000 Coaching Club American Oaks came via disqualification, but there isn't a single person in the world who didn't believe that the Eclipse filly earned the victory at Saratoga that day. Eclipse would prefer to win any races on the square and settle it out on the playing field rather than leaving it up to the Stewards, but the Curalina partners were just as happy leading their prized filly into the winners' enclosure at The Spa. The CCA Oaks win became the 2nd Grade 1 for Eclipse at Saratoga in 3 years, as Curalina joined Capo Bastone, who won the 2013 King's Bishop. It's a company goal to have the Eclipse silks painted on a lawn jockey at Saratoga annually!
4.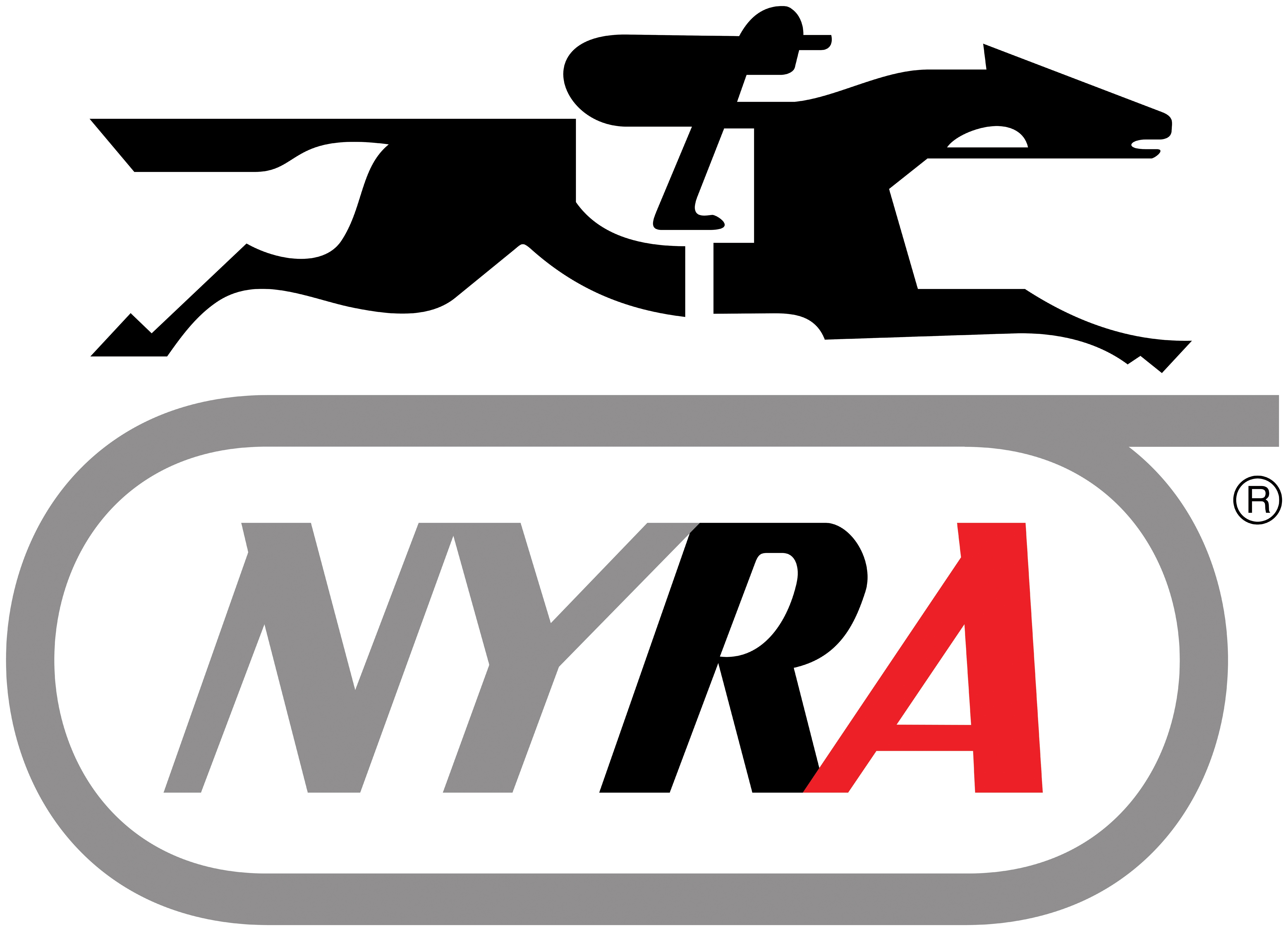 Eclipse has been knocking on the door in the tough New York circuit for the past few years as the stable has made an impact with a select sample of runners, but in 2015 the baby blue and black barged through the steel curtain of NYRA in a big way. The statement started during the Belmont Park spring/summer meeting when Eclipse closed out the stand in 4th place in the owners' standings with 6 wins. The heat kept on rolling into summer when the stable really shined at the most coveted race meet of the year in the country, Saratoga. Eclipse steamrolled through The Spa with 5 wins from just 14 starters with 12 of the 14 placing in the top 3, including a Grade 1 win as well as a Grade 1 and a Grade 2 placing, which proved good enough for a tie for 6th in the owners' standings. To rank among the leading owners in New York at arguably the 2 toughest race meets of the year, with comparatively low volume to work with and primarily high quality stock is a major feather in Eclipse's cap and there is no doubt that the bar has been raised for the stable to strive to top from now on annually in The Big Apple.
5. Speaking of feathers, the #5 highlight of the season goes to the splendid Eclipse filly, Feathered, for her outstanding win in the Grade 3, $150,000 Edgewood Stakes at Churchill Downs, capping off a double-win day for the stable on Kentucky Oaks Friday beneath the historic Twin Spires. Feathered was a top notch 2 year-old, coming within a length of capturing both the Grade 1, $2 million Breeders' Cup Juvenile Fillies and the $350,000 Grade 1, $350,000 Hollywood Starlet, and the daughter of Indian Charlie offered much promise as a Kentucky Oaks candidate, but seemed to be spinning her wheels on the trail. A gut instinct move from trainer Todd Pletcher and Eclipse to shift the filly to the turf paid huge dividends in the Edgewood, as Feathered sprouted wings on the green and flew to victory. It was a hugely gratifying score for a well-deserving, classy filly and she proved it was no fluke with a tremendous 2nd-place finish in the Grade 1 American Oaks and the Grade 2 Lake George later in the season. Feathered was sold recently for a mid 7 figure sum and will be bred next year to War Front or Curlin. We thank her for all the glorious moments she provided to our partners and wish her the best as a mama!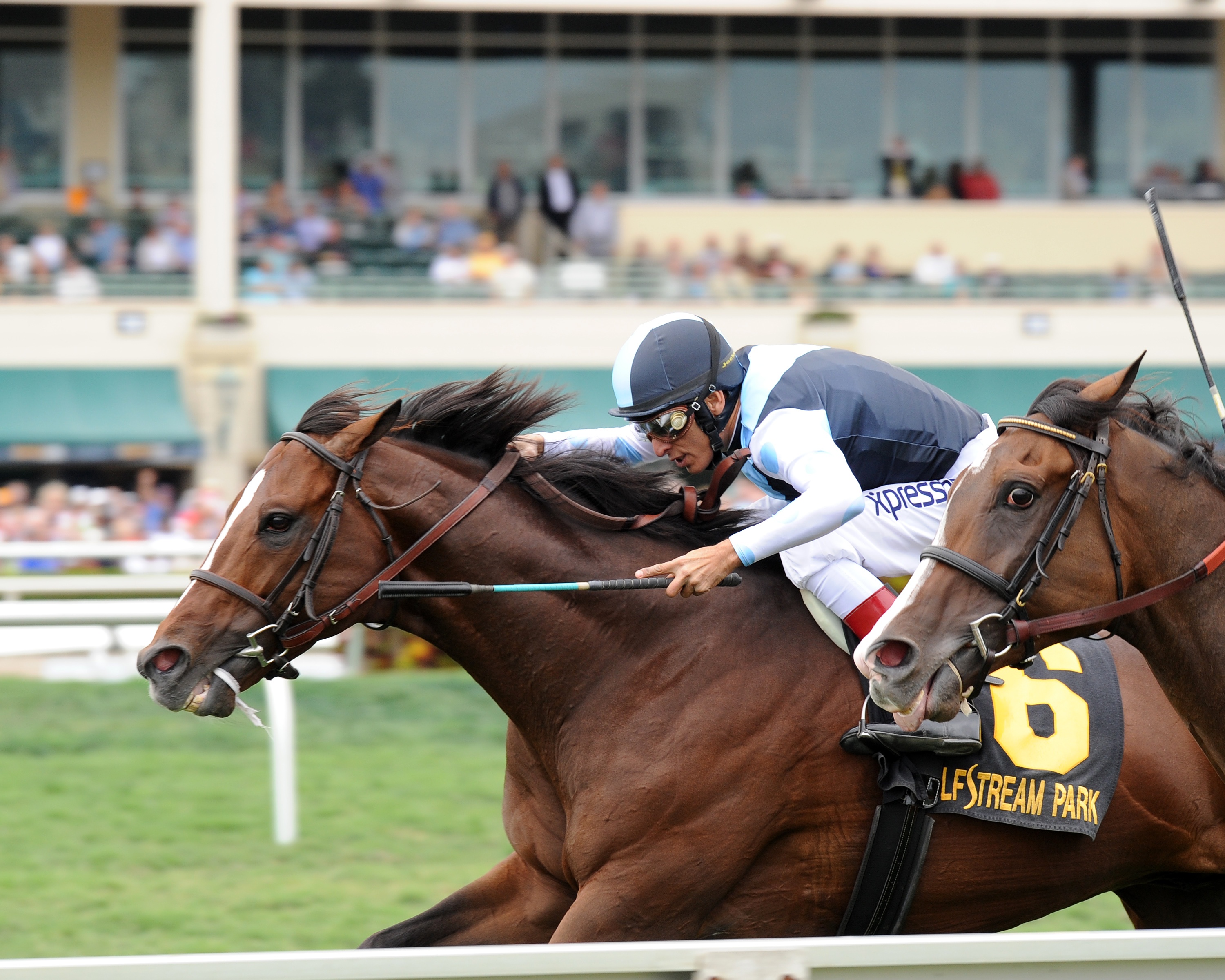 6. Typically, Eclipse scours the globe for young equine prospects who the stable believes has the ability to develop into Graded Stakes caliber performers. This usually comes through private purchases domestically and abroad of lightly raced runners in their freshman season or early in their sophomore campaigns, or at yearling auctions or 2 year-old in-training sales. In November of 2014, however, Eclipse traveled a bit outside the box for a 4 year-old colt on the verge of turning 5. That colt was the royally-bred son of War Front, War Correspondent. About 4 months after his purchase, the risk paid off handsomely after a hard-luck 2nd in a Grade 2 and a 3rd in a Grade 1, when War Correspondent streaked to victory in the Grade 3, $150,000 Appleton Stakes at Gulfstream Park on Florida Derby Day. The full bro to Declaration of War encountered some physical issues in the wake of the Appleton score and has yet to race since, but a partial sale to Kevin Plank's Sagamore Farm and a stallion rights deal with Calumet Farm has eased some of the pain for the War Correspondent partners in the interim and the strapping colt is on the verge of making his 2016 debut in the Grade 2 Fort Lauderdale next week, as the deal with Calumet allows for Eclipse to continue to campaign the colt through 2016.
7.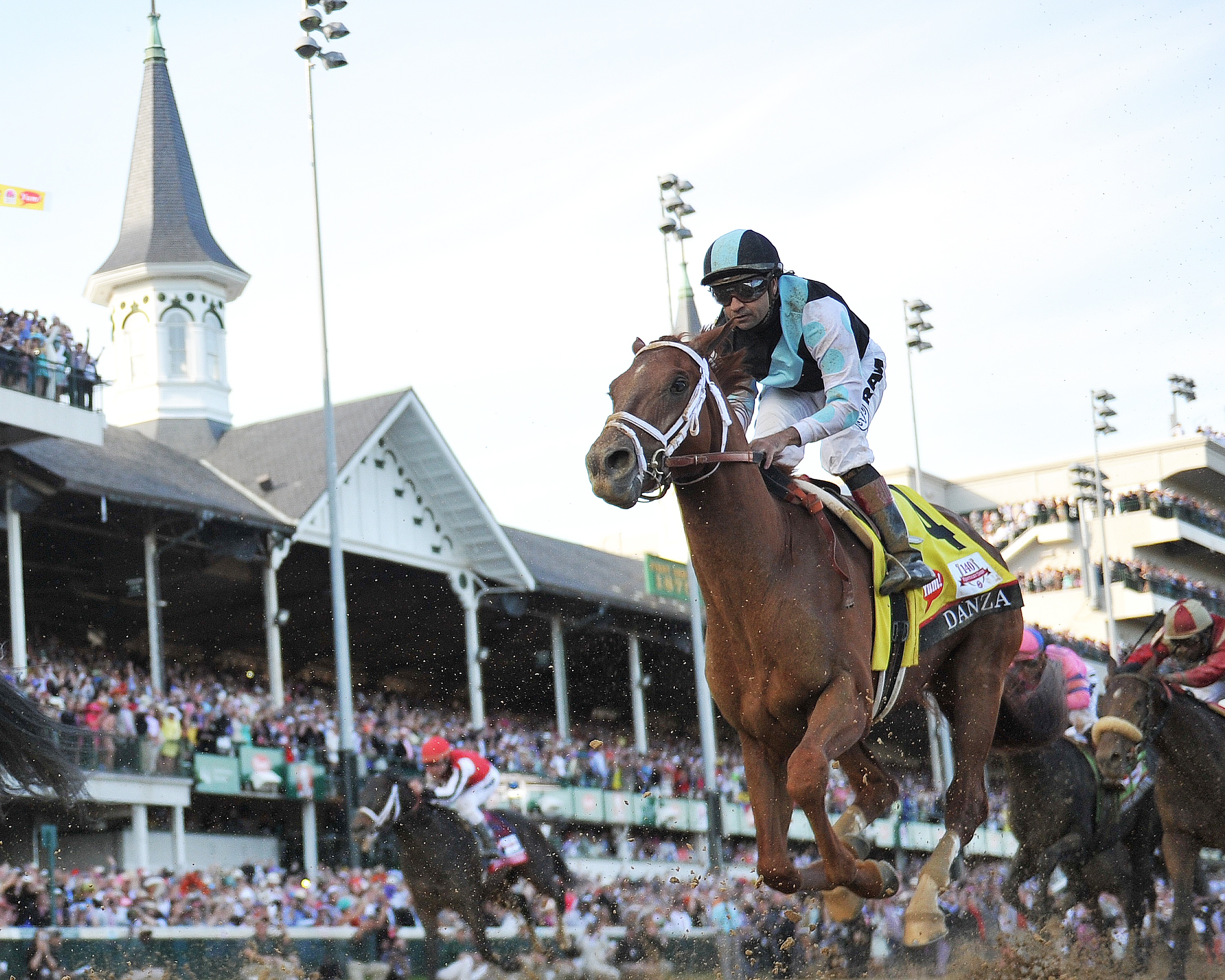 Danza provided the ultimate highlight reel in 2014 when he captured the Grade 1, $1 million Arkansas Derby at Oaklawn Park and then delivered his partners with a heart-stopping experience when he was a brave and brilliant 3rd in the Run for the Roses in the Kentucky Derby. Heart-pounding in 2014 turned to heart-breaking in 2015 when Danza was unable to make it back to the races due to injury and while the entire Eclipse family would like nothing more than to see the golden boy do his thing on the racetrack again, there was small consolation in knowing that Danza will now be getting a legitimate opportunity to make it at stud after Eclipse struck a deal with famed Spendthrift Farm for stallion duty. Danza is getting rave reviews in the bluegrass and is gearing up for a busy breeding season starting in November. Eclipse plans to breed a few mares to the handsome Danza and if all goes well, those Danza babies will hit the track in 2019. Danza, Capo Bastone and Amira's Prince are all studs raced by Eclipse now in active stallion duty and War Correspondent will hit the breeding shed at Calumet in 2017.

8. Highlight #8 belongs to a trio of 3 year-old fillies, each of whom won multiple races in 2015, all on the turf. Desert Steel established herself as a grass dash specialist by virtue of 3 stylish wins going 5 furlongs on the lawn at Del Mar. A Cal-Bred filly who has racked up well over $200,000 in earnings, Desert Steel is freshening over the winter in Ocala and will reappear in Cal-Bred Stakes when she returns to action. Capriana shaped as a star in the making after winning her first 2 career outings in scintillating style. A New York-bred filly, Capriana has had a setback after 2 extremely troubled journeys at Saratoga and will be a force to be reckoned with when she returns as a 4 year-old. Illuminant has always offered major promise and she's finally put it all together after some unlucky, narrow defeats, the daughter of Quality Road has reeled off a pair of super impressive wins on the turf in So Cal for Michael McCarthy and could have a coming out party this coming weekend in the Grade 2, $200,000 Monrovia at Santa Anita. All 3 fillies had strong sophomore campaigns and all 3 will don the baby blue and black at age 4.
9.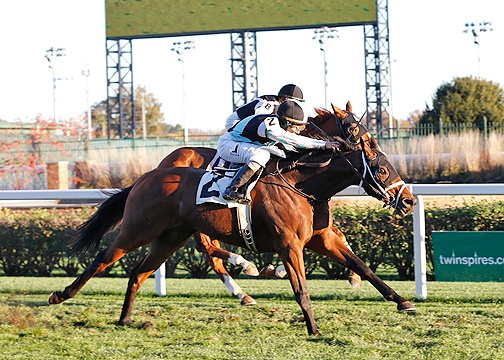 As Eclipse matures, so too does the stable have a true opportunity to develop horses from when they are prospected and acquired at a young age and then develop them for the long term. In 2015, in addition to the aforementioned older horse, War Correspondent, Eclipse had the opportunity to see a pair of older colts shine at a high level. The poster boy for longevity and the consummate professional is Patrioticandproud, who was the stable's 1st ever starter and winner in October of 2011 and has since run 35 more times for Eclipse, posting 6 total victories, 13 second place finishes and 5 third place finishes and a whopping $617,000+ in earnings. Patriotic has won at least 1 race at age 2, 3, 4, 5 and 6, including a Stakes race and will come back for more at age 7. Patriotic won 2 races in 2015 and continues to compete at the Graded Stakes level. This cool dude will always have a home with Eclipse, but we hope he keeps enjoying winning races at age 7 and beyond!
*Honorable mention in this category is the progressive colt, Matterhorn. While Matterhorn was only acquired by Eclipse midway through his 3 year-old season in 2014, the son of Tapit was bred and raised by our wonderful Eclipse racing partners, Town & Country Farms, who also now own the colt in partnership with Eclipse. After souring last summer, Eclipse regrouped with Matterhorn, hit the "refresh" button and basically started over from scratch in 2015. This season, Matterhorn went to post 8 times, capturing 3 races in New York between Belmont Park and Saratoga and capped off his year with a 3rd in the Grade 3 Iselin at Monmouth, compiling just shy of $200,000 in the process. Matterhorn got a breather the past few months and should be revved up for a 5 year-old campaign in which the goal will be to win Stakes and establish his residual value as a stallion prospect.
10.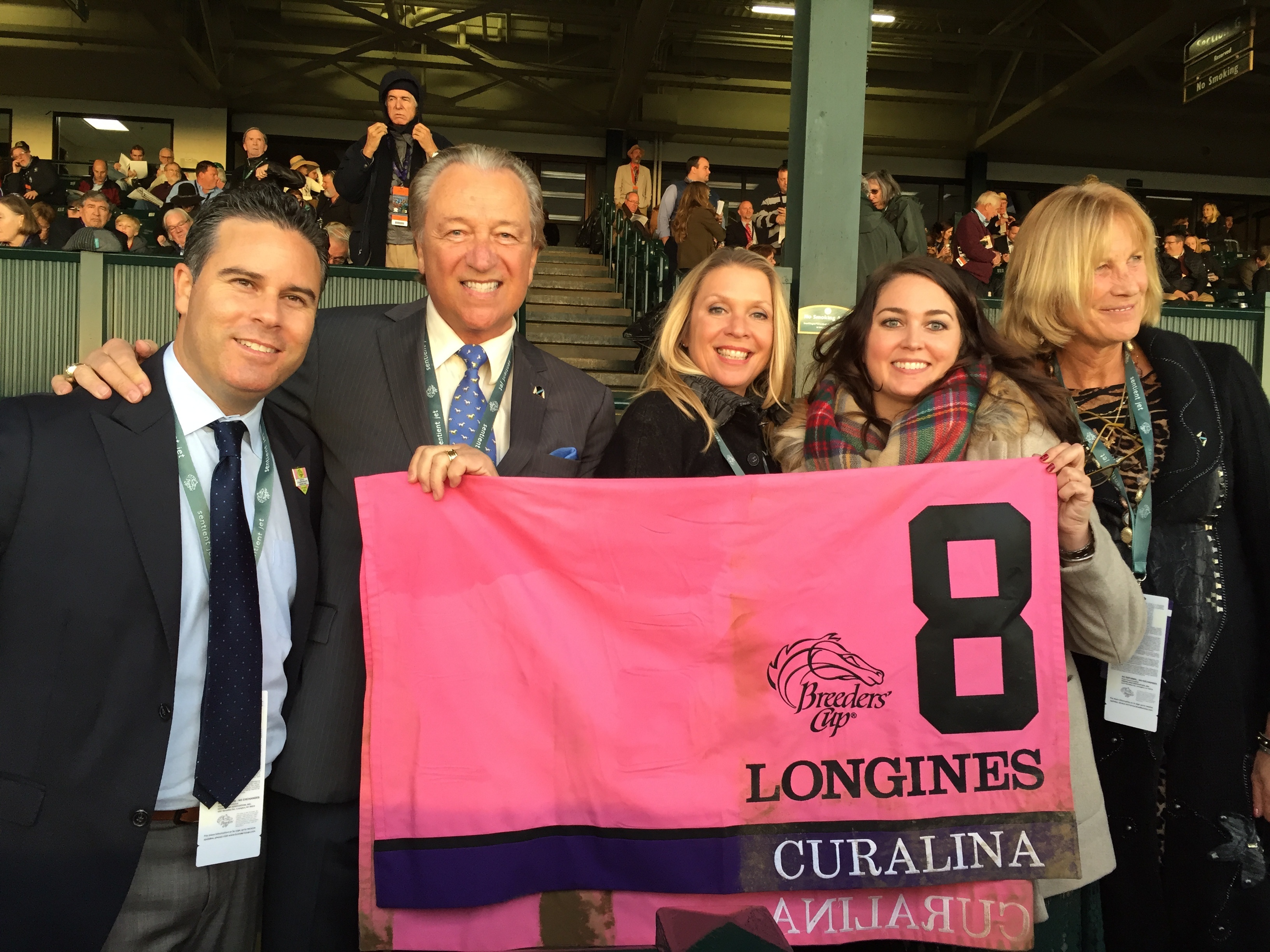 The top 10 highlights are rounded out by another member of the Eclipse team, Kelsey Marshall. Early in 2015, Kelsey moved from the friendly confines of her native Ohio to Long Island, New York. Kelsey's bold move undoubtedly has played a significant role in the stable's uptick in success in New York, as her presence around the barns and observing training in the morning on a regular basis has proved important to her Eclipse colleagues, as well as the Eclipse partners, who are well acquainted with Kelsey's role as the Director of Partner Relations. Kelsey has been with Eclipse from Day 1 since the company's founding and had essentially zero experience in the industry or around horses at all before joining the squad. She has applied herself diligently, paid attention and learned well enough to the point that she is an invaluable member of just about every facet of the Eclipse operation, from the yearling and 2 year-old in-training scouting team, to hostess extraordinaire, to all things administrative and logistical related and everything in between. Kelsey is the glue that holds Eclipse together and is highly deserving of being a highlight in 2015, years prior and we hope in years to come.
Eclipse Preview for 2016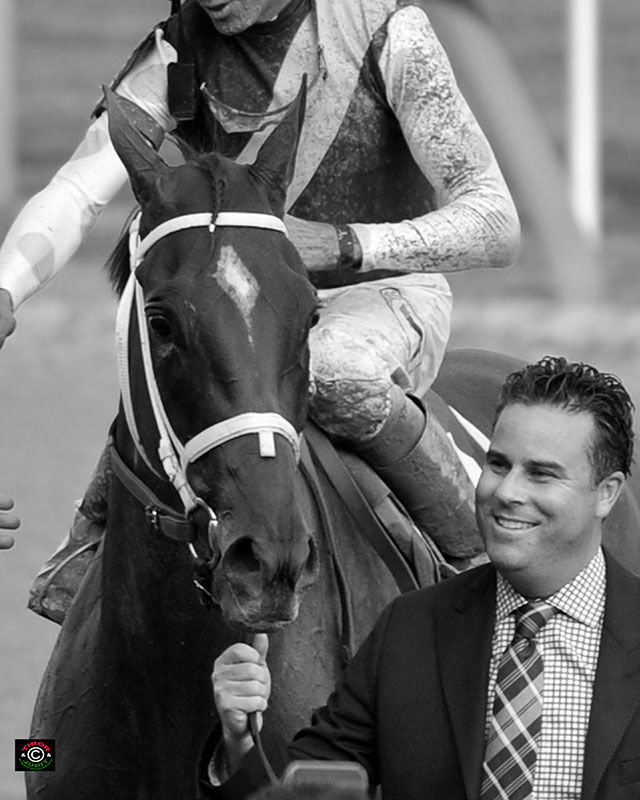 Eclipse President, Aron Wellman, is enthusiastic about what 2016 brings for the stable in stating, "We are constantly pivoting and making adjustments to our acquisition process and management strategies, realizing we can never rest on our laurels and there is always room for improvement.
"Last year, we started off a wretched 0 for 18 and didn't win a race until early March," Wellman painfully reflected. "We hope our stable is entering the 2016 season with a more balanced group of horses and that we can build momentum sooner, rather than later and keep the winning consistent throughout the year.
"We had a strong March through December, but this year, while we understand there are lulls and down cycles, our goal is to be strong from gate to wire. We have a solid roster heading into the season with ample proven high quality stock and plenty who offer promise, so we are bullish on our prospects for the upcoming year and look forward to executing when it matters most."
To have a look at Eclipse's complete roster heading into 2016 check out: http://www.eclipsetbpartners.com/stable/roster/yearlings
Believe Big!
2015 Final Stats