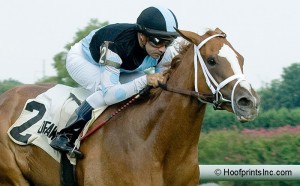 Tara From The Cape Docks at Port Delaware with Full Head of Steam
Tara From the Cape gave her backers at the betting windows and her partners just what they were looking for when she obliged at odds of 1-5 to win the $50,000 Thomas "Tuck" Greene Memorial Stakes at Delaware Park on Thursday afternoon by 2 ½ widening lengths to preserve her perfect slate and notch an all-important black-type Stakes win to her docket.
Dispatched from the 2-hole, Tara broke clean and was kind to Joe Bravo, who asked the striking filly to sit just behind the 2 pacesetters as the field curved into the first bend of their 7 ½-furlongs journey of the Delaware greensward. Comfortable, yet willing, Tara cruised along the backside and appeared to be well in control of her own destiny when she unexpectedly lost ground on the duo in front of her as they rifled into the far turn. Bravo remained composed and gathered his mount, who looked to be struggling with the tricky footing.
Just as quickly as it appeared that Tara was being left for dead, she jumped back into the bridle and made a bold and explosive bid between runners at the elbow of the turn and spurted off to a decisive score while increasing her advantage with every stride. Tara was a bit green once she struck the front, but Bravo did well to maintain her focus to the wire. Perhaps the most impressive aspect of Tara's performance was her gallop-out, which she completed with exuberance, tugging Jersey Joe well beyond the Clubhouse turn.
"This is a good filly," Bravo assured after the race when the number of Todd Pletcher appeared on his cell phone Caller ID. "I gave her an education today and even though she wasn't totally comfortable with the course, she really finished powerfully and galloped out awesome. She's got a future and a lot left in the tank for sure."
Pletcher added, "It wasn't a superstar performance, but it was pretty darn good, especially considering she had to ship to Delaware and that she'd only run once at 4 ½-furlongs 2 months ago. I loved her gallop-out, as it definitely indicated she will relish even further distances. The timing of this race was ideal and the fact that she has a 2-turn Stakes win to her credit this early in the season is huge. We'll get her back to Saratoga, see how she trains in coming weeks and huddle up to discuss our path."
Eclipse President, Aron Wellman, chimed in, "There was a lot of pressure riding on this race today and Tara came through like a classy filly should. We threw a lot of hurdles in front of her and she jumped over every one of them. We're thrilled for our partners who put their faith in us by participating in Tara. To knock down a Stakes win so early in the game is a big feather in Tara's cap and we're right on target for a 1 or 2 race campaign heading to the Breeders' Cup. We're pumped!"
Tara From the Cape will be considered for the $100,000 PG Johnson at Saratoga on August 29th or the $250,000 Grade 2 Natalma at Woodbine on September 15th.