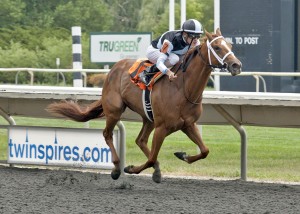 Eclipse Strikes with First 2 Year-Old Winner of the Season
Flying Rapunzel made the move from start #1 to start #2 Eclipse and trainer Wayne Catalano were hoping to see when she wired a decent field of debutantes with consummate ease Sunday at Arlington Park.
A bit awkward from the gate, Rapunzel was far more clued in this time around and took ahold of the bridle scampering off to an easy lead without being asked for any speed from Miggy Mena, who had a taut hold on the reins. Coasting through reasonable fractions for the first 6 furlongs, Rapunzel was always in control of the race and was only set down inside the sixteenth-pole by Mena, who guided her to a convincing 3 3/4-length victory. It was a whopping 11+ lengths back to the 3rd place filly, which validated the dominance of Rapunzel's performance.
Andy Beyer doled out a lofty 79 Beyer Speed Figure for the score. The Ragozin Sheets have yet to grade the race, but the Beyer is strong and certainly propels Rapunzel into the Stakes sphere.
Eclipse President, Aron Wellman said, "Rapunzel is a likeable filly who is thriving and really appears to enjoy her job, as evidenced by her attitude and willingness before, during and after her race. She is talented and appears to be poised to take the next step in her development. Todd Quast did a wonderful job giving her early lessons and Wayne and his crew have really polished her off. We're thrilled for our partners who put their faith in Eclipse's yearling program."
According to Wayne Catalano, Rapunzel emerged from her race "great."
Rapunzel is now destined for the Grade 3 $150,000 Arlington Washington Lassie on September 8th in Chicago.