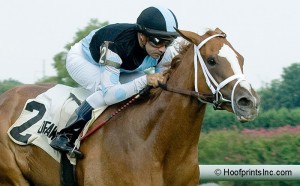 Tara From the Cape Aims for Grade 1 Success at Keeneland
Tara From The Cape has done just about everything right since she was acquired by Eclipse Thoroughbred Partners after she broke her maiden at first asking while sprinting on the Poly at Woodbine last June.
In her initial start for Eclipse, Gary Barberand Debmar Stables, Taradominated the "Tuck" Greene Memorial Stakes at Delaware Park, which served the dual purpose of garnering her a Black Type victory as well as provided her with the valuable experience of traversing 2 turns. In her second start, she was sent to the "real world" and took on a select group of freshman fillies in the P.G. Johnson Stakes at Saratoga, where the daughter of Leroidesanimaux stepped up her game and battled courageously to earn 3rd money after doing all the dirty work.
Fast forward a month and Tara is on the brink of her sternest challenge yet as she's scheduled to essay the Grade 1, $400,000 Alcibiades at Keeneland Racecourse in Lexington, Kentucky on Friday. The flashy chestnut filly has drawn post position #10 of a field limited to 14 starters. The country's leading trainer, Todd Pletcher, will give a leg up to the country's leading jockey, Ramon Dominguez, about 12 minutes prior to the 5:21pm ET post time.
Pletcher has done his usual masterful job developing Tara into a filly capable of competing for Grade 1 honors. The silver-haired, All-World conditioner stated this week, "Tarais continually improving for us. It took her about a month to get into the flow of our program, but once she did, it's like everything clicked for her and she's been very progressive since.
"We really believe that she deserves a shot at the Alcibiades," Pletcher confirmed. "It's a deep, contentious race loaded with very talented fillies. That said, Tarais coming into the race just right and if she takes another step forward, she has just as much right as any of these in there to get the job done. We're expecting her to run her "A" race, it's just a matter of if it's good enough. We're hopeful it will be."
Eclipse President, Aron Wellman, offered, "The Alcibiades is a race that we had circled for Tarawhen we initially bought her as a best-case-scenario option. We knew that if she exhibited the type of ability we speculated she had when we acquired her after she broke her maiden going 4 ½ furlongs, that we'd want to head back to a synthetic surface with her. Tara has run 2 very credible Stakes races going 2 turns on turf and she possesses the requisite seasoning to make another forward move."
Wellman added, "We're very pleased with the work Todd and his staff have done with Tara and we are extremely confident that Ramon will push all the right buttons now that he's gotten a feel for her in the P.G. Johnson. When we buy young horses early in their careers, we do so with the intention of developing them into Graded caliber horses who can compete in important races at the most important venues. We're thrilled to be able to provide our partners with the opportunity to have a legitimate chance to win such a prestigious race like the Alcibiades at such a historic racetrack like Keeneland."
The Alcibiades is the ultimate wide open affair. This can be no better exemplified than in taking a glance at the morning line, which shows 2 fillies, Speedinthruthecity and Magical Moon at a tepid 5-1, which is the shortest price on the board. The 2-time daylight winner, Rose To Gold, who invades from South Florida, has been pegged at 6-1 while Pure Indy and Tara From the Cape are both 8-1. The remaining 9 entrants are all double-digits on the morning line, but despite their long odds, each filly is eligible to jump up and pose for photos.
The speed figures also indicate a total grab-bag heat. The top contenders run in the mid or high 70's to low 80's Beyers. Those same fillies are in the 10-12 range on the Ragozin Sheets, without very little distinction.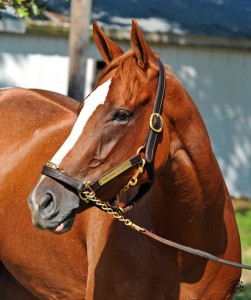 Wellman said, "Usually, I will provide a horse-by-horse analysis for our partners. But, in this instance, there is so little separating the 14 entrants and so much of the outcome of the race will depend on which fillies are able to navigate a clean journey in such a congested field, I can't come up with any crystallized analysis. On numbers,Tarais right in the mix and her Beyer and Rag pattern is extremely healthy and indicative of a filly capable of improving several points, which is what it will take for her to land in the thick of it."
Wellman remarked, "From a race shape and pace scenario, well, fortunately, we have Todd Pletcher drawing up the plays and Ramon Dominguez under center. Tarais decently drawn where she can hopefully avoid too much traffic and there should be enough time for Ramon to tuck in a bit to save some ground going into the first turn. There are a few fillies signed on who appear to be a touch quicker than Tara in terms of early speed, but Tara is quite tactical herself, so Ramon should be able to draft in right behind the leaders without having to exhaust too much energy early on," Wellman envisioned.
"In the P.G. Johnson, Ramon let Tara rip at the 3 furlong marker and tried to separate from the field. If he's got as much horse as he did on that occasion, I'd imagine he'd likely elect to wait just a little longer before kicking her into high gear. We know she's got guts, so if she's got dead-aim on the leaders at the top of the stretch, it could get very interesting. It's a true Grade 1 with a full, quality field and whichever filly has her nose on the wire first will unquestionably be a deserving winner."
The race can be viewed live on TVG or online at www.xpressbet.com, www.twinspires.com or www.tvg.com.