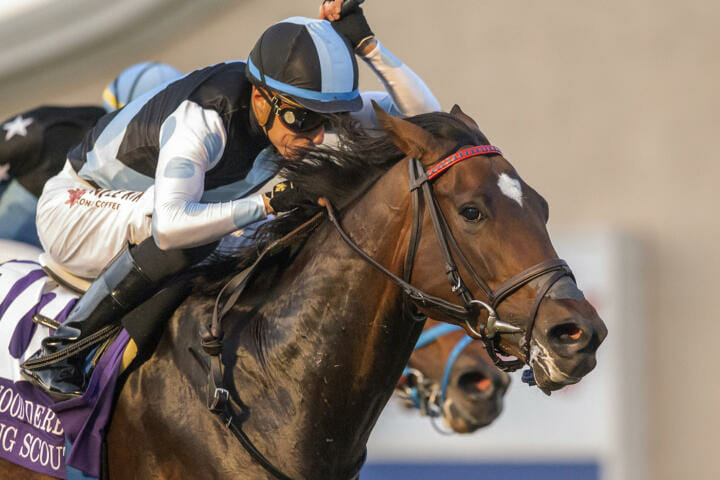 Speaking Scout New Eclipse Poster Boy After G1 Win
By: Molly Rollins BloodHorse
The $3,000 horse from obscurity just became one of next year's top turf prospects with his powerful late-running victory in the Dec. 3 Hollywood Derby (G1T).
Three-year-old Speaking Scout , a gelding with a modest page and sired by a Texas stallion with a $5,000 stud fee, wouldn't fit the typical profile of a grade 1 winner, but in a year where a former $30,000 claimer stole the Run for the Roses the tried and true adage that a good horse can come from anywhere has never rung more true than in 2022.
Aron Wellman, the president of Eclipse Thoroughbreds Partners, repeated those exact words to TVG following Speaking Scout's Hollywood Derby triumph.
"We're really savoring this victory," Wellman said. "He's just been a really cool horse from the get-go. He's run 13 times since we purchased him at 10 different racetracks. He's tough, he travels, he's very flexible in terms of surface and distance. He's just a hardy individual with a terrific constitution and mind who goes out there and gives it his all every time."
It was a year and a half ago on a July afternoon at Colonial Downs when Speaking Scout caught Wellman's eye. Trained and owned by smaller profile horseman Carlos Munoz, Speaking Scout made several moves throughout the 1 1/16-mile turf maiden special weight, and even took the lead in midstretch before settling for second in his career debut at 36-1 odds.
"(At Eclipse) we are constantly scouring the globe for equine talent that we believe has what I call blue sky potential," Wellman said. "Whereby we identify horses early on in their careers that exhibit talent and desire to be a good racehorse. Speaking Scout was a first-time starter 2-year-old in early summer of his freshman year. And he ran two turns over a route of ground on the grass at Colonial, which is not an easy task to do first time out. He was beaten by a very good colt that day who was owned by one of Eclipse's partners, Mark Grier."
Another appeal to Speaking Scout was the fact that he was sired by Mr Speaker  . Although the stallion hadn't produced much at the time, he had one feather in his cap, being the sire of 2020 Central Bank Ashland Stakes (G1) captress Speech , who happened to be owned by Eclipse. And so Wellman reached out to Munoz and acquired the rangy bay privately with a grand plan of offering Speaking Scout to one of Eclipse's newest business ventures in the newcomer program.
Wellman contrived the newcomer partnership concept from his time spent working under Barry Irwin of Team Valor.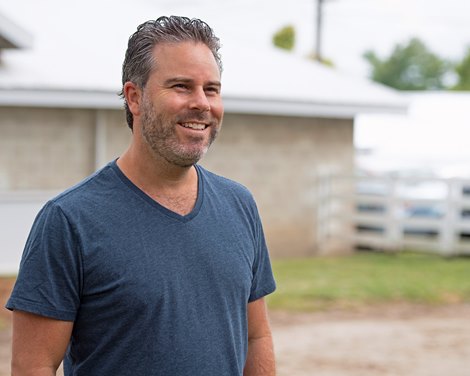 "I can't say that it was a novel idea of mine. It was more just a function of time for Eclipse to get to where we could develop a newcomer program," Wellman said. "During my tenure at Team Valor, Barry had a similar program with similar motives to introduce new members to Team Valor. I'd like to give credit where credit is due. I'm just humbled to be in a position where I can execute a program like it."
Eclipse, which launched in 2012, has quickly become one of the leading partnerships in the country, campaigning horses such as Qatar Breeders' Cup Sprint (G1) hero Aloha West   and millionaire Curlina  in addition to being co-partners on Alabama Stakes (G1) winner and likely 3-year-old filly champion Nest , Belmont Stakes Presented by NYRA Bets (G1) winner Tapwrit   and Breeders' Cup Juvenile Fillies Turf (G1) victress Sharing . As the partnership expanded, Wellman noticed that the horses being offered each year began to sell out rapidly as existing partners pounced on future opportunities. Creating the newcomer partnership would allow those who had never owned a horse with Eclipse before the chance to become involved. When a horse for the newcomer program was offered, Eclipse would provide a 24-hour window for prospective partners to ask questions and buy-in on the partnership. After that 24 hours, the window opens up to existing and active partners.
"We usually offer the newcomer partnership once or twice a year," Wellman said. "We've had success with it and it's really been a good way for us to introduce new people to our program because A) it's the lifeblood of any business to bring in new blood and B) we've always taken it very seriously to be positive stewards and ambassadors for the sport as a whole and one way to do that is by introducing new people to the game."
Earlier this year, Eclipse's 2022 newcomer partnership offered the Irish-bred 2-year-old colt Disdainful . Purchased out of the Tattersalls August Horses in Training Sale for $75,870, the colt gave Eclipse's domestic partners a unique thrill when he finished third in his first start for the partnership. Disdainful was then imported to the U.S. and ran an encouraging second in an allowance contest at Keeneland during the fall meet for trainer Graham Motion.
Disdainful joined Speaking Scout in California in hopes of starting in the Dec. 4 Cecil B. DeMille Stakes (G3T). Soon after arriving at Del Mar, the colt came up with an issue and the new partnership's stakes dreams were scrapped—for the time being.
"It was a tough lesson for our newcomers to learn how fleeting the experience can be, but it comes with the territory and the racehorse ownership experience," Wellman said. "You're going to be dealt with a lot more bad news than you are good news, so this was a severe learning lesson for that particular newcomer partnership. But it looks like it's just a minor issue that can be resolved. He's a promising colt with what looks to be a bright future so that newcomer partnership looks like they are on the right path as well."
Graham Motion, who Wellman has maintained a longstanding relationship with since his days at Team Valor, also trains Speaking Scout. As soon as the gelding was bought by Eclipse last year he joined Motion's stable at the Fair Hill Training Center in Maryland.
"Graham's a Hall of Fame nominee. He needs no introduction," Wellman said. "I was fortunate to be with Team Valor when Graham won the 2011 Kentucky Derby with Animal Kingdom. He's gifted at all facets of the game in terms of dirt, turf, colts, fillies, long, short—he's an exceptionally well-rounded horseman. Speaking Scout is just one example of many shared successes we've had together including Sharing winning a Breeders' Cup race among several others, so hopefully, he is just the next star.'
Wellman indicated that Speaking Scout would remain in Southern California through the winter with Motion's string of horses at Santa Anita Park. The gelding first shipped out West in October for the Twilight Derby (G2T) on the back of a breakthrough score in the Hawthorne Derby Presented by BetMakers. Breaking a step slow, he ran gamely to finish a narrow runner-up to Cabo Spirit  in a performance that gave his connections all the confidence they needed to make the daunting leap into grade 1 company.
Speaking Scout certainly proved he belonged on Saturday.
"He's really thrived since he's been in California for the Twillight Derby so we figure why change anything now?" Wellman said. "He's a gelding, longevity is the name of the game for him. We just want to take our time and give him every opportunity to really take it to the next level next year when he has to face his elders, which will be a new kettle of fish, so to speak."
VIDEO: HOLLYWOOD DERBY (G1T)