By: Sean Clancy – Saratoga Special
Jacob West saw it. Aron Wellman saw it. Todd Pletcher, he had been seeing it since June 11. That day, Nest ran hard, ran long to finish second in the Belmont Stakes. Six weeks after that honorable showing, Nest walked into the paddock as the favorite for the Grade 1 Coaching Club American Oaks. Six weeks and another world.
"From the Belmont to today, she's grown," Eclipse Thoroughbred Partners' Wellman said. "She's always had that scope, but she's definitely put more daylight underneath her."
"When she walked by, out of the corner of my eye, she got my attention again," Highgate Sales' West said, "Our filly, I swear, since the Belmont, she's grown half a hand and put on weight."
That's what Pletcher had been seeing and saying since Nest finished 3 lengths behind stablemate Mo Donegal in the final leg of the Triple Crown.
"We've run a lot of horses in the Belmont and had plenty of them come out of it fine but none of them came out of it any better than she did," Pletcher said. "Every day, you're looking. Every day was good for her, just looking at her, you could tell. You get back to training, she was gaining weight, strong in the tub, breezes were good, every day was good. It was an easy decision."
Easy decision and easy effort as Nest toyed with Kentucky Oaks winner Secret Oath and three others in the $500,000 stakes, sauntering to a 12 1/4-length win over Secret Oath and Nostalgic. Owned by Eclipse Thoroughbred Partners, Repole Stable and Michael House, the daughter of Curlin improved to 5-for-8, tacking on her second Grade 1 victory. Ridden by Irad Ortiz Jr., Nest finished 9 furlongs in 1:51.04.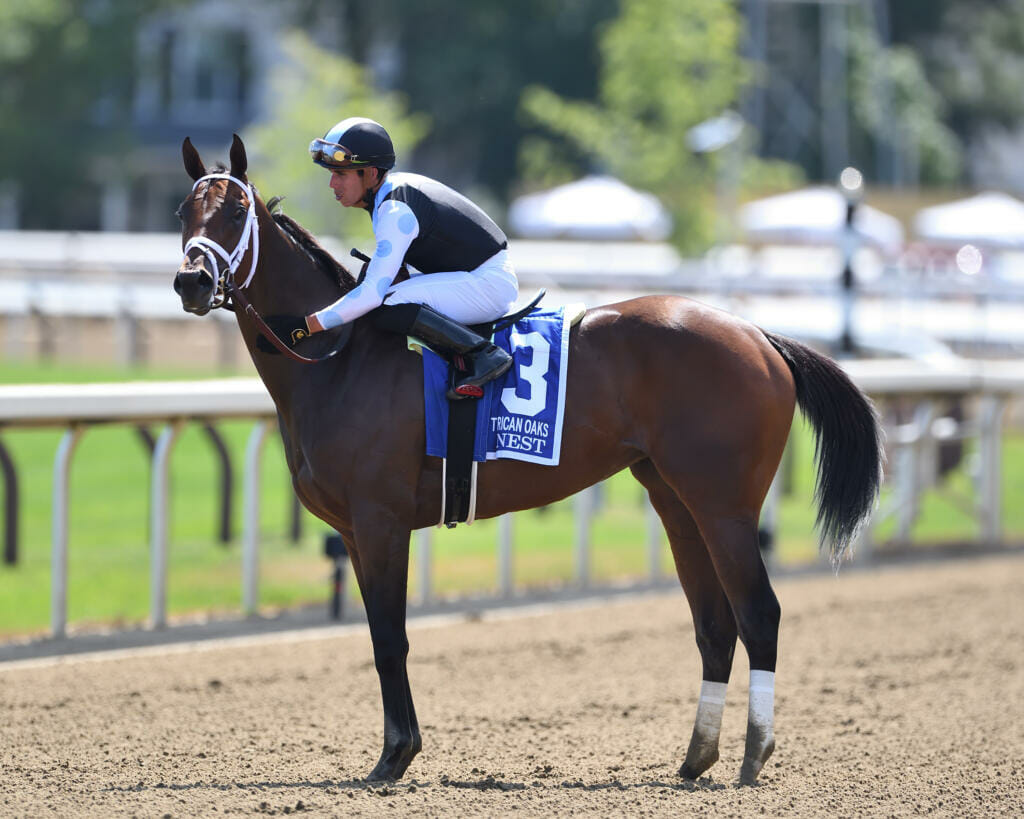 Longshot Butterbean stumbled from the inside post and expected pacesetter Society bungled the break as well. As those two tried to recover, Nest, Nostalgic and Secret Oath played from the same playbook, rolling into the first turn three abreast and wide. From the inside of those three, Ortiz stayed off the rail, allowing a headstrong Society through to take the lead through the first quarter-mile in :24.10. The undefeated Society led by a half-length over Nest. Nostalgic stayed in the mix, a half-length back in third with Luis Saez opting to stay in the clear and close with Secret Oath.
The quartet stayed in formation, marching down the backstretch in a line, posting a half in :47.46. Leaving the backside, Nest easily dispatched Society to her inside and Nostalgic to her outside. A two-horse race on paper was quickly a two-horse race on track. Nest rolled through three-quarters in 1:11:05 as Secret Oath clawed at her flank, the others were competing for a line of Grade 1 blacktype.
Past the quarter pole, Ortiz had done nothing more than nudge, sneaking a glance over his left shoulder as Saez emptied his toolbox to his outside. From there, it was a matter of how far. Two slaps, a look under his right shoulder, two glances at the big screen in the infield and a geared-down romp in a Plan B Grade 1.
The Alabama Aug. 20 was Plan A.
"After the Belmont, our concern was, 'Well, if she needs to wait for the Alabama, that's fine,' " Pletcher said. "She never gave us a reason not to run."
Feed tub, check. Early gallops, check. Breezes, check.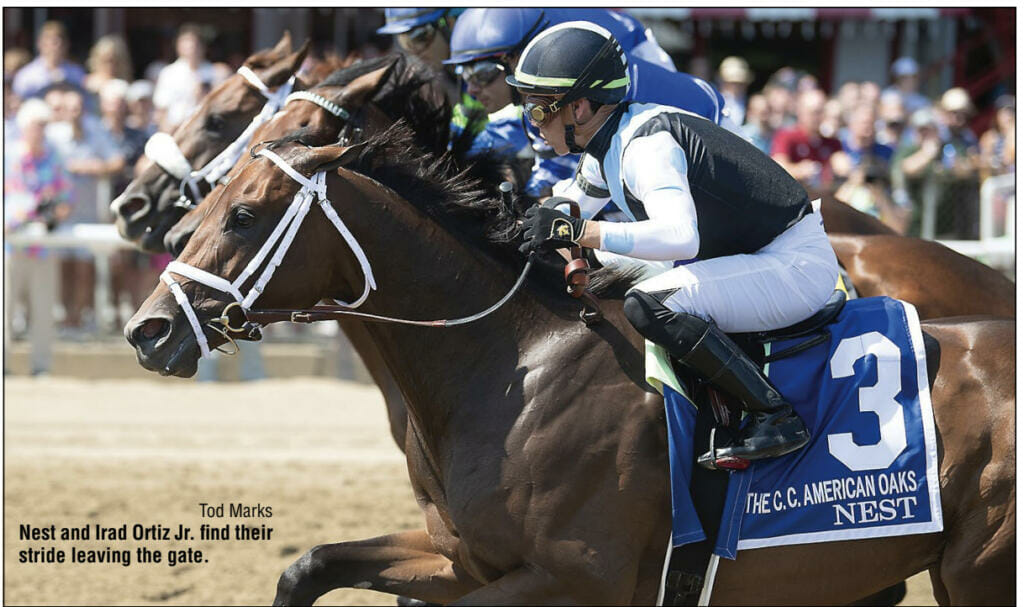 Pletcher called Wellman 10 days after the Belmont and told him to move his travel schedule up a month.
"Our original inclination was to wait for the Alabama. The mile and a quarter, it plays right into our strengths," Wellman said. "Todd called, when he gives you the green light, it's go time. It's hard to keep a filly that's doing that good in the barn for a half a million-dollar Grade 1 with the prestige of this. This is what it's all about, to see two fillies throw down in the CCA Oaks at Saratoga. That's why we're in the game."
Two breezes over the training track at Belmont and one here a week before the CCA Oaks kept Nest in the game and she delivered on all that she had touted.
"That was a powerful performance," Pletcher said. "She was under pressure today, inside, outside. We thought we would be laying second, come out and establish position. Society stumbled and altered that. Irad did the right thing, he left the rail open to let her up in there, so she didn't get pressure right away. We expected Luis to make that move and we were able to fend that off."
Nest fended off Secret Oath quicker than Sydney McLaughlin leaps hurdles, evening their score to 1-1. Secret Oath got the best of Nest in the Kentucky Oaks, taking advantage of getting first run on the final turn. As Nest waited for a seam, Secret Oath shut the door to win by 2 lengths. The two fillies took different approaches after that. Secret Oath wheeled back in the Preakness in two weeks, finishing fourth. Nest waited for the taxing 12 furlongs of the Belmont in five weeks, finishing second. The effort in the Belmont was stellar, the recovery was better.
"Stumbled, rushed up, got bumped, had to wait, kept closing to the wire," Pletcher said. "I don't know internally if some horses can regroup quicker than others. Running in the Belmont, we know from a pedigree perspective that she wants to go that far. Maybe you take one and stretch them to their maximum staying ability, then that's different."
Nest is certainly different.
Bred by Ashview Farm and Colts Neck Stable, the bay daughter of Curlin enticed a final bid of $350,000 from Eclipse and Mike Repole at Keeneland September Sales in 2020. Ashview and Colts Neck might have done the mating, but West did the matching.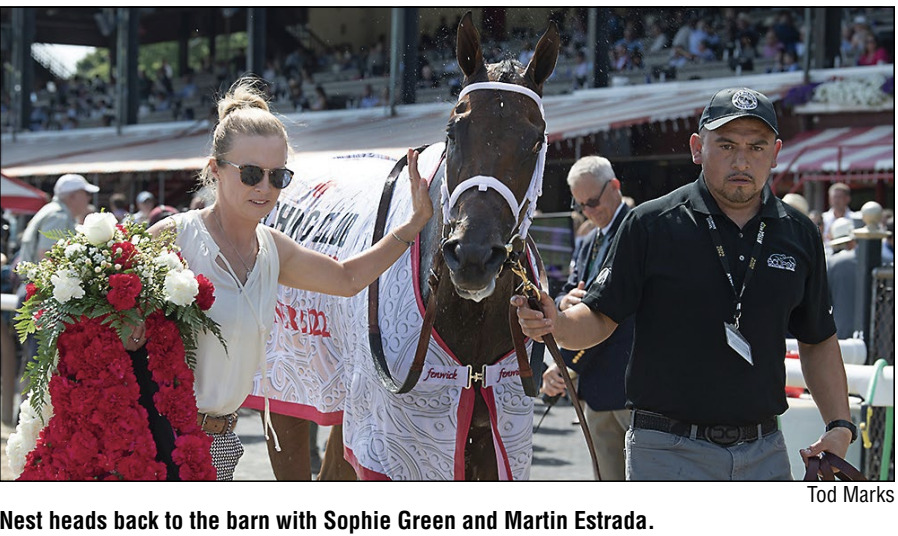 "The beauty of working with Mike and Aron is I'm out in front looking at the horses and making a list and there are certain ones that I come back to them, I put her to both of them," West said. "At first, it was like, 'I'll pay X amount for her,' and 'I'll pay X amount for her.' Then it was like, 'Let's buy her together.' When the dust settled, it was no point bidding against each other. Aron has had so much luck with Curlin fillies. Mike wants two-turn horses, these are the races he wants to win. It made sense."
Then and now.
Nest made her debut at Belmont in September, dominating four rivals by 5 lengths in a 1 1/16 mile maiden. She shortened up and closed to finish third, beaten three-quarters of a length in the 1-mile Tempted and came back to win the Grade 2 Demoiselle at 1 1/8 miles to close her juvenile season. This year, she won the Suncoast at Tampa Bay Downs in February and added the Grade 1 Ashland at Keeneland in April. Runner-up finishes in the Kentucky Oaks and Belmont put her in the mix for filly championship honors. The CCA Oaks pushed her to frontrunner.
"We thought, tough race in the Oaks, tough race in the Belmont, wheel right back in the CCA Oaks to a mile and an eighth against the Oaks winners…that's ballsy," Wellman said. "But you can't play this game scared. With a championship on the line, they've got to settle it on the playing field."
This one was in the nest.