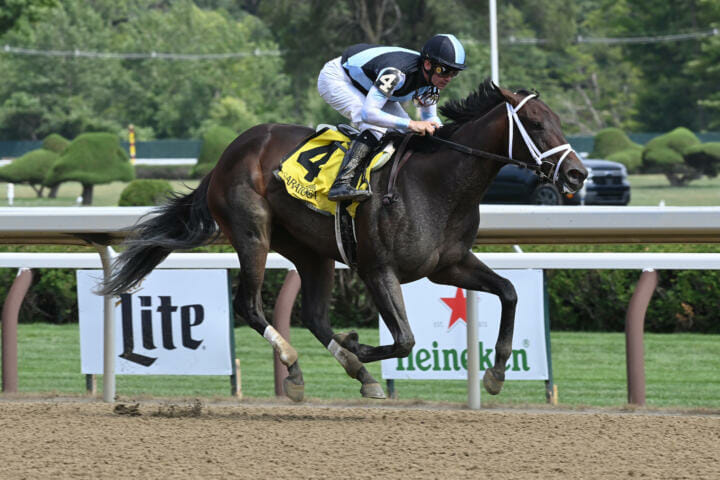 Classy Kaling could step up for G1 Spinaway
SARATOGA SPRINGS, N.Y. – Aron Wellman of Eclipse Thoroughbred Partners spoke volumes of Kaling, who made her first start a winning one on Sunday at Saratoga for Hall of Famer Todd Pletcher.
By Practical Joke and out of the Indian Charlie mare Proud Indian, Kaling stepped up against a field of blue-blooded maidens with aplomb, asserting frontrunning position out of the gate, but allowed Rarify – a Wesley Ward-trained half-sister to champion Runhappy – to set the tempo down the backstretch.
Tucked along the rail around the far turn, Flavien Prat fanned Kaling a path wide into the stretch, and matched strides with Rarify nearing the three-sixteenths marker. She drew off to a 2 3/4-length victory while producing a 77 Beyer Speed Figure for the win.
Wellman said the seven-furlong Grade 1, $300,000 Spinaway on September 3 at Saratoga will be a possible next start.
"She'll have to justify us taking that big leap, but that's something we definitely have to keep in mind," Wellman said. "She's a filly that we've thought highly of from the beginning. She was broken down in Ocala by Susan Montanye at SBM Training and she always acted like she had a lot of ability and the mind to be a racehorse. We sent her up to Todd in the spring and she continued to impress every step of the way. We bypassed a couple of races and thankfully the patience paid off."
Wellman recalled her professional demeanor in the paddock prior to Sunday's race.
"We really liked what we saw out of her in all respects," Wellman said. "She came to the paddock like a pro, warmed up like a pro, left the gate running, made the lead, actually got pressured, allowed that filly to clear, tucked into the pocket, took some dirt, stayed on the bridle for Flavien, found a seam and really lengthened her stride and mowed Wesley's filly down the lane. All in all, it was a very professional performance while showing quite a lot of natural ability and certainly the mind of a quality racehorse."
Wellman said Kaling appears to be mature beyond her years.
"There's a lot of horses with ability but not the mental constitution to realize their capabilities," Wellman said. "It's rare to find horses that are strong in both categories, they've got the body, the talent and the mind for it. Hopefully, that will continue to be the case with her. This is step one and it was an encouraging first step for sure. Now it's a matter of monitoring her over the course of the next couple of weeks to determine whether we consider the Spinaway or not."
Kaling was bought for $220,000 from breeder Penn Sales' consignment at the 2021 Keeneland September Yearling Sale.
"She's developed right in line with the vision that we've had for her," Wellman said. "She was really nicely put together, athletic filly, she moved well. She came from a good breeding operation in the Penn family, which goes back to that solid foundation she has, and we saw it translate over into the races the other day. She was just a hickory filly that was hard to pick apart. She really matched our criteria; she seemed like a smart filly with a good head on her shoulders. She looked like an athlete physically and had that tangible quality about her. We're wrong more than we're right, but it looks like we're on the right path with her."
Kaling's victory came one day after Wellman and company visited the Saratoga winner's circle with emphatic Grade 1 CCA Oaks winner Nest, who catapulted herself to the top of the sophomore filly division with a 12 1/4-length triumph.
The daughter of Curlin produced a career-best 104 Beyer when turning the tables on Kentucky Oaks winner Secret Oath.
Wellman said the Grade 1, $1.5 million Runhappy Travers on August 27 has not been ruled out for the ultra-talented filly, but that the Grade 1, $600,000 Alabama the week prior would be more likely. He added that the ten-furlong distance makes both races appealing.
"It's something that Todd, myself, [co-owners] Mike Repole and Mike House will have to huddle up and discuss," Wellman said. "I would say it's going to take two major factors to sway us to run there. One, if she acts like she might benefit from an extra week from the CCA Oaks to the Travers instead of the Alabama which is a week prior. Also, if the Travers really starts to unravel in terms of the projected field. Right now, it's shaping up a real race with a lot of good 3-year-old colts aiming for it. The Alabama is an incredibly important and prestigious race on the 3-year-old filly calendar, it's incredibly historic."
Wellman said he would dearly love to win the Alabama having come close in years past, most notably with Point of Honor [second in 2019] and Curalina [third in 2015].
"The Alabama would be an incredible feather in her cap as well, as it's a race we've always wanted to win," Wellman said. "We hold it in high esteem and regard. At this point I would say that's Option A with the understanding that if she needs another week, we'll for sure consider the Travers."
Wellman said he takes a sense of pride in campaigning a high-caliber filly that is capable of running longer distances.
"She's got an incredible engine, and that blood running through her veins and the sturdiness of her bones have allowed her to put together the campaign that she's in the midst of," Wellman said. "The stamina influence has to be playing a part in her ability to bounce back time and again and continues to improve. She's got a lot going for her and it's an honor to be associated with a filly of her caliber."
NYRA Press Office