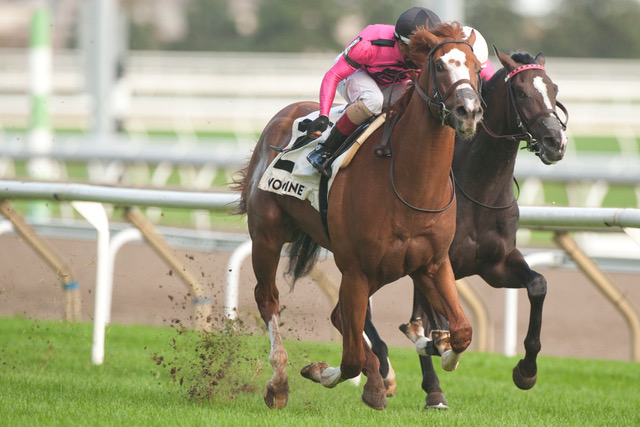 On Eclipse's 10th Anniversary God of Love Provides Stakes Win #99
by Woodbine Communications Office
Dual Hall of Fame conditioner Mark Casse hit the exacta with winner God of Love and runner-up Fast Feet in the 85th running of the $251,200 Cup and Saucer Stakes Sunday at Woodbine Racetrack in Toronto, Ontario.
While 7-2 choice Fast Feet set the early tone in the 1 1/16-mile turf classic for Canadian-bred two-year-olds, it was 7-1 stablemate God of Love, a son of Cupid, who finished strongest of all to take the spoils.
Fast Feet, bred and owned by Gary Barber, arrived at the Cup and Saucer off an impressive first-time out win in September, and looked sharp again, taking his 10 rivals through an opening quarter of :25:53, as Mentoring kept close tabs on the leader, with Dancin in Da'nile following in third. God of Love, with Rafael Hernandez aboard, was well back in the pack, sitting in ninth.
Fast Feet continued to set the pace, still operating on a half-length lead over Mentoring through a half in :50.44, as God of Love was still well back in eighth.
Heading into the final turn, Fast Feet began to pick up the pace and attempted to draw away from his pursuers. God of Love, ninth at Robert Geller's three-quarters call, still had plenty of work ahead of him.
After methodically picking off his rivals one by one, God of Love set his sights on his stablemate and began to carve into the former's lead, going on to secure a 1 ¾-length score in a time of 1:47.86 over a yielding E.P. Taylor Turf Course.
Stronger Together finished one length behind Fast Feet for third and Dancin in Da'Nile took fourth.
"I tried to get the times, tried to get closer, because I know the turf is soft and we didn't want to be stuck behind too many horses, but he refused to go early," said Hernandez. "He said, 'Nah.' He was staying back, so I said we will try to make it in one run. I put him in gear, and he gave one run, and he came flying down the lane."
The Ontario-bred returned $17.10 for the win.
Owned by Gary Barber and Eclipse Thoroughbred Partners, God of Love, bred by the late Bill Graham, was seventh as the favorite in his career bow, a 5 ½-furlong Tapeta race, on September 12 at Woodbine.
Hernandez, who teamed with Casse to win three races at Woodbine on Saturday, including the Overskate Stakes, thinks there are even better days ahead for the chestnut colt.
"He can go on both (surfaces). He just needs to go longer. The longer he goes, the better he's going to go."
It was the sixth Cup and Saucer crown for Casse and his third straight.