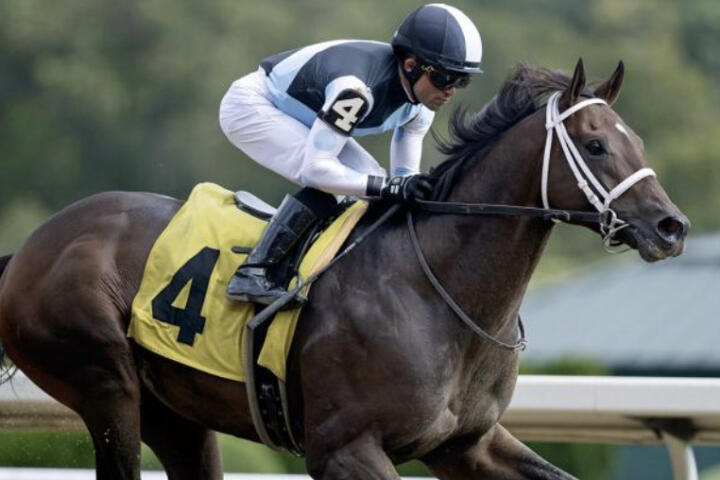 2021 Breeders' Cup Sprint: Aloha West runs his way into starting gate
Aloha West did not make his first start until February of his 4-year-old season. Eight months later, he's heading to the Breeders' Cup, where he could prove to be one of the more intriguing members of this year's lineup in the $2 million Sprint on Nov. 6 at Del Mar.
Aloha West's rise to the upper echelons of the sprint division has been a methodical one, starting with a victory in his debut over a muddy strip on Feb. 7 at Oaklawn Park and culminating last Friday at Keeneland where he finished second, beaten a rapidly diminishing neck by the favored and vastly more seasoned Special Reserve, in the Grade 2 Phoenix, a Win and You're In race for the Sprint.
In between, Aloha West captured 3 of 6 starts, including a pair of allowance races within a 32-day span at Saratoga going six and seven furlongs that earned him his first graded stakes opportunity in the six-furlong Phoenix.
"He's always had talent," trainer Wayne Catalano said. "He was in California with Bob Baffert as a 2-year-old and 3-year-old, and I heard they thought a lot of him back then before he got hurt. He's been perfect ever since he came to me, although it wasn't until he won those two races at Saratoga that I started thinking we may have ourselves a Breeders' Cup contender. He got big Beyer numbers for those wins [96 and 102], and they tell me he paired up 7s on the sheets. Personally, I don't care about numbers or who they are by or related to. As long as they can run, that's all I care about. And he can really run."
Aloha West, owned by Eclipse Thoroughbreds, is more likely to run in the six-furlong Breeders' Cup Sprint than the Dirt Mile, Catalano said.
"Seven furlongs is probably his optimum distance, although obviously the race the other day proved he can compete against top company going six furlongs as well," Catalano said. "In fact, I thought he was probably best in that race. The winner came over, took his spot, and forced him to take back after the start, and then he came wide into the stretch instead of cutting the corner. I couldn't have been happier with the way he ran, but the difference between winning and losing that race was a big one since the winner got an all-expenses-paid ride into the Breeders' Cup."
Catalano, 65, has been working on the racetrack for 50 years. He started as a jockey, winning 1,792 races in nine years before being forced to retire in 1982 due to injuries. He immediately took up a training career and has won 2,929 races, including the Breeders' Cup Juvenile Fillies in 2006 and 2008 with Dreaming of Anna and She Be Wild, and the 2011 Juvenile Fillies Turf with Stephanie's Kitten.
"Right now, my two goals are winning a fourth Breeders' Cup and getting to 3,000 wins as a trainer," Catalano said. "I've been really blessed over the years to have so many good people behind me, although obviously I couldn't have done any of it without having so many good horses behind me too."
◗ Following Sea won the Grade 2 Vosburgh at Belmont Park on Saturday over defending champion Firenze Fire, with Baby Yoda finishing third. Following Sea earned a Breeders' Cup Sprint berth with the win, but trainer Todd Pletcher said he's still deciding whether to run.
Trainer Kelly Breen confirmed that Firenze Fire will head to the Breeders' Cup for a fifth straight year for his third consecutive start in the Sprint. Trainer Bill Mott said Monday it was unlikely Baby Yoda would compete in the Sprint.