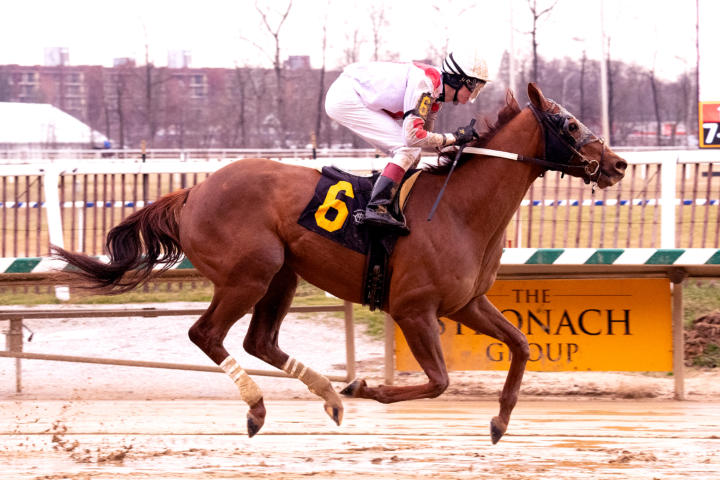 Maryland-bred Torch of Truth Set For Bigger Task
by Frank Vespe | Jan 3, 2020
On New Year's Day, three-year-old Independence Hall cruised to a four-length victory in the Jerome Stakes at Aqueduct, earning 10 points on the Kentucky Derby trail.
This coming Monday, if all goes to plan, he'll head down to Tampa Bay Downs for the winter, trainer Michael Trombetta said Friday — and when he does go down, he'll do so with a buddy: Torch of Truth.
The five-year-old Torch of Truth won a Maryland-bred allowance Friday at Laurel Park, rallying from last to win by nearly two lengths as the 3-5 favorite.
But it's his other job that's more important.
"He's been Independence Hall's workmate," Trombetta said after Torch of Truth's victory. "His job will be to continue to train along with him through his workouts when he goes down to Florida."
Torch of Truth, a Maryland-bred Not for Love gelding, came to Trombetta's barn after having raced four times for trainer Jamie Ness, who had claimed the horse for $40,000 in August. He was privately purchased by Eclipse Thoroughbred Partners, Twin Creeks Racing Stables, and Robert and Kathleen Verratti — the same combination which owns Independence Hall.
He's now raced twice for Trombetta, with a win and a second from two starts. He was bred by The Elkstone Group LLC, which owned him until the Ness claim. Out of the Amerirco's Bullet mare Amber Comet, Torch of Truth has now won three of 14 starts with earnings of $129,249.
"We were able to acquire him hoping that we could run a couple times before heading down [to Florida], and that's what we were able to do," Trombetta said.
The partnership grabbed Torch of Truth specifically to be a workmate for the promising Independence Hall, and the decision to send the duo to Florida should enable the sophomore to avoid any weather-related issues as he seeks to be among the 20 to earn entry into the Kentucky Derby.
Trombetta figures only to have a small group of runners in Florida, and the addition of Torch of Truth to the roster ensures he'll have a horse in the barn with the speed to push the talented three-year-old.
"I need someone to be able to work with a horse like that," Trombetta explained. "I need something at my disposal when I want to work. The rest of the schedule's not real important."
That both are owned by the same group also solves another challenge for Trombetta.
"We don't get carried away, but the point being, it's not fair to work another client's horse with that kind of horse," Trombetta said. "It's better if I have one of their horses to work with."
The pair will head down next week, and the plan is they'll remain in Tampa until early spring. Trombetta said that Torch of Truth likely would not race while down South.
As for Independence Hall, the trainer, who saddled Win Win Win to a ninth-place finish in last year's Kentucky Derby, didn't commit to a next move, noting merely that there are options for a promsing three-year-old at Tampa, Gulfstream, and the Fair Grounds. A son of Constitution, Independence Hall has won all three of his starts, a mark that includes a 12-length score in the Grade 3 Nashua Stakes at Aqueduct in November.
Regardless of Independence Hall's next start, Trombetta has a pretty good idea of his preferred return route to Maryland.
"The plan is to come back up in the spring," he said. "We'll try to work, maybe run a couple times in Florida, and then work your way back up through Kentucky and then back up north."