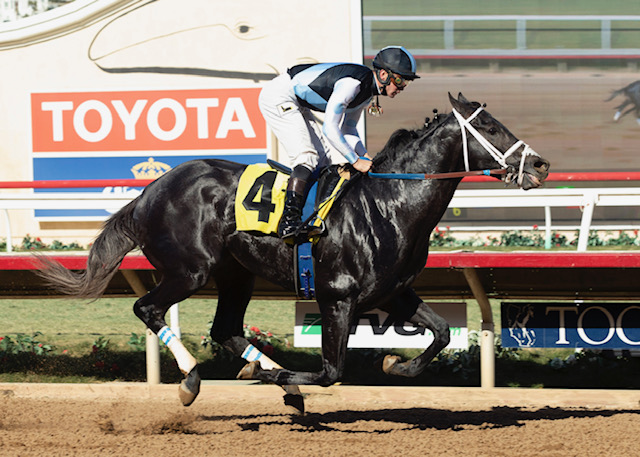 Kentucky Derby 2019 Radar: Gray Magician taking on Coliseum
By Jonathan Lintner
Aron Wellman, president of Eclipse Thoroughbred Partners, "absolutely" believes 
Gray Magician
 has potential to qualify for the 2019 Kentucky Derby. But because he's based on the West Coast, points won't be easy to come by for the son of Graydar, not with trainer Bob Baffert looking loaded with his crop of current 2-year-old horses.
Peter Miller-trained Gray Magician will likely hit the trail Jan. 5 in the Grade 3, $100,000 Sham Stakes at Santa Anita Park, where Baffert has penciled in one of the flashiest maiden winners of the season, Godolphin homebred Coliseum, to start as well.
"That's what I figured," Wellman said in a recent interview. "When you're in Southern California, it's kind of hard to avoid Bob. He's got everybody surrounded. If you want to be the best, you've got to beat the best.
"We think this colt is deserving of the opportunity to run in a race like that and hopefully propel himself forward into the trail as the season progresses."
After Gray Magician finished in the money in three starts around one turn on the West Coast, Gary Barber and Adam Wachtel bought into the colt, then had him transferred from trainer Hector Palma to Miller, one of their primary conditioners. Out of a Johannesburg mare, Burg Berg, Gray Magician spent about a month training with Miller before winning by 9 1/2 lengths on Nov. 24 at Del Mar in his stretch out to a mile.
"I'm not sure what he beat that day, but he's certainly validated our impression that he's really going to thrive at a distance of ground," Wellman said. "He's a horse that we're really excited about as we turn the calendar to his 3-year-old season."
Plus, it's not as if Gray Magician ran poorly in his other three starts. Another eventual stakes runner, Spin Lightning, defeated him on debut.
"Then he ran into buzzsaws." Wellman said, facing well-regarded Baffert trainee Magic on Tap in his second start and the eventual Los Alamitos Futurity (G1) winner Improbable third out.
It's unknown how second crop sire Graydar will fare producing distance runners, but the Sham's one-mile distance is certainly in his progeny's wheelhouse at the stakes level. Last year, Lombo won the Robert B. Lewis Stakes (G3) on the front end going 8 1/2 furlongs.
"Gray Magician is a colt that I always thought would be able to excel around two turns and just wanted to put a proper foundation into him around one turn, which we got," Wellman said, indicating that beyond the Sham, "all options are open."
More known for his top-notch sprinters, Miller has saddled one previous Derby starter, Comma to the Top, who finished 19th in the 2011 running. Eclipse, the modern day incarnation of the late Cot Campbell's Dogwood Stable partnership, has campaigned Derby runners Danza (2014), Destin (2016) and Tapwrit (2017), who also won last year's Belmont Stakes.