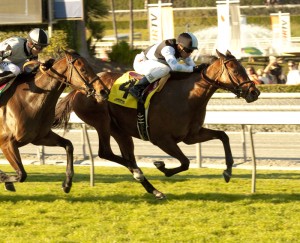 Judy In Disguise Will Try to Give them the Slip in $70,000 Unzip Me Stakes
Judy In disguise has had a wonderfully productive campaign for Eclipse Thoroughbred Partners this season. With an Allowance win, a Listed win, a Grade 2 placing at Keeneland and 2 additional Listed placings in So Cal, Judy has really earned her way for her partners and increased her residual value exponentially.
And, based on how she's come around of late since the brief freshening her connections have afforded her, there's plenty more to come. That could happen as soon as this Saturday when the stocky daughter ofElusiveCitywill head to the top of the hillside turf course at Santa Anita and try to beat 11 of her sophomore rivals to the wire in the 6 ½-furlongs Unzip Me Stakes.
Post time for the Unzip Me is 6:00pm PT, at which time Rafael Bejarano will launch Judy from post 7 and try to defend his, Simon Callaghan and Eclipse's title in the fixture, as the trio captured last year's running with Byrama.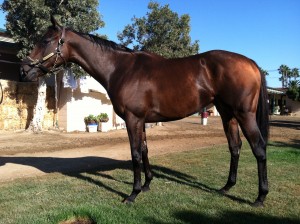 "The Unzip Me is a truly wide open race, as evidenced by the fact that the favorite is 4-1 and Judy is the second choice at a tepid 9-2," Eclipse President, Aron Wellman acknowledged. "There is an almost surreal balance of speed, stalkers and closers in the race. With Judy's middle draw in post 7, Rafael (Bejarano), who has ridden her to perfection every time he's sat on her in a race, should be able to pick and choose his spots as the race unfolds.
"Judy has been very sharp in recent weeks, which could mean we will see more of the speed we saw from her earlier on in the year," Wellman hinted. "If that's the case, she could find herself pressing the pace down the hill, or tucking in right behind the first flight. It's a deep and contentious bunch of fillies, but Judy fits with the best of them in the grass dash division in So Cal. Based on her energetic ways coming into the race and her record in turf sprints, we are cautiously optimistic that she'll have a large say in the outcome of this affair."