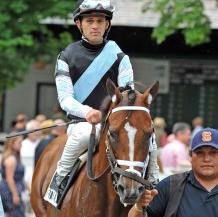 Battier Takes Swing at $1 Million Pennsylvania Derby
Battier will represent Eclipse Thoroughbred Partners in Saturday's running of the Grade 2, $1 million Pennsylvania Derby at Parx just outside of Philadelphia.
Angel Castillo will be in the irons for Todd Pletcher. The bay son of Tale of the Cat will pop from post 4 of 8 sophomores tussling for the massive pot going 9 furlongs on the dirt at Parx.
Post time for the 11th on the lucrative card is 5:25 pm ET.
"We all acknowledge that Battier is faced with by far the biggest challenge of his career in the Pennsylvania Derby," Eclipse President, Aron Wellman remarked. "That said, there are way more reasons to be running him in this race as opposed to keeping him in the barn and trying to identify an easier spot. To use the old cliche: there are a million reasons why."
"We know Battier takes to the Parx surface, which is a major plus. He thrives on racing and hasn't even had a published workout since the Hall of Fame, so he's finally in a good rhythm," Wellman continued. "We're well drawn smack-dab in the center of the field. Angel Castillo knows the colt so well and he gets so much run out of him. With the Smarty Jones under his belt, we fully expect a smart and tactical ride out of Angel."
"With the exception of Moreno and Will Take Charge, who are unquestionably the horses to beat on class alone, everyone else is in the same boat, hoping their colt shows up and runs big so they can take home a large chunk of the huge pot up for grabs," Wellman added. "Parx can be a quirky strip, and rain could add to the funkiness of the surface. We know Battier takes to it and we know he will adjust to any track condition. The same cannot be said for any of the other runners. We know we're up against it, but we also know our colt has every right to be in the starting gate with those other 7. We're leading him over there with confidence that he will make a positive impact on this lucrative fixture."
Speak Logistics, Transparent, Java's War, Fury Kapcori and Romansh are all in the mix along with Battier and the top 2 from the Travers.