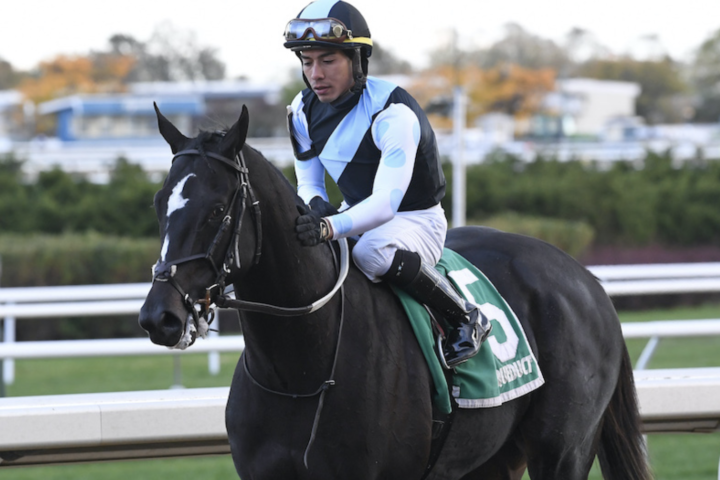 Independence Hall To Target Florida Derby After Saturday Breeze
by Paulick Report Staff | 03.01.2020 | 10:11am
Independence Hall, who suffered his first career loss in the Sam F. Davis (G3) Feb. 8, is being pointed to make his next start in the $1 million Curlin Florida Derby (G1) March 28 at Gulfstream Park.
Aron Wellman, managing partner of co-owner Eclipse Thoroughbred Partners, said Sunday that after talking with trainer Mike Trombetta, the 3-year-old son and grandson of Florida Derby winners Constitution (2014) and Cape Town (1998) would head south for Gulfstream's signature race.
"That's our current line of thinking right now," Wellman said. "We like the timing of the race. We think it's a race that should accentuate his strengths, and of course being a Grade 1 is also an important consideration. His sire won it and his damsire won it, so that is something that we're hoping to emulate, as well.
"He's doing great. He's already had two breezes since the Sam Davis and it's going to be a challenge to keep him contained until March 28, but Mike and [assistant trainer] Sarah Shaffer are doing a superb job with him and we have every confidence that if all goes well, he'll show up with a big effort on Florida Derby day."
Wellman said the tentative schedule for Independence Hall, whose owners also include Twin Creeks Racing Stables, Katheen Verratti and Robert Verratti, would have him work twice more at Tampa Bay Downs, weather permitting, before shipping to have his final Florida Derby work at Gulfstream.
Independence Hall broke his maiden at first asking in September at Parx, then stepped up and stretched out for a 12 ¼-length romp in the one-mile Remsen (G3) at Aqueduct. He won the Jerome at the same track and distance Jan. 1 before heading to Trombetta's winter base in Florida.
In the 1 1/16-mile Sam Davis, Independence Hall was never far from a pace that saw the half go in a robust 46.52 seconds, took the lead after six furlongs and carried in into the stretch before being caught by Sole Volante and beaten 2 ½ lengths to the wire. It was another 11 ¼ lengths back to Ajaaweed in third.
Wellman said not only did Independence Hall lose his tongue tie before the Sam Davis, but also his right front shoe coming out of the starting gate.
"That likely had more of an impact on his performance than the tongue tie did. All credit to Sole Volente on the day; he beat us on the square. But, those are a couple things that certainly didn't act in our horse's favor," Wellman said. "He did all the dirty work, he chased a very fast pace and he was the only one that was up there left standing at the wire.
"By all accounts, we were very pleased with his performance. Obviously, you never want to get beat, but it was a very good performance and I think we take a lot away from it, as well," he added. "We never had an intention of having him peaking on Feb. 8. Our goal is to be peaking as the year progresses, and we're hoping that the Florida Derby is one event along the way that sees him find his best form."
Eclipse Thoroughbred

@EclipseTBP