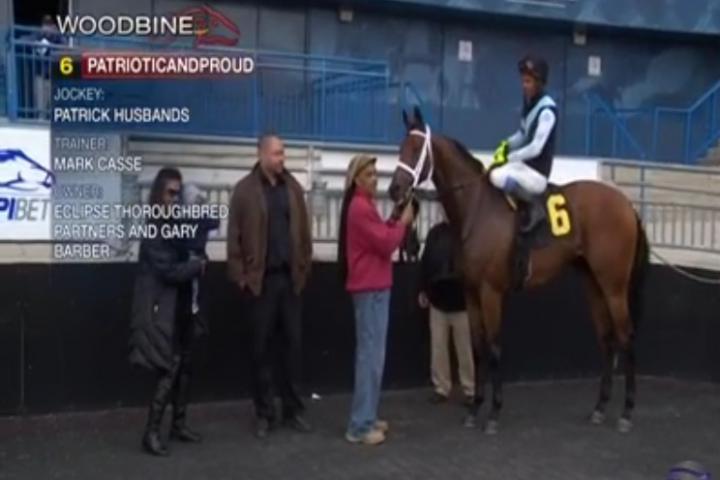 Hat Trick Or Treat For Eclipse!
It was a scary-good weekend for Eclipse, as the squad reeled off 3 wins, a 2nd and a narrow 4th from 5 trips to post, capping off October in fine style and accomplishing the team's mission of gaining momentum heading into Breeders' Cup week.
It was a scary-good weekend for Eclipse, as the squad reeled off 3 wins, a 2nd and a narrow 4th from 5 trips to post, capping off October in fine style and accomplishing the team's mission of gaining momentum heading into Breeders' Cup week
Eclipse can always count on Old Faithful, Patrioticandproud, to set the tone for big weeks and he rose to the occasion yet again, delivering a dazzling performance in wire-to-wire fashion at Woodbine on Saturday. Patrick Husbands sent the veteran from the gate and Patriotic obliged with a sparkling open-lengths win, earning a lofty 91 Beyer for his 8th lifetime win. This venerable 7 year-old gelding is about as cool as they come, and, as racing partner Gary Barber noted after Patriotic's win on Saturday, he is quite the ATM machine, as he fast-approaches the $700,000 career earnings plateau for Mark Casse, who gets much props for keeping Patriotic in top form year after year.
Fact Check was odds-on to produce a double on the day, but his greenness in the lane cost him victory, as he wandered about, zigging and zagging from the 3/16-pole to the wire and had to settle for 2nd. This freshman son of Yes It's True gave the impression that he'd be a sprinter, but with a pair of strong 2nd-place finishes under his girth and energetic gallop-outs in each of those heats, he's now defying his pedigree and looking more of a route colt. This guy has a future for Todd Pletcher.
The most frustrating race of the weekend came in the Grade 3, $100,000 Autumn Miss at Santa Anita, as Lady Valeur ran absolutely dynamite, but was compromised severely by a poor tactical ride. Paddy Gallagher had this Irish-import filly primed for a peak performance and she gave it, pressing blistering fractions throughout her mile turf journey in which she was 3-4 wide every step of the way, yet still conjuring up gear after gear to duke it out in the lane. The logic-defying effort found Lady Valeur in a 4-way battle to the wire, but the trip took it's toll and she got the short-end of the draw on the line, ending up an agonizing 4th. Lady Valeur is Graded and Listed-Placed and this was ripe for her crowning moment, but she will no doubt persevere and earn her much-deserved big race win soon enough.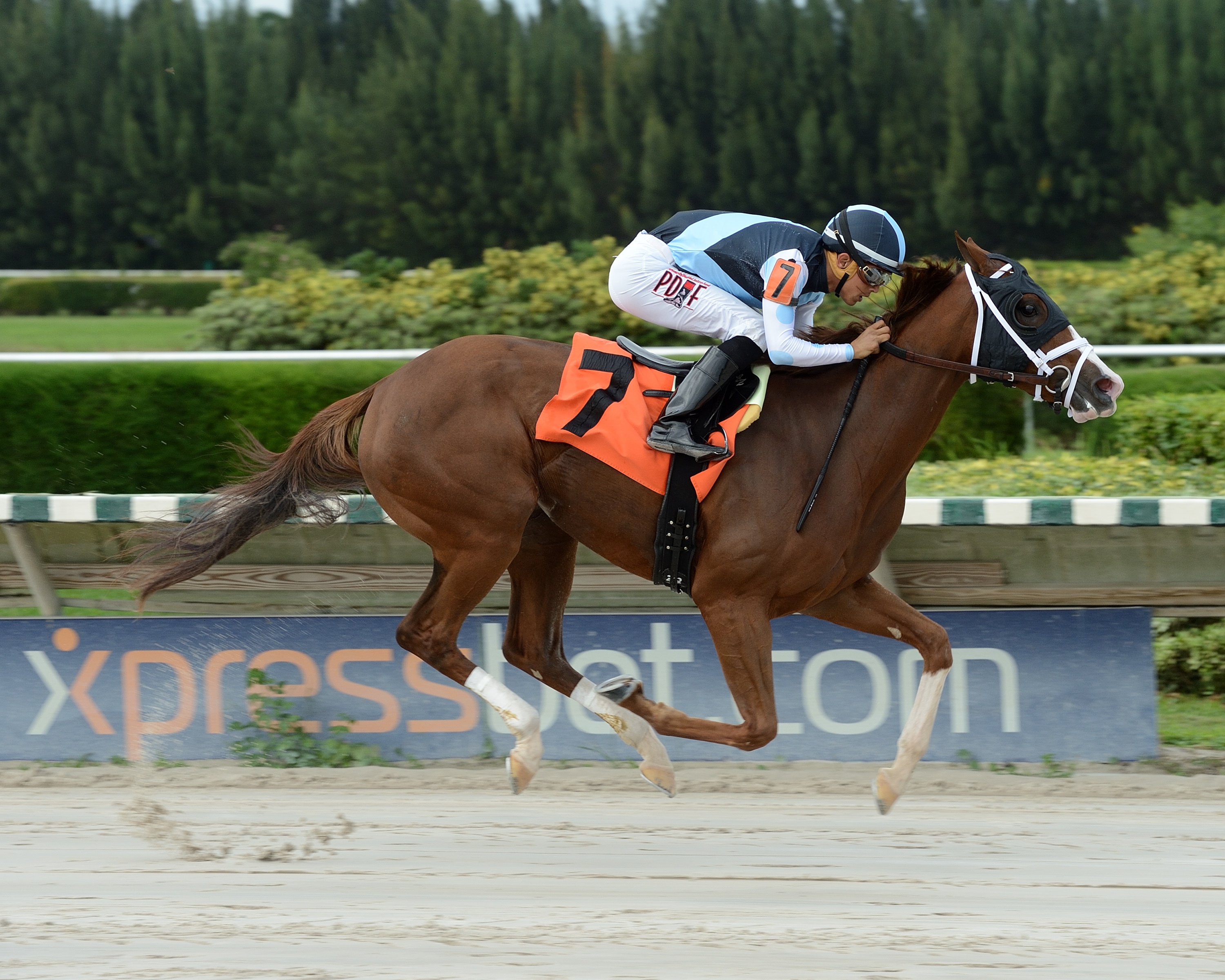 Sunday was all about the City Zip fillies for Eclipse and both spitfire sorts sped home winners, highlighted by Jumby Bay's (above) dominant triumph in a Maiden Special Weight affair at Gulfstream West. This well-bred filly, who was plucked out of Keeneland September last year for $140,000, hinted she might be something special earlier in the summer, but disappointed on a few occasions. She redeemed herself in a big, big way on Sunday, zipping home to a daylight 6 1/2-lengths victory. It took this filly a few more races than her connections anticipated it might, but she proved well worth the wait and appears poised to skyrocket for Pletcher with this confidence-builder in tow.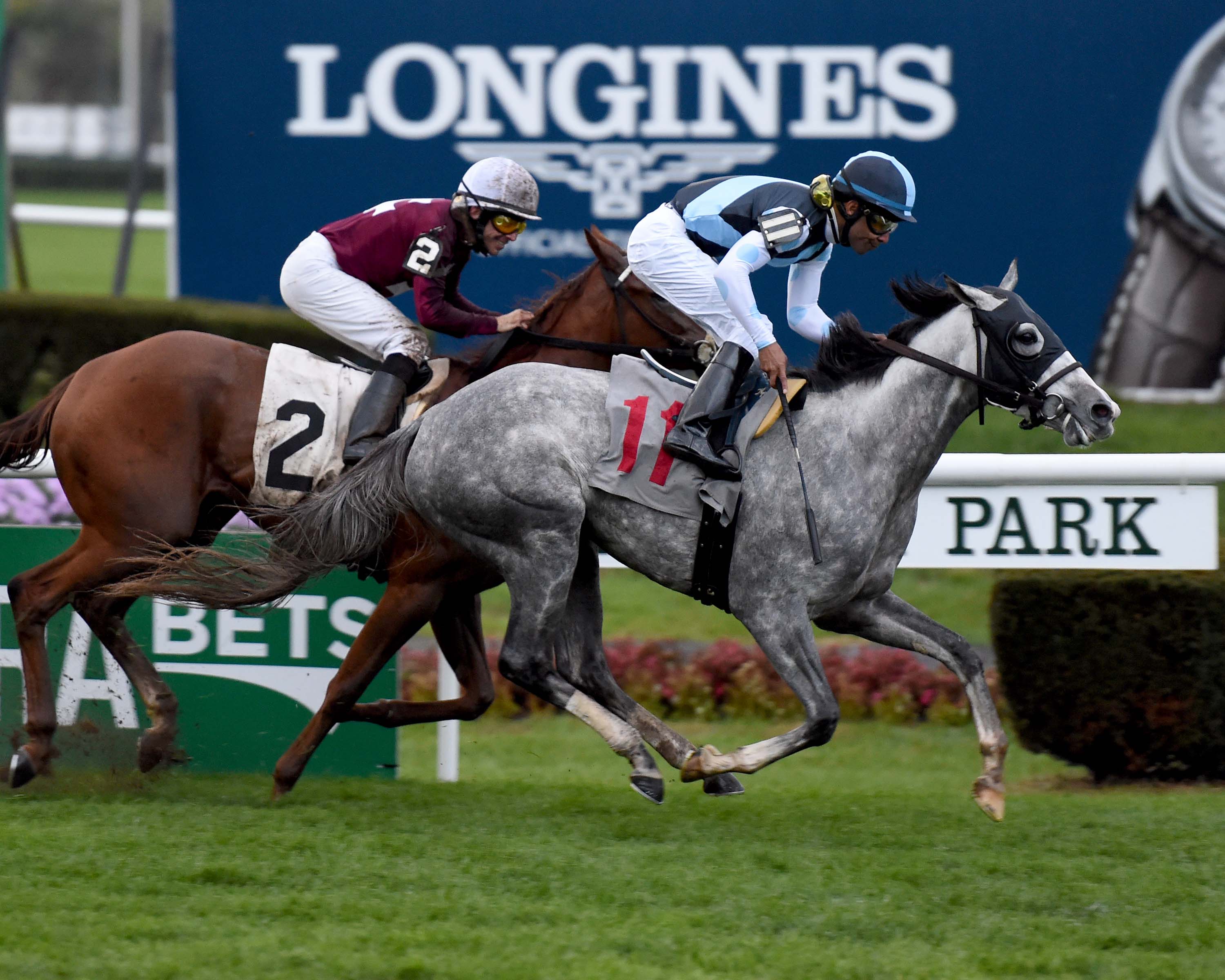 The monster weekend got polished off by Bea Bea (above), who finally shed the career maiden moniker and stopped being camera shy, as she re-engaged in the lane to battle her way to a 1/2-length score on the lawn at Belmont under a strong Kendrick Carmouche ride. This New York-bred gray gal has been nibbling at minor awards and has now pocketed over $70,000 lifetime, so she's paid her way and might have a chance to maintain productivity if she can take this learning experience on how to win and build from it.
The weekend results stabilized what has been a top shelf year for the Eclipse stable, which could be thrust into blockbuster status this coming week and with a strong final 2 months to the 2016 season. The baby blue and black has tallied 38 wins from 158 trips to post, good for a 24.05 win percentage, in addition to 47 more 2nds and 3rds, which equates to a 53.8% in-the-money clip.
This coming week has 6 Eclipse runners slated for action, headlined by Curalina, who will compete in what is being billed as a "race for the ages" in the $2 million Breeders' Cup Distaff. It will be a monumental challenge for Eclipse to bring the best filly from the East to go mano-a-mano with 3 of the best fillies to campaign on the West Coast in recent memory in Beholder, Songbird and Stellar Wind, all of whom have the luxury of home court advantage, but this is the ultimate Believe Big stage and the team is prepared to show the world what Curalina can do.
Other runners on the docket this week include: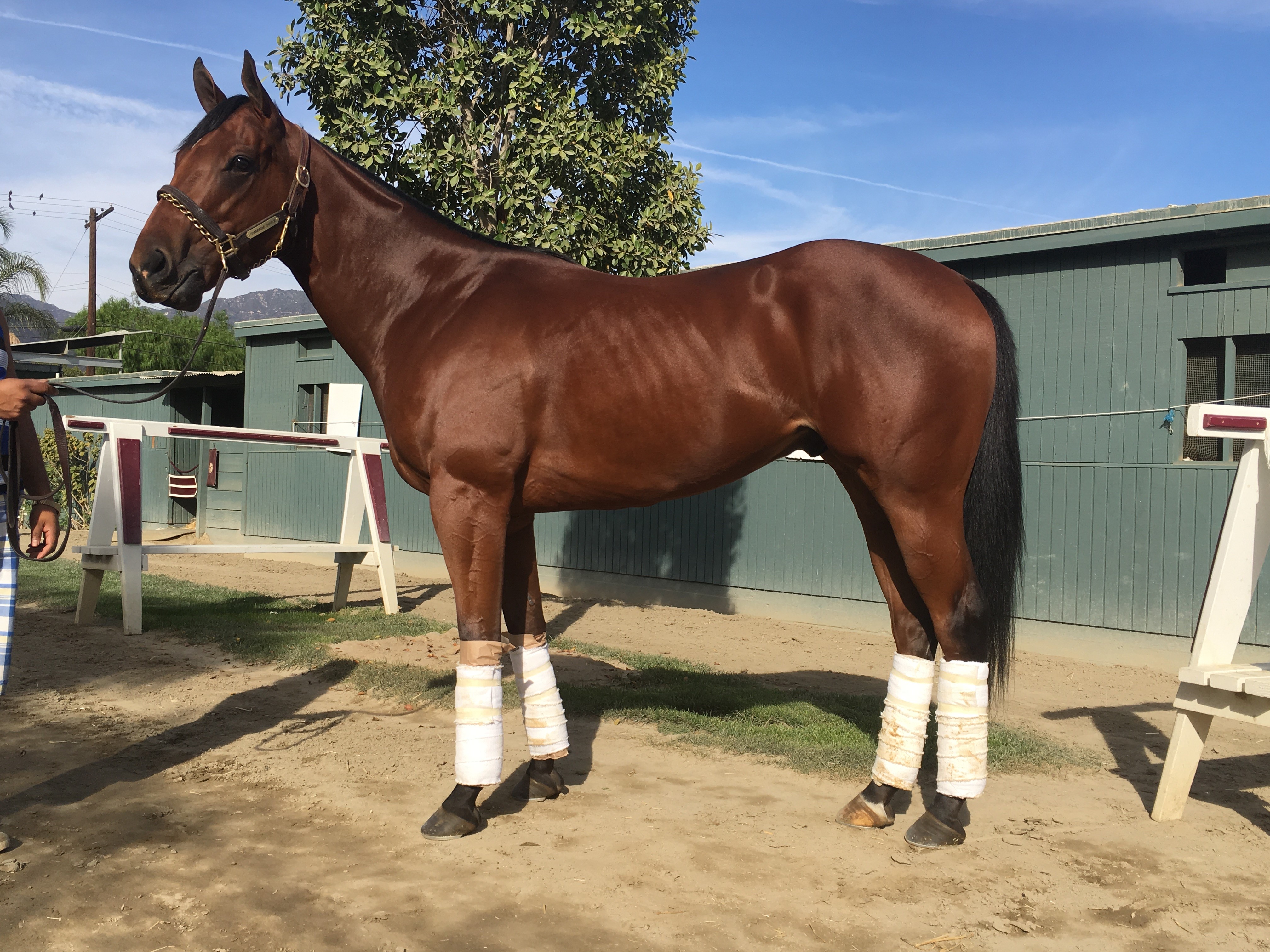 Thursday: The highly-regarded French import, Champagne Charley (above) makes his stateside debut on Thursday at Santa Anita with legendary jockey Frankie Dettori in for the ride
Breeders' Cup Friday: Longstocking has been painfully unlucky in her last 3 races and is primed for the winners' circle in a downhill turf Allowance;
Cowboy Rhythm sees if he can find his groove in the Grade 2, $200,000 Marathon; and
Curalina (below)goes for history in the Grade 1, $2 million Breeders' Cup Distaff.
John Velazquez has the call on all 3 of Eclipse's scheduled runners on Breeders' Cup Friday at Santa Anita.
Breeders' Cup Saturday: Desert Steel seeks Graded glory in the Grade 3, $100,000 Senator Ken Maddy Stakes with John Velazquez in the irons; and
Tapwrit looks to make amends for his dismal debut at Saratoga as he stretches out in trip for Todd Pletcher at Gulfstream West with Edgard Zayas at the controls.
If you are interested in watching any of the Breeders' Cup post position draw, you can watch it live streamed at www.breederscup.com
The show will air between 1-2pm PT and then the Distaff and the Classic will be drawn between 3:30-5:30pm PT.
Believe Big!