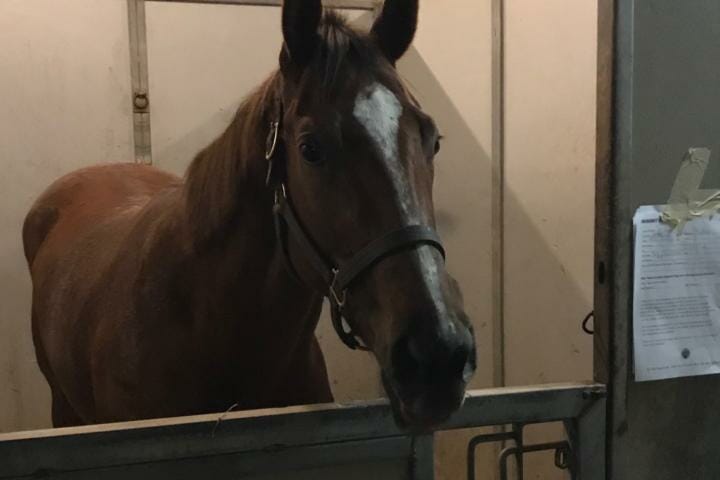 Gaining Perspective At A Time Of Tragedy
The sun is just rising as I pen this version of Total Eclipse and I'm doing my best to collect my thoughts and convey a succinct (those of you who know me know this is a monumental, if not impossible challenge), lucid message to our partners and supporters in the wake of yesterday's tragedy which occurred at San Luis Rey Downs.
Yesterday's unfathomable events are a blur and the daylight will only bring an unimaginable dose of reality to so many who have forever been affected by the fire that ripped through the beautiful and typically tranquil training center yesterday, taking an unknown amount of equine lives with it in the process.
Thankfully, I cannot claim to have experienced this devastation first hand. Yet, while I try to show empathy for the trainers, foremen, grooms, hot walkers, vets and anyone else on the San Luis Rey grounds during the horrific events, it is plain to see the trauma they and their horses have experienced physically, mentally and emotionally.
I fear that the wounds caused by this tragedy will defy the old adage that, "time heals all wounds."
With no access to San Luis Rey once the fire had erupted, I felt entirely helpless and immediately headed to Del Mar Racetrack/Fairgrounds, which was serving as an evacuation center for all livestock in the County.
The scene was daunting.
Like-minded, caring, concerned and sensitive individuals from all walks of life congregated in the barn area to do anything and everything they could to lend a helping hand to all breeds of animals requiring shelter and attention.
For an emergency situation, the staff at the Fairgrounds was admirably organized and directed me to the area of the backside dedicated to what we hoped would be hundreds of thoroughbred racehorses who had been evacuated from San Luis Rey. When I got to the row of barns, there were just a few familiar faces, all of whom were already hard at work, drenched in sweat, sometimes mixed with tears, bedding down stalls, filling up water buckets, preparing hay and setting up meals and shelter for the workers who had fled the scene along with their beloved horses.
Racetrack Execs, trainers, Eclipse Award-winning journalists, gamblers, local enthusiasts, janitors from the Fairgrounds, you name it…social status mattered not, everyone was equal and on a mission to do whatever possible to help the horses and humans we all optimistically envisioned barreling through the stable gate in search of comfort.
At dusk, an initial wave of 9 horses from the barns of Doug O'Neill and Keith Desormeaux arrived—a sight for sore eyes and a collective exhale could be felt among those of us on pins and needles praying for horses to show up. They were unloaded off the van expediently, bedded down in their stalls, hydrated and inspected by local vets for injuries. It was a swift process that inspired hope for the remaining 400+ horses stabled at San Luis Rey we all so desperately wanted to provide the same service for in coming hours.
As the sky turned dark, an eerie lull of inactivity occurred. No vans were coming in and those at the Del Mar barns anxiously awaiting anticipated swarms of San Luis Rey evacuees resorted to social media, phone calls, texts and whatever other form of communication we could glom onto to learn about the status of the horses and people from San Luis Rey.
The reports were all over the map, mostly grim and gruesome. A feeling of defeat began to set in.
Then, at around 7:15, after several hours of not a single horse from San Luis Rey being transported into Del Mar, a couple of headlights appeared from the stable gate and began to make their way towards the back barns of the stable area. The now dozens and dozens of workers and volunteers who had come to provide their services all scurried to the road to see if it might be a van from San Luis Rey.
Thankfully, it was. The gloom and doom energy that had consumed the air transformed into energy and pep and positivity and HOPE in the blink of an eye.
As the doors to the horse van were opened, my personal thoughts were mixed, as I had resigned myself to refraining from the selfish mission of finding the one horse Eclipse had stabled at San Luis Rey to simply being a small part of contributing to the greater good and doing all I could to help every and any horse and human that stepped off that van and the vans which were surely on their way behind this one.
After 4 horses were unloaded and led to their stalls, I stepped in to assist with the unloading of the 5th. The thought didn't even occur to me to consider that it could be Onassis, Eclipse's filly who is trained by Peter Miller at San Luis Rey. What were the chances? Well, 1 in 500, approximately. Slim odds for even the most eternal of optimists.
As I assisted the handler who was leading this wide-eyed chestnut filly with a thick, long white blaze on her face, I began to pay attention to the filly's characteristics and markings. To my sheer and utter disbelief, I allowed the thought to creep into my mind that this might be Onassis. As I escorted the filly into stall 5 in barn RR, I could not resist the temptation to read the nameplate on the halter: First Dude on top, Jacqueline Gail on the bottom. It was, in fact, Onassis.
I was overcome with emotion and wrapped my arms around her sweaty, hot, veiny and pulsating neck and draped my body onto her shoulder. In an almost surreal turn of events, Onassis was there for ME. SHE was reassuring ME. She was comforting ME. A 2 year-old filly who had been through hell and back and seen and lived pure horror, was consoling ME.
In hindsight, I realize that this isolated moment serves as a snapshot of the relationship between man and horse…the horse is all-giving and selfless and will always, genuinely give endlessly, no matter the circumstances.
As I attempted to compose myself I went to remove the standing bandages she had on her front legs, tattered and soiled with dirt, soot and what I can now only deduce was the blood from another horse or human.
As the bandages unraveled, in my cold, shaking hands, I was taken back in time to my youth as an 8 year-old boy when I began working on the Del Mar backside, mucking stalls, walking hots and grooming racehorses at those very barns which were now serving as a rescue shelter. My favorite thing to do was "rub" horses, massaging them in alcohol or doing them up in poultice and then applying bandages.
This was bonding time with the horses, connecting with them physically and emotionally as I tried to learn from them without the ability for verbal communication. Where did they ache? What could I do to make them better? How could I get them to relax? How could I get them to trust me? How could I do something, anything to help them to WIN?
The unraveling of Onassis' bandages provided me with a flashback to those wonderful after-training hours when I kneeled down beneath 1,000-pound animals, melted into the straw and devoted all I had to the horse–The intimate relationship with the animals and the hands-on experience which laid the foundation for my horsemanship.
In this time of tragedy, I was gifted with an enlightening perspective which correlates to the message from the Thanksgiving edition of Total Eclipse when I recounted the meaning behind the origination of Eclipse Thoroughbred Partners, reflecting on the "Thoroughbred" as being at the core of all the company stands for.
Last night and for who knows how long until this unconscionable travesty lifts, our hearts and minds and bodies will be entirely focused on the HORSES in need of our care and support.
The thoroughbred horse racing industry is cut-throat, there's no denying it. But, aside from the lessons that are sure to be learned from this tragedy—if there is anything positive that we can and should all walk away with is a greater understanding, recognition and appreciation for the raw fact that our blessed involvement with this sport is because of the HORSE.
The revelation I came to while attending to Onassis that the horse was above all, only became enhanced throughout the night. Once I knew Onassis was safe and sound, I went straight back to doing whatever I could to help out and the scene for the next several hours was incredible—at times even magical.
The vans started to roll in with regular frequency. Dozens of industry professionals and volunteers were buzzing around, unloading horses, ID'ing them, checking them with vets, ensuring that anything that could be done, was being done. There were tears of joy aplenty as trainers, owners and workers were reunited with their horses who could be identified…and, there were tears of sorrow as sad reports trickled in from 1st-hand sources.
In a time of overwhelming devastation, people were there for PEOPLE.
We live and operate within a uniquely competitive business. Trainers who race against each other every day and rely on their horse's results for their livelihood and to put food on their family's tables, share shedrows on the backside of racetracks 365 days a year. Jockeys who risk their lives every time they mount a horse and go to battle and make a living earning wages from purse winnings, share the same locker room.
It is a remarkably communal industry that is somehow equally competitive and supportive in unison.
For those of us who witnessed the unified camaraderie which took place last night and will undoubtedly need to continue for however long it takes to heal from yesterday's catastrophe, one can only be inspired by the HORSES and the PEOPLE.
There is so much beauty associated with thoroughbred horse racing. We all long for the glory.
But, at the heart of what I, for one, must never lose sight of in this grand game, is my complete admiration for the HORSES and for the PEOPLE who love, care and devote their lives to those horses.
When I called it a night at around 11pm to head home to my wife and kids, all of whom were sobbing while watching the local news when I left them earlier that afternoon, I made an informal count of around 175 thoroughbreds rescued from San Luis Rey.
It wasn't all of the horses we knew were at San Luis Rey when the fire broke out, but is was a good number of horses saved due to the heroic efforts of human beings who went to great measures, risking their own lives for the lives of those horses. Those individuals can never be thanked enough, nor can their heroism be honored enough.
As I polish off this edition of Total Eclipse to get ready to head to San Luis Rey to try corral loose horses and attempt to bring them to safety and then to Del Mar to continue the care for those already saved, I feel beyond lucky to know that Onassis is safe, but my heart aches for the horses who we know have perished or who have yet to be accounted for as well as everyone and anyone connected to those not so fortunate animals at this time.
For those unaccounted for animals, I urge our Eclipse brethren to please BELIEVE BIG.
*If you'd like to donate or contribute to the rescue efforts in any way, please contact:
https://www.gofundme.com/thoroughbredcare