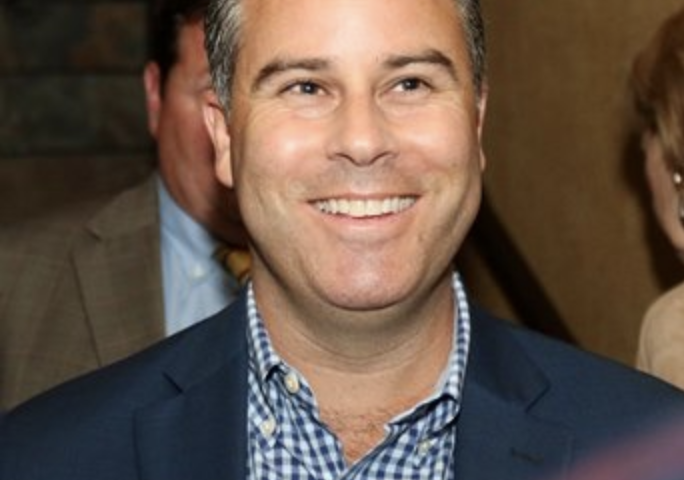 Eclipse Thoroughbred Partners Set for Success
MarketWatch Interview: Aron Wellman
By Julie Witt
Aron Wellman started Eclipse Thoroughbred Partners five years ago, and in its relatively short existence, he has been fortunate to experience success on the sport's biggest stages, including a victory in the 2017 Belmont Stakes Presented by NYRABets (G1) with Tapwrit. Wellman took the time to talk to Bloodhorse MarketWatch about his current stable stars, including stakes filly Paved, Tapwrit, and the next wave of Eclipse talent, including the stable's recent Ocala Breeders' Sales March purchases.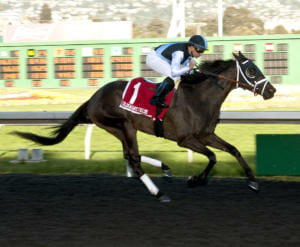 MarketWatch: Paved (above) won the El Camino Real Derby in her last start, which was an unconventional move, bringing her back to the synthetic off the turf and testing her against boys early in her 3-year-old campaign. What was the thought process behind that placement, and what are her plans moving forward?
Aron Wellman: It was a function of timing, in terms of spacing in-between her races, and distance. The farther the better for her, so the mile and an eighth was appealing to us. As far as the synthetic is concerned, we bought her off a breeze on a synthetic surface at OBS March as a 2-year-old last year, so we had confidence between her breeze when we acquired her, as well as her turf form, that she would take to that surface. We certainly didn't love the idea of running against the boys, but at the same time she's a pretty strong, well-made filly with good constitution and a good mind, so we thought she could handle it, and fortunately she proved us right. We had a lot of confidence in her, and a lot of credit goes to Michael McCarthy and his staff for preparing her so well, and Drayden (Van Dyke) really has the right touch with her and gets along with her well and gave us a beautiful ride.
With good 3-year-old turf fillies, it's all about the second half of the season—that's when the real running begins. So even though she's won twice already this season, we've been very pragmatic about her campaign—doing our best to keep as much in the tank for as long as possible, knowing our major goals are going to start in June, July, August, and through October—starting with the Belmont Oaks (Invitational) at Belmont, and then hopefully in the Del Mar Oaks in the summertime at Del Mar and then the Queen Elizabeth (Challenge Cup) at Keeneland in the fall. Those would be our three primary grade 1 targets, and our job is try to manage her as effectively as possible and make sure she's right and on top of her game for those three targets. We've always felt those are the types of races she could be in the hunt for, and we never like to plan too far ahead, but now that she's proven herself as a stakes-caliber filly with her last win, we can start to realistically circle those days on the calendar.
MW: Eclipse has Hazit, (right) who had a rough time of it in the Jeff Ruby Steaks (G3) at Turfway Park. What is the game plan for him?
AW: He's been a really frustrating horse, unfortunately, since his debut win at Saratoga, and it really hasn't been his fault. Things just really haven't gone right since the summertime for him. We've put him in some ambitious spots, thinking highly of him, and really believing he has big races in him, and the Turfway experience just went all wrong, unfortunately. Our game plan was to pop him out of there and hopefully have him in a forward position, and right out of the gate he went straight to his face and stumbled as violently as a horse can stumble. So his race was said and done one stride out of the gate. Drayden (Van Dyke), who was in town to ride him for the race, did a good job of taking care of him, but it was just unfortunate circumstances. We're back in a regrouping phase for him, and in all likelihood we are just going to go back to the basics sprinting him on the main track in an allowance race at Gulfstream Park sometime next month.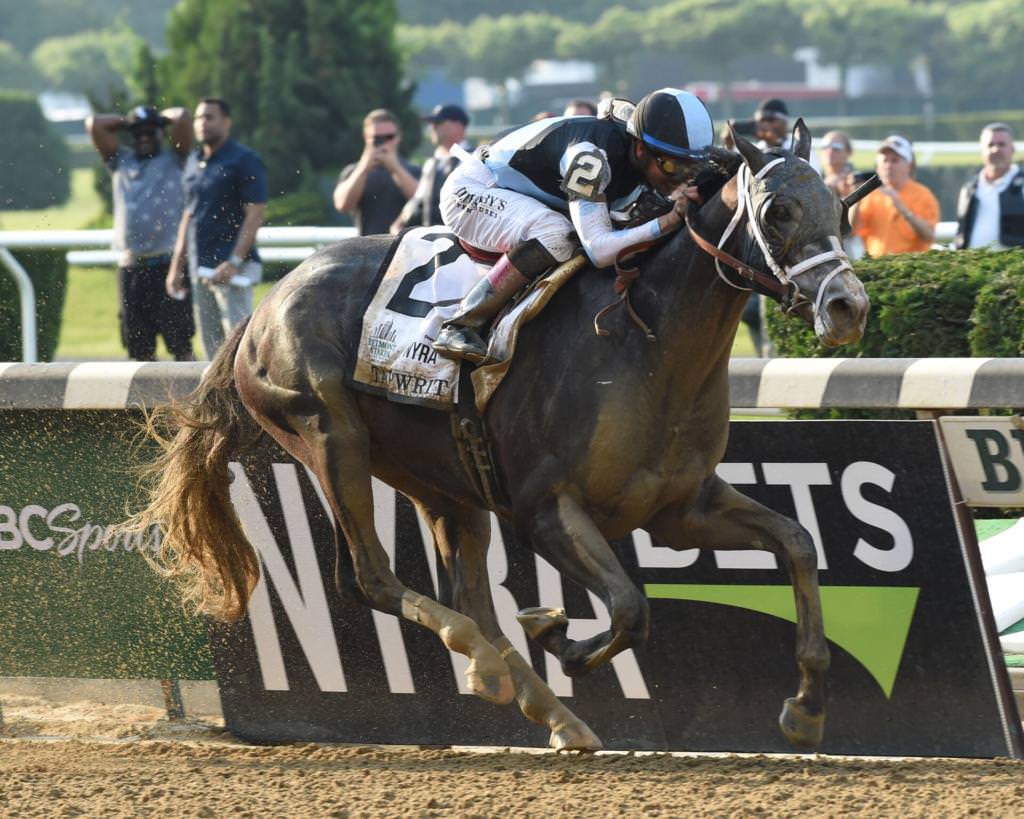 MW: Tapwrit (left) won the 2017 Belmont Stakes Presented by NYRABets (G1) and has been given time off. How is he doing and when can we expect to see him back on the track?
AW: Tapwrit is doing awesome. He is now a week back with (trainer) Todd Pletcher. He got a really good and well-deserved freshening after the Travers (G1). He's turned from an imposing teenager at the time of his 3-year-old campaign to, really, a man. He's always been a really substantial colt that has filled the eye, and now that is even more so the case. He's put on height, depth, weight, and really filled out beautifully. We are really pleased with the manner in which he has come back to Todd. Jonathan Thomas and the folks at Bridlewood did an incredible job with him, and Todd is very happy with what he has seen in the short window of time since he's had him back. We are just laying the groundwork right now to posture him for the second half of the season, and certainly have aspirations of him developing into a top handicap horse this year and beyond, hopefully.
MW: Eclipse, along with the other partners who are involved with Tapwrit, who is slated to stand at Gainesway Farm at the conclusion of his racing career, elected to bring him back for a 4-year-old campaign. What went into that decision?
AW: Good health assumed, it was never our intention to retire him at the end of his 3-year-old campaign. We always viewed him, and time will tell, as a horse that would thrive with age and strengthening and filling out into his scopey frame. Obviously, distance is of no consequence to him being a Belmont winner, and we like to think that as he comes into his own in the handicap division.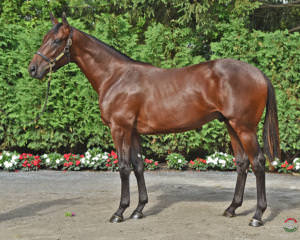 MW: Of your current 2-year-olds in training, do you have any in particular that stand out?
AW: I think right now the head of the class, and we are really excited about this crop, is the Medaglia d'Oro  colt out of the mare Rigoletta, making him a half brother to Battle of Midway (right), and we bought him in partnership with Mike Repole. He's unnamed, still, and has been at Bridlewood Farm and has developed magnificently well since August. He's really blossomed in the right way, he's sending all the right signals, and he just oozes intelligence and class. He's done everything we've asked of him very organically and very well, and is a colt that offers that classic profile, so we are going to take our time with him and hope he's hitting his stride this time next year.
MW: Eclipse was active at OBS March the other week, purchasing seven 2-year-olds. Walk us through those purchases.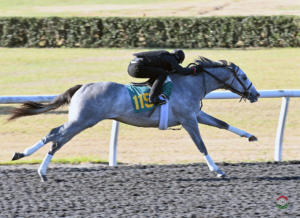 AW: We bought three in partnership with Mike Repole and four as just Eclipse.
Our sole focus is to buy the best horses that we can, for the best value that we can. Sometimes that means we buy a $50,000 horse that we like just as much as we would like a $500,000 horse. Some of our best acquisitions have been very modest purchases, and some have been blockbusters, and it's all about that perception of value. Obviously, there are certain factors that have to be in place for us to stretch for those big ticket purchases—pedigree has to be there whether it's a colt or a filly—to help justify those type of purchases.
I thought OBS March a couple weeks ago was a very interesting sale, and it was kind of a tale of two days. We've seen this for the past five to seven years now. What is perceived as the best quality is commanding a premium, if not premium plus, and the stock that doesn't hit the boxes is in trouble. What we always try and do is create a middle market for ourselves in a market that doesn't have a middle market. We've always tried to hover just below the radar and be able to find diamonds in the rough at more reasonable evaluations than what the heavyweights are able to pay for those horses, and still be able to show up at Del Mar, Saratoga, etc., and still be able to compete and maybe even beat them. That's what really fuels our fire.
If you look at our purchases on day 1 of OBS March, we were very selective, and the horses we bought were on the upper end of our comfort zone, budget-wise. The upper end of our sweet spot where we've been successful. When you look at the results of day 1, the quality rose to the top, and then there was a huge buyback rate or number of outs, because that was the first day of the 2-year-old sale season.
But I could sense this huge, immediate correction going into day 2 where the consignors, the owners, the pinhookers realized that unless they want to be stuck with stock, they had to get realistic and they had to get realistic in a hurry, about what their horses might be worth, or at least what the market thought their horses might be worth. We sensed that early in day 2, and we really fired away for a handful of fillies in particular, which is really our bread and butter, and we bought three for $130,000 and one for $150,000. And that, to me, is good eating.