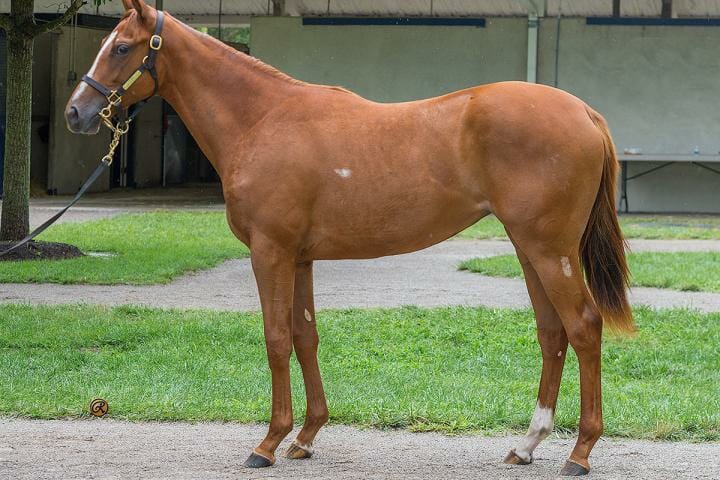 Eclipse Thoroughbred Partners Comes Full-Circle With Purchase Of Tapwrit Filly At Fasig-Tipton July
by Joe Nevills | 07.16.2021 | Paulick Report
When a horse sells for $1.2 million as a yearling, the daydreams that follow often center around hoisting trophies in high-profile races and standing at a high-profile stallion operation for years to come. They don't usually include unheralded $100,000 yearling purchases somewhere down the road, but one in particular marked the next chapter for an ownership group and its star horse.
On Tuesday, Eclipse Thoroughbred Partners secured a filly from the first crop of its Belmont Stakes-winning stallion Tapwrit at the Fasig-Tipton July Yearling Sale for $100,000, nearly six years after landing Tapwrit himself for $1.2 million at the 2015 Fasig-Tipton Saratoga Sale. The July purchase marked the first Tapwrit foal bought by Eclipse at public auction.
"It's incredibly gratifying," said Aron Wellman, president and founder of Eclipse Thoroughbred Partners. "You get into the game to be able to campaign a classic winner that's capable of going to the breeding shed in Kentucky, and now that he's got yearlings coming to market, it's really exciting to see the process come full-circle."
Tapwrit, a 7-year-old son of Tapit, stands at Gainesway in Lexington, Ky., following a career that has already seen him reach the top of the commercial and racetrack summits.
The Fasig-Tipton Saratoga sale is one of the world's most unforgiving Thoroughbred marketplaces when it comes to buyer scrutiny, so when the game's biggest players kept going back to the Denali Stud shedrow to lay eyes on a yearling Tapwrit, it was clear he was going command a princely sum in the sales ring. Wellman recruited Bridlewood Farm and Robert LaPenta to vie for the colt together, and their combined resources made the hammer fall at $1.2 million.
Placed in the barn of trainer Todd Pletcher, Tapwrit established himself as a juvenile with a win in the Pulpit Stakes, then he secured his Triple Crown credentials with a second in the Grade 3 Sam F. Davis Stakes and a win in the G2 Tampa Bay Derby. That summer, he fully vindicated the investment of his owners with a triumph in the Belmont Stakes.
Tapwrit's ownership group later gained new partners in Gainesway and Mandy Pope's Whisper Hill Farm, before he retired with four wins in 13 starts and earnings of $1,362,402.
This is all to set up the notion that the toughest act Tapwrit has to follow at stud might just be his own.
Wellman obviously has a variety of interests tied to Tapwrit's success in his stallion endeavors, both financially and the home team rooting kind. He said he'd try not to let that fact cloud his judgment when looking at the stallion's foals at the sales, but it's impossible to avoid letting that hope seep in just a little. Fortunately for his rooting interests, the yearlings he saw at the July sale gave him plenty of optimism; none of it forced.
"I'd be lying to you if I said I was 100 percent objective in analyzing his offspring, but I certainly do my best to be as objective as possible when it comes to analyzing each prospect as an individual," he said. "If we see one we like, and the price is right, and we feel as though there's value there, we'll treat them just as any other prospect. Of course, we inspected all the Tapwrit yearlings at Fasig-Tipton July, and across the board, they were a really impressive group."