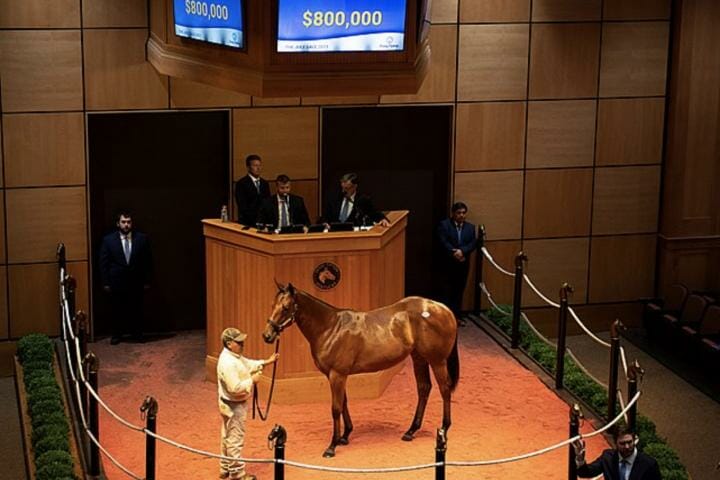 Eclipse, LNJ Foxwoods Secure $800K Into Mischief Filly
By Lauren Gash BloodHorse
Tucked away upstairs in the Fasig-Tipton sales pavilion, Aron Wellman of Eclipse Thoroughbred Partners went to war July 13 to secure an $800,000 Into Mischief   filly at The July Sale, Fasig-Tipton's selected yearling sale in Kentucky.
Eclipse teamed with the Roth family's LNJ Foxwoods to land the filly out of the Indian Charlie mare Cashing Tickets, the dam of multiple stakes winner Leggs Galore .
The bidding quickly jumped up to the half-million price point, making the filly the first to go that high Tuesday afternoon. Consigned by Burleson Farms, agent, as Hip 123, she was also the second by her heavyweight Spendthrift Farm sire in the ring
"No surprise that we had to go to war for her," Wellman said. "I think all the heavyweights were on her. We were right in that neighborhood of where we thought she was going to be. Maybe a bump or two more than that, but for this kind of filly they're hard to get your hands on."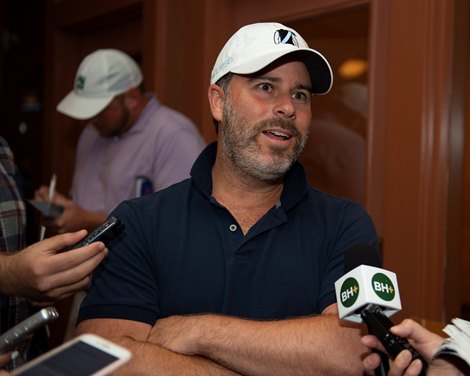 Bred in Kentucky by McKenzie Bloodstock, the bay filly is the fifth foal out of the unraced mare Cashing Tickets, a full sister to grade 3 winner Conveyance  . From three starters, the mare has three winners, and an unnamed 3-year-old with recent works at Canyon Breeze Training Center in Utah.
The filly was a standout among the other yearlings for Wellman.
"She was very craftily placed from a pedigree perspective and physical perspective; she certainly stood out," he said. "As soon as I laid eyes on her, it was one of those things where I picked up the phone and called Alex (Solis II, bloodstock agent and racing manager for LNJ Foxwoods) within seconds of seeing her. I knew we were going to need to bring out the big guns.
"Very grateful to Alex and Jason (Litt) and their team, and of course the Roth family, for partnering with Eclipse on this filly. Alex and I just thought this was the right one to take a swing for the fences."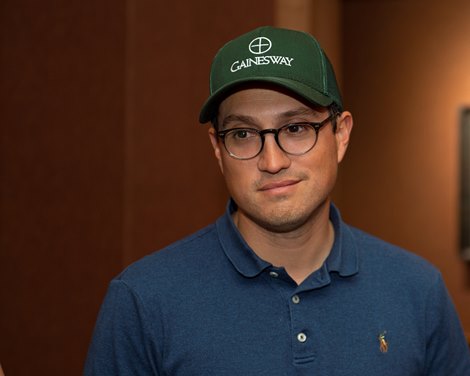 Wellman did not mention a specific plan of action for the filly.
"Alex and I will huddle up now that the dust is about to settle here and we'll figure something out," he said.
Burleson Farms consigned Hip 123 for long-standing client Jack Sims of McKenzie Bloodstock, owner of dam Cashing Tickets. The mare was purchased from the 2016 Keeneland November Breeding Stock Sale for $55,000 in foal to Bayern  , resulting in Leggs Galore. Cashing Tickets has a Good Magic   filly by her side.
"We bought her at Keeneland a few years ago. When we bought her that fall she had an Into Mischief baby that brought $200,000 for (breeder) Stonestreet Stables at the 2017 Keeneland September sale, before Into Mischief was really 'Into Mischief.' We decided to breed to Into Mischief. That filly (White Mischief ) brought $775,000 as a 2-year-old but she had a lot of vet issues. She only ran twice."