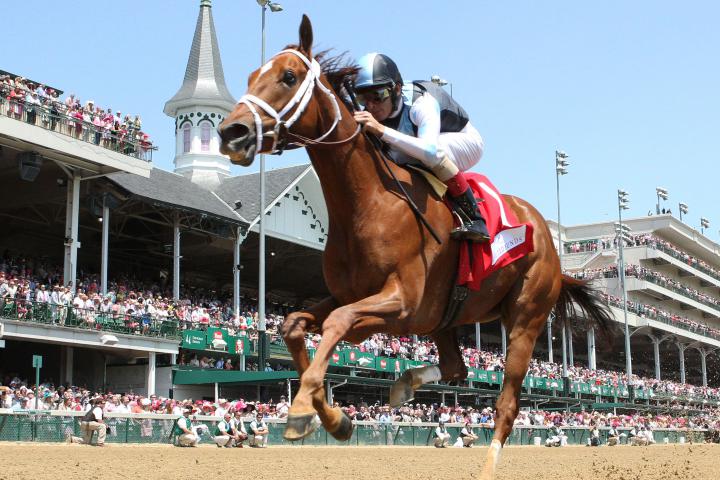 Eclipse Runners Curalina and Destin Play Starring Role On The Big Stage
Ogden Phipps brings together East Coast heads of state
By: Mike Welsch
ELMONT, N.Y. – Leadership within the East Coast filly-and-mare handicap division will be decided at Belmont Park on Saturday, when Curalina, Stopchargingmaria, Sheer Drama, and Forever Unbridled top a field of seven in the $1 million Ogden Phipps. The Grade 1 fixture will be run at 1 1/16 miles.
The top four contenders in the Phipps have already amassed 10 Grade 1 wins among them, with a fifth member of the lineup, Cavorting, also having won a Grade 1. Carrumba and decided longshot Desert Valley complete the field.
Trainer Todd Pletcher said his pair of Curalina and Stopchargingmaria are both training extremely well coming into the race. Curalina exits arguably the best performance of her career, a 7 1/2-length tour de force in the Grade 1 La Troienne at Churchill Downs on May 6, counting the three-time Grade 1 winner Sheer Drama among her victims. Last year's Breeders' Cup Distaff winner, Stopchargingmaria kicked off her 2016 campaign by finishing second, a neck behind Sheer Drama, in the seven-furlong Madison at Keeneland.
BELMONT STAKES: News updates, field, and videos
Curalina won the Grade 1 Acorn at Belmont after being squeezed at the start last year.
"I thought it was pretty impressive that she could get up last year in the Acorn after being in the middle of that sandwich at the start," Pletcher said. "But visually, [the La Troienne] was probably her most impressive performance, and she's trained as if she's going to run another good race."
Stopchargingmaria has been preparing for the Ogden Phipps over the Oklahoma training track at Saratoga, where she's had five works since the Madison on April 9.
"She really loves Saratoga, and she's trained exceptionally well," said Pletcher. "I thought she ran a very big race off the layoff in the Madison. She had a pretty wide trip and just missed. It was similar to the way she kicked off her season last year."
Trainer David Fawkes is confident that Sheer Drama will bounce back from her third-place finish in the La Troienne. Joe Bravo has a return call.
"She just doesn't seem to like it there at Churchill Downs," said Fawkes. "Joe said she just wasn't grabbing the track in the La Troienne, that he wanted to have her closer into the first turn but just didn't have the horse to put her there."
Forever Unbridled won a Grade 1 race for the first time in her last start, rallying to a 2 1/4-length triumph in the Apple Blossom at Oaklawn Park on April 15. The win was the third in a row for the 4-year-old Forever Unbridled, who will race at Belmont Park for the first time Saturday.
Cavorting captured the Grade 1 Test last year at 3. She has yet to race beyond a mile but has won three of her four starts at Belmont, including the Grade 2 Ruffian by five lengths going a mile May 14.
Key Contenders
Curalina, by Curlin
Last 3 Beyers: 100-93-98
She proved no match for her stablemate Stopchargingmaria in their only previous meeting, finishing third to her, beaten nearly four lengths, in the Breeders' Cup Distaff.
Stopchargingmaria, by Tale of the Cat
Last 3 Beyers: 100-98-93
She earned a 92 Beyer Speed Figure while kicking off her 2015 campaign with a second-place finish in the Madison and a 100 Beyer in her second-place finish in the same race this year.
Sheer Drama, by Burning Roma
Last 3 Beyers: 89-100-91
She's made two starts at Belmont Park, with both races coming three years ago at 3, finishing fourth against maidens and second behind Wedding Toast in the Belle Cherie Stakes.
Byron King's Belmont Stakes analysis
By: Byron King
Although some might not want to play DESTIN in the Belmont Stakes due to his preparation "with the race marking just his second start in 13 weeks" it means little to me. The time off was not the result of some publicized setback. Rather, the extensive spacing was made by his connections to have him fresh for the Triple Crown after the horse produced a career-best effort in winning the Tampa Bay Derby on March 12.
His Kentucky Derby effort was deceptively good. Off poorly, he was 11th after a quarter-mile, buried in traffic and much farther off the pace than many expected this usually stalking runner to be. From there, he had every right to get discouraged, but he fought on, advancing under premature encouragement to reach third between calls in early stretch before tiring to sixth.
With a better start and a forward position, away from the traffic at the back, expect a much-improved performance in the Belmont. And the price should be right, perhaps drifting to as high as 10-1 odds.
EXAGGERATOR is obviously the most likely winner, having won the Preakness after a runner-up finish in the Derby, but it is difficult to get enthused about backing him at a short price. There is simply not a lot of reward for the risk that he could regress while going the Belmont's 1 1/2-mile distance after two prior races in the Triple Crown. He is 9-5 on the line and probably starts closer to 6-5.
SUDDENBREAKINGNEWS rallied belatedly in the Derby, finishing a fast-closing fifth, a couple of heads away from being third. And three of the four horses who finished in front of him "with the exception of runner-up Exaggerator" are not running in the Belmont. He is a consistent horse and seemingly well suited to 1 1/2 miles.
CREATOR made such dramatic progress to go from a maiden to a Grade 1 stakes winner in a couple of months that regression was always a possibility in the Derby, and that seemed to play out. He also had traffic difficulty, running up on the heels of horses when rallying while leaving the second turn, and could only pass tired horses thereafter. He is a physically striking horse, one whose flashy gray coat exudes vibrant health.