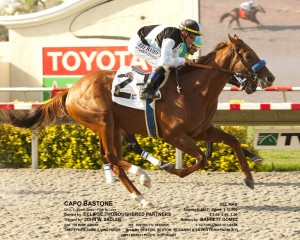 Eclipse Poised For Major Stakes Action At Santa Anita
Capo Bastone Essays Grade I, $250K Front Runner Stakes at Santa Anita
When Capo Bastone was plucked out of the OBS March Sale of 2 year-olds, the son of Street Boss was dubbed a serious athlete with the ability to develop into a prospect for the Del Mar Futurity and the Breeders' Cup Juvenile. After being lauded with TDN Rising Star status after a scintillating maiden score at first asking, Capo Bastone could manage no better than 4th money after enduring a tough trip in the Futurity.
On Saturday at Santa Anita, however, the striking chesnut freshman will have an opportunity to launch himself right back into the thick of the 2 year-old Championship discussion when he teams up with jockey Victor Espinoza in the Grade 1, $250,000 Frontrunner Stakes. The Frontrunner, formerly known as the Norfolk, is a "Win & You're In" fixture for the $2 million Breeders' Cup Juvenile to be held at Capo's home track on November 3rd.
Trainer John Sadler and his assistant, Larry Benavidez, have done an admirable job developing Capo Bastone. Sadler said of the handsome frosh, "Capo is just a really, really nice colt. He's got a fantastic mind and an intelligence about him that is hard to find in horses, so that mental comonent is key. On the physical side of the equation, he's really talented. He does things with tremendous ease. We've been really thrilled with how he's trained since he came back to Santa Anita and I find it hard to believe that any of the 11 entrants could be coming into this race as well as Capo is. We're going in with a lot of confidence."
With the Futurity winner, Rolling Fog, on the sidelines battling sore shins, the Frontunner will offer an opportunity for someone to stake claim to top honors on the West Coast. The Frontunner will likely go through Know More, who won the Best Pal on debut and was a fast-closing 2nd in the Futurity. Other main contenders include Gabriel Charles, Carving, Den's Legacy and Power Broker.
Eclipse President, Aron Wellman, offered, "We're right where we had hoped Capo would be at this stage. We believe he's superior on conventional dirt and we're hoping he proves on game day how good we think he is. The opportunity is before us. Now it's time to execute."
BYRAMA TRIES TO UNDRESS FULL FIELD OF FILLIES IN $70K UNZIP ME STAKES
Byrama has proven to be a true throwback racehorse. The British import appears to thrive with racing and has gone from strength to strength in recent months, including a phenomenal 2nd-place run behind Breeders' Cup Sprint prospect, Reneesgotzip, earlier this month in Byrama's foray into synthetic track racing, where she earned a robust 91 Beyer. On Saturday, just 25 days after that stellar performance, Byrama will contend for top honors in the $70,000 Unzip Me Stakes at Santa Anita.
Byrama has run 9 times since being imported from the U.K. to Southern California by Eclipse. She has 2 wins to her credit, including a Stakes victory last June, as well as several Graded and Listed Stakes placings, which have racked her lifetime bankroll to just shy of $180,000. The only 2 times she failed to hit the frame was when she was 4th at Del Mar at the mercy of curious rides.
Despite being Graded-placed at up to 9 furlongs, Byrama's best work has come in turf sprints. In the Unzip Me Stakes, Byrama will return to the site of her initial stateside score, the unique downhill turf course at Santa Anita. She was accompanied by Rafael Bejarano on that occasion and after the Peruvian's absence on the sleek bay's back since posing for photos together in the Manhattan Beach Stakes last June, they'll be hooking up again in Arcadia tomorrow.
Trainer Simon Callaghan has done a masterful job keeping Byrama on her game throughout the season and the British conditioner is of the belief that the daughter of Byron is currently going better than ever before. "Byrama is an amazing filly," Callaghan acknowledged. "She bounces out of her races remarkably well and is asking to be taken to the track within a day of what otherwise might appear to have been a taxing experience. She is such a good feeling filly that it would be a shame to keep her in the barn. We've got our sights set on Keeneland later next month, but it would be wonderful to win this race first before heading east."
Byrama will likely be the favorite, but will have to have her running shoes on to beat the likes of Grade 1 performers, Charm the Maker and Killer Graces, as well as Best Present Ever and the Euro invader, Love Tale.
"Normally, I prefer to take a conservative approach in managing our fillies," Eclipse President, Aron Wellman noted. "But Byrama is such a tough, rock-solid filly that I cannot justify keeping her in the barn. Stakes opportunities are hard to come by, especially when you're in good form."