Eclipse Heads to Kentucky Derby After Danza Dazzles In $1 Million Arkansas Derby
Eclipse Thoroughbred Partners' three-year-old colt Danza pulled off a dominating win in the Grade 1 $1,000,000 Arkansas Derby at Oaklawn Park Saturday. This son of Street Boss, named after actor Tony Danza, has secured a spot in the starting gate for the Grade 1 $2,000,000 Kentucky Derby Presented by Yum Brands! at Churchill Downs on the first Saturday in May – the 3rd. Danza ranks sixth on the point leaderboard with 100.
Coming out of the one hole, Danza stalked the leaders while fourth after a half-mile just one and one-half lengths off the lead. He moved up along the inside taking command at the top of the stretch and as much the best, powered his way to a four and three-quarter length victory. The final time for the mile and one-eighth was 1:49.68.
"We internally had a lot of faith in the horse. We knew we were going to be a longshot (41-1!). It was just a matter of whether he was going to be good enough to compete with these horses. Fortunately, he went out there and executed on the racetrack today", said Aron Wellman, president of Eclipse Thoroughbred Partners and co-owner of the organization along with Lee Midkiff.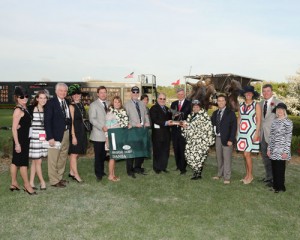 Danza broke his maiden first time out at Belmont last July 12 before finishing a close-up third in the Saratoga Special at Saratoga Racecourse on August 11, 2013. After having time off, he returned to action finishing third at Gulfstream on March 1, 2014. With two wins and two thirds in only four lifetime starts, Danza has career earnings of $666,428.
Trainer Todd Pletcher said, "We were searching for the right race and the right option and it seemed like the Arkansas Derby was the race for us to step out and take our shot. We're certainly very excited that we did and very proud of the way the horse ran today."
Jockey Joe Bravo summed the day up well. "That was a great effort. Todd was pretty high on the horse and he told me this morning that he was going to be fresh so don't take anything away from him. Try to save as much as you can and let him run his race. It was textbook, just textbook. Everything unfolded like a dream. That was pretty cool down the lane. It's really fun to have a special horse like that and have him run like that. I'm not a fortune teller, but hopefully, in a couple of weeks we can do it again!"
Supermonic polished off a monumental weekend for Eclipse as he demolished a field of Allowance foes at Keeneland this afternoon in Lexington. We hope the Eclipse faithful had a few bucks on our boys this weekend as they both paid boxcars!