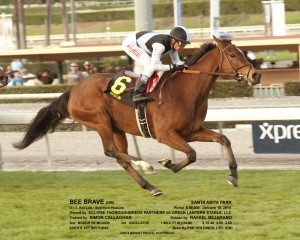 Eclipse Has a 2-Bagger at Santa Anita with Pair of Euro Filly Future Stars
Bee Brave, a 4-year-old daughter of Rail Link, was brought up perfectly for this race by Simon Callaghan. Not having run since August of 2012, Callaghan had put a solid foundation underneath her. Bee Brave trailed the field for the first three-quarters of a mile before coming four wide into the stretch and exploding past the field winning by one and a quarter lengths.
Aron Wellman commented after the race, "Remarkably, she is still learning the game and if she can stay healthy and we don't mess up her race management, there's no telling how good this filly may turn out to be in the long term."
"Bee Brave came home in her final 1/8thin about :11-flat, which is off the charts."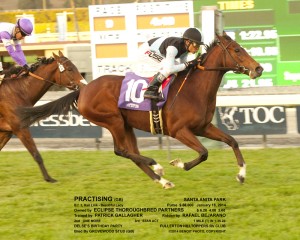 An hour later, Practising, also a daughter of Rail Link, gave a similar type performance. Not having raced since July of last year in England, Practising tuned up for this spot under the tutelage of Paddy Gallagher. He could not have done a better job preparing her. Practising, while four wide, was sixth after a half-mile before launching her bid entering the stretch. Rafael Bejarano, who also rode Bee Brave to victory, gave Practising a masterful ride getting up to win by a length.
Following the race, Aron said, "Practising had to be used in numerous stages of the race, yet despite what may have appeared to the naked eye to be a taxing experience; she was thoroughly enjoying herself the last bit of the race and galloped out with gusto."
"It's always exciting to have a good 3 year-old turf fill with ample stamina, as the options throughout the season are endless, and Practising fits the bill to be sure."
These fillies are a testament to Aron Wellman's ability to spot "blue sky" prospects around the world and provide immense enjoyment for the Eclipse Thoroughbred Partners family.