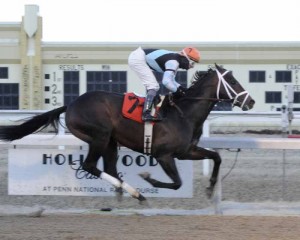 Eclipse Emerges from Slump With 3-Win Week
While Eclipse Thoroughbred Partners has been going through a cold spell – like much of the country, we are now warming up fast. Supermonic had his picture taken in the winner's circle March 13 and both La Sorella and Press Baron were winners on Saturday.
La Sorella is a maiden no more. Expertly prepared by trainer Marty Jones, this half-sister to ETP's G1 winner Capo Bastone, broke on top and led wire to wire in rapid fractions over the Santa Anita downhill turf course. The final time for the six and one-half furlongs was 1:12.67. This three-year-old daughter of Corinthian was ridden by Hall of Famer Mike Smith in only her third career start, coming off a close-up second. She proved best Saturday winning by one and one-quarter lengths and looks to have a bright future ahead of her.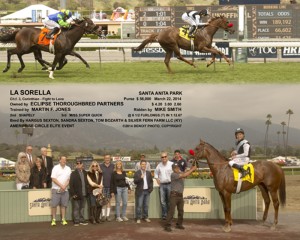 Press Baron, a five-year-old son of King's Best, climbed over the $100,000 mark in career earnings Saturday at Tampa Bay Downs. Many handicappers believe a horse is ready for a top effort in their third start after a layoff and that proved true for Press Baron. Out of action for ten months, he returned to action in January. Finishing fifth, he obviously needed the race before coming back to finish second in early March. Press Baron was ridden with confidence by Luis Garcia on Saturday. While third with a quarter-mile to go, Garcia was looking behind him to see if anything was coming. He knew he could run down the leaders and Press Baron did just that. Though the winning margin was only a neck, while watching the race, you knew Press Baron was the best. Press Baron, trained by Arnaud Delacour, was notching his third career win and he has finished in the top three in over half his starts.