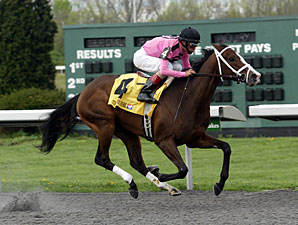 Eclipse Elects To Bypass Friday's Kentucky Oaks With In Lingerie
ECLIPSE ELECTS TO BYPASS FRIDAY'S KENTUCKY OAKS WITH IN LINGERIE
GRADE 3 WINNING FILLY WILL BE TARGETED FOR BLACK-EYED SUSAN S.
SECOND JEWEL OF FILLIES TRIPLE CROWN RUN MAY 18TH IN BALTIMORE
JOHN VELAZQUEZ TO PILOT EMPIRE MAKER SOPH AT PIMLICO FOR $300K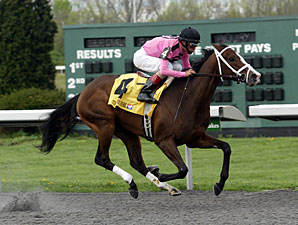 After much thought and deliberation, Eclipse Thoroughbred Partners, Gary Barberand Todd Pletcherhave decided to withdraw In Lingerie from consideration for the May 4th running of the Grade 1, $1 million Kentucky Oaks at Churchill Downs. The team has elected to divert the filly's path to Baltimore and Pimlico Racecourse, where she will take aim at the second jewel of the fillies Triple Crown on May 18th in the Grade 2, $300,000 Black-Eyed Susan Stakes.
An authoritative winner of the Grade 3 Bourbonette Oaks in just the third start of her career, In Lingerie had been targeting the Oaks since late March, but in the week leading up to the big dance,Todd Pletcher, Eclipse President, Aron Wellman and co-owner,Gary Barber, began to have reservations about exposing such a lightly-raced and unseasoned filly to the rigors of a race as intense as the Kentucky Oaks.
"We always said that In Lingerie was going to have to be training absolutely exceptional for us to take the calculated risk of running her in the Oaks off of just 3 races," Pletcher remarked. "The filly is training well, very well in fact. But, we lacked total confidence that she'd be able to produce the type of result we felt was worthy of giving her that shot. She's an unproven commodity on conventional dirt and for us to throw her to the wolves in the Kentucky Oaks as her initial Stakes try on a conventional dirt surface started to look more and more of a stretch.
"So, we decided to take a more conservative approach and provide In Lingerie with a more comfortable progression. The Black-Eyed Susan makes a whole lot of sense at this stage in her career. We'd be leading her over there with a lot of confidence," Pletcher confirmed.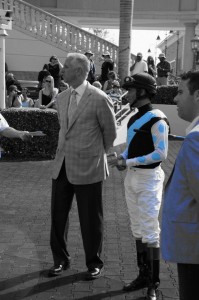 Wellman added, "While having a runner in the marquis event for fillies in all the land at this early stage of Eclipse's existence would be a tremendous experience for our partners and provide our company with valuable exposure, we always have to make the best decision for our horses, which, in turn, will be the best decision for the partnership who owns the horse. It was not easy to make the phone calls to our partners in In Lingerie and notify them that their Oaks dreams were crushed, but I know in my gut that this will prove to be the right decision for our filly. Long term, our partners will hopefully be able to dance many big dances that may have been compromised had we forced the issue and run In Lingerie in the Oaks.
"Time will tell," Wellman acknowledged. "But, it's my job to manage our stable so as to maximize each horse's potential and value, and if we live by the policy of doing right by our horses, I have faith they'll do right by us. We would have led In Lingerie over there in front of $90,000 rowdy fans and lined her up against the best 13 best 3 year-old fillies in the country hoping she'd perform well. If we take her to Pimlico for the Black-Eyed Susan, we will be doing with strong conviction that she can win the race. While it's been a tough decision and the lure of running in the Oaks was tremendous, our partners have taken the decision exceptionally well and everyone is enthused about heading to Pimlico and honored to have a filly who figures to stand a major shot to win such an important and prestigious race with such a rich history."
In Lingerie has been shipped from her winter base at Palm Meadows to the spring headquarters of Todd Pletcherat BelmontParkwhere she will be fine-tuned for her tilt at the Black-Eyed Susan on May 18th.