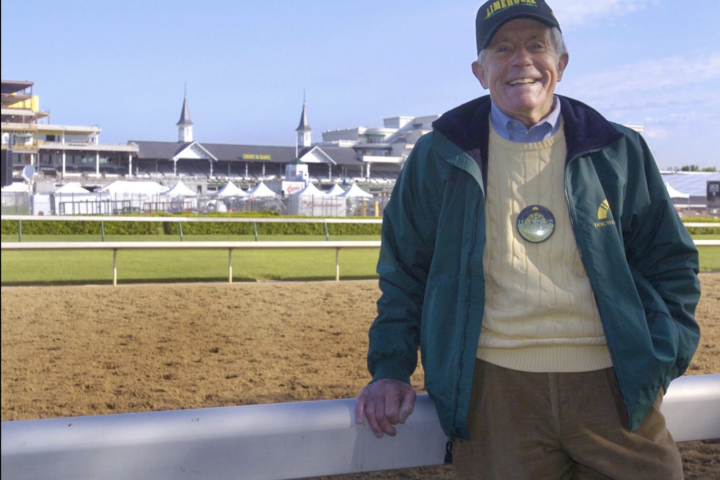 Cot Campbell had lifelong love affair with Kentucky Derby
LOUISVILLE, Ky. — In early May, the sun may shine bright on "My Old Kentucky Home," but a Kentucky Derby without Cot Campbell certainly seems like a day without sunshine.
W. Cothran Campbell, known as Aiken's "Rascal in Residence," died in October after a rich and full life of 91 years, the ups and downs of which he negotiated with style, grace and an unfailing sense of humor. Unquestionably, a high point was his induction – less than three months prior to his passing – into the National Museum of Racing's Hall of Fame as a "Pillar of the Turf."
Attending his first Kentucky Derby as a teenager in 1942, Campbell saw Shut Out win and, determining not to be "shut out" from the thrill of the association with the thoroughbred horse, he did it all. Campbell was a spectator, a reporter covering racing, an author of wonderfully humorous books on the subject of racing and the thoroughbred and, ultimately, the pioneer of the notion of partnership owning of the racehorse.
In addition to all of that, he may very well have been the No. 1 fan of the Run for the Roses.
"There was really nothing quite like it for us in the enjoyment of life," Campbell's widow, Anne, said Friday in a phone call. "The Derby was the ultimate goal and joy – the uber experience. Cot just loved the backstretch in the mornings. He thought being back there was marvelous."
This sentiment prevailed every year, not just when Dogwood Stable had a contender training for the big event. But when the Campbell-managed Dogwood had such a horse, things entered another sphere.
"Of course, he was stressed to the max," Anne said. "But, on the other hand, he had so much fun. One time, while being interviewed by a telecasting crew, he called 'time out' and retreated to the tack room, from which he emerged wearing one of those hideous masks he loved to collect."
Despite the pressure, Campbell made sure his partners shared the enjoyment.
Dogwood at the Derby
Year;Horse;Finish
1990;Summer Squall;2nd
1993;Wallenda;13th
1994;Smilin Singin Sam;10th
1997;Jack Flash;7th
2000;Impeachment;3rd
2000;Trippi;11th
2004;Limehouse;4th
2013;Palace Malice;12th
"The Campbells were very unique people," recalled trainer Neil Howard, who saddled Dogwood's first Derby starter, 1990 runner-up Summer Squall. "They seriously loved people and took great enjoyment in bringing others along with them for the ride. For them, it was win together, lose together but, above all, have fun together."
Jack Sadler, one of Cot Campbell's closest friends, began with Dogwood as an assistant trainer and later moved into the front office, ultimately serving as vice president. This long association gave rise to Sadler being frequently referred to as "Cot's right-hand man."
"For the Campbells, the Derby experience was the whole week," Sadler said. "But when Dogwood didn't have a horse in the race, as Cot got older, he would fly back home on Saturday and watch it on television. But he never lost his taste for the experience of being up there in Louisville."
Dogwood never won a Derby, Summer Squall coming the closest to wearing the roses of the stable's eight starters. But the taste of victory on two occasions was just delayed a bit. In 1990, Squall turned the tables on Unbridled by winning the Preakness. In 2013, Palace Malice, Dogwood's final Derby starter, disappointed at the Downs finishing 12th, but rebounded to win the Belmont Stakes five weeks later.
Shortly thereafter, Dogwood Stable entered into a partnership with Eclipse Thoroughbred Partners and began phasing out of the horse business. Sadler stayed on as vice president with Eclipse.
At the recent 2-year-old in training sale, there were a number of Palace Malice colts and fillies offered for sale. One in particular caught the eye of Sadler, and the hammer fell at $555,000 with Eclipse the purchaser.
Several months before, Eclipse CEO Aron Wellman had reserved the name "Cothran" for one of the partnership's purchases, an offspring of Palace Malice being in mind for the name. And so the promising colt bearing that name is presently in Todd Pletcher's barn, training for his racing debut.
Sadler warns all to watch out.
"It's been a long time since I've been as excited about a racing prospect as this one," he said. "We believe he could be the real thing."
So, as most appropriate, the legacy of Cot Campbell continues at the forefront of thoroughbred racing. Wouldn't it be something if, as next April turns to May, Cothran is again on the backstretch, preparing for a Kentucky Derby?