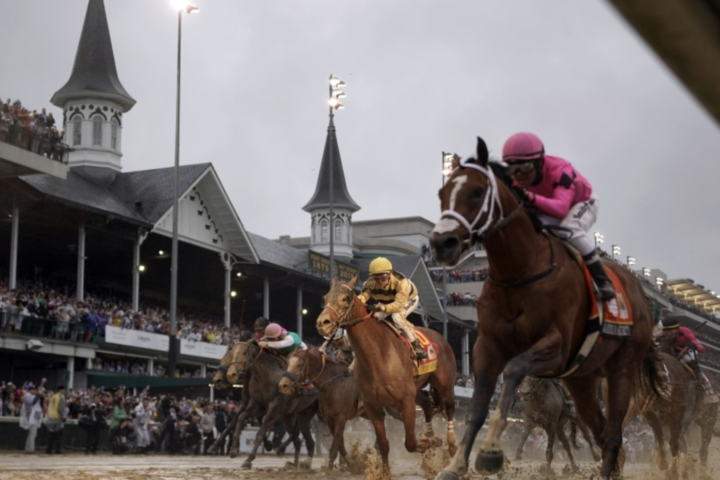 Column: Horse racing dominoes falling after Kentucky Derby postponement
By BRYCE MILLER COLUMNIST 
The last time the Kentucky Derby did not run on the first Saturday in May was 1945. Then as now, fear and uncertainty raged globally as the masses came to grips with an unsettling reality.
Disquieting déjà vu, far beyond Churchill Downs.
"That was during a world war," said Aron Wellman of Rancho Santa Fe, a Breeders' Cup board member and part owner of contender Independence Hall with Eclipse Thoroughbred Partners. "Literally, a world war."
When it was announced the Derby would move to Sept. 5 — the ultimate wait-and-see during a pandemic with questions the heavy betting favorite over answers — it triggered more than erasing the "first Saturday in May" tradition.
What about horses with training schedules designed for them to peak in a month and a half? What about the order of the Triple Crown races? Will the major prep races on the horizon — the Louisiana, Florida, Santa Anita and Arkansas derbies, along with the Wood Memorial and Blue Grass — go on as scheduled?
If those races are canceled or postponed, what havoc would that wreak?
And the biggest what-if of all: If the virus refuses to release its stranglehold, is it possible there would be no Derby at all in 2020 — something unprecedented in 145 runnings dating to 1875?
"We feel confident that we are going to run the Kentucky Derby and we are going to run it with a crowd," Churchill Downs CEO Bill Carstanjen said during a conference call. "The Kentucky Derby is a participatory event. Its energy and its magic really comes from everyone participating and being there to enjoy it. We're going to make it happen.
"This race has happened 145 years in a row, and it's going to happen 146."
Unease remains.
Decisions today, wilting like late-season flowers the next. Nothing on the mainstream sports calendar, other than horse racing without fans, has survived the viral onslaught. The Masters? Boston Marathon? Major sports leagues? All on pause.
Imagine Churchill Downs on May 2. No sea of floral hats. No sea of mint juleps. No seeing, period. The sights, erased. The sounds, muted.
Instead of 150,000 people smiling, some stumbling, all emptying wallets and purses for a fresh drink, a new T-shirt or the long shot that's about to change everything, the iconic twin spires will fall silent.