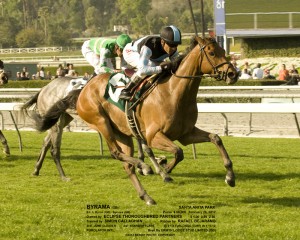 Byrama Tries To Get Over The Hump In Manhattan Beach Stakes
Byrama has a 1-2-2 record from 5 starts since being imported to California by Eclipse Thoroughbred Partners last summer. On Saturday, she'll have a golden opportunity to balance her record out in the $70,000 Manhattan Beach Stakes scheduled to be run at 6 furlongs on the Hollywood Park greensward.
Simon Callaghan will provide a leg up to the only jockey who has won on Byrama stateside, Rafael Bejarano, on Saturday afternoon. He will pilot Byrama from post 1 versus 6 other sophomore fillies dashing on the lawn in La La Land. Post time for the Manhattan Beach Stakes, which goes as the 6th race on the card, is 1:38 pm PT, 4:38 pm ET, at which time Byrama will spring from the starting gate as the likely betting favorite, which also means she'll have a target on her back. A baby blue and black target, that is.
"Byrama has never disappointed us," Callaghan acknowledged. "She goes out there every time and makes a wonderful representation of herself. She's been a bit unlucky in a few spots, but she keeps firing away and she's certainly worthy of winning a Stakes. She's trained brilliantly well for this and it would be a well deserved honor for her to earn a Stakes win. We're pleased with her form as well as the draw and if Rafa (Bejarano) can manage to give her a clean trip, we do believe she'll take a lot of beating."
Byrama will have to have her running shoes on if she is to pose for photos after theManhattan Beach.
Eclipse President, Aron Wellman offered, "Our sole focus for Byrama's current campaign is posturing her for winning a Stakes race, as it would really be a feather in her cap to have a Stakes score to go along with her already impressive and important Graded and Listed black type. She's a talented and honest filly with a tremendous attitude and a monster turn of foot."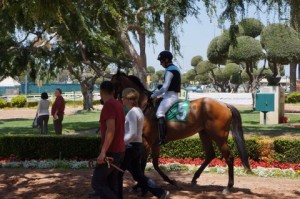 "Byrama has been able to compete at the highest levels in her division in So Cal at route distances, but her explosivity might just be at its prime when allowed to run sprint distances," Wellman opined. "She's run some terrific races for us, but perhaps her most brilliant display of acceleration came when she ran down the hill. We are hoping for a similar set up and performance out of her on Saturday.
"We have the utmost confidence in Rafael, as he knows her and he has impeccable timing and our filly is training great," Wellman said. "This is the kind of race where execution will be key. We're going in respecting our competition, but also with confidence and conviction that Byrama is the best filly in the race and we just hope things play out the way we think they might."
As for the way he sees the race playing out, Wellman prognosticated, "We've got a terrific post position, so depending on how she comes out of the gate, Rafael can call his shot. There looks to be plenty of speed in the race, which will allow Byrama to settle naturally off the pace. Depending on how fast they go in front of her she can either sit closer while covered up, or lag behind. Either way, if Rafa has a good hold on her and she's kind into the bridle, the hope is that he can let her see daylight at the top of the lane and mow 'em down."