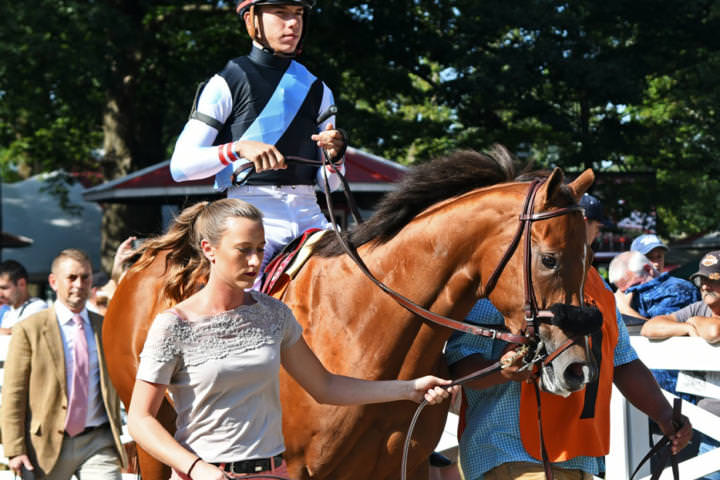 Bridlewood Training Taking Off With Thomas
By Brian DiDonato
SARATOGA SPRINGS, New York–As a former assistant to top conditioners Todd Pletcher, Christophe Clement and Dale Romans, and now trainer at Bridlewood Farm since billionaires John and Leslie Malone acquired the historic Florida nursery in 2013, Jonathan Thomas has had his hand on plenty of big winners up at Saratoga. In Wednesday's, GII With Anticipation S. he'll run one in his own name in the form of Bob LaPenta's promising Catholic Boy (More Than Ready).
The colt was a fast-finishing debut winner going 7 1/2 grassy furlongs at Gulfstream Park July 20 (video) one of 11 victories enjoyed by Thomas and his team at Bridlewood this season from 42 starters (26%).
"I actually bought him as a short yearling," Thomas said of Catholic Boy, who was acquired privately after he RNA'd for $190,000 at last year's Keeneland January sale. "He was kind of a two-turn, growthy colt who seemed like he might benefit from an easier jurisdiction. He trained up to his debut organically and, to be honest, we weren't expecting him to jump up and win, but we were certainly happy with it."
Thomas, who was born and raised on Paul Mellon's famed Rokeby Farm in Virginia and who is a former steeplechase jockey, is pleased with how Catholic Boy is doing entering this major class test.
"He's been training well," said Thomas. "We brought him up to Saratoga early and let him have an easy work over the turf (4f, :51, 32/54 on the Oklahoma Aug. 25) with [rider] Manny [Franco]. I've been really happy with how he's handled the surroundings, and he's paddock schooled great, gate schooled well. But, obviously, when you come to New York, it's a lot tougher competition, obviously."
And Thomas knows more about Catholic Boy's competition than most trainers would. He also broke With Anticipation hopeful Earth (Orb) for one of his main clients, Aron Wellman's Eclipse Thoroughbred Partners. Turned over to Pletcher, the dark bay graduated narrowly first out Gulfstream going five furlongs on the lawn, and was a well-beaten third at odds-on in Monmouth's Aug. 6 Tyro S.
"Earth was always a very, very clever horse," Thomas said. "He picked up on training very early. He had very good instincts. He's a horse who we thought if he got to the races early enough, he was definitely the sort who would win first time out. He was just light on his feet, a quick study."