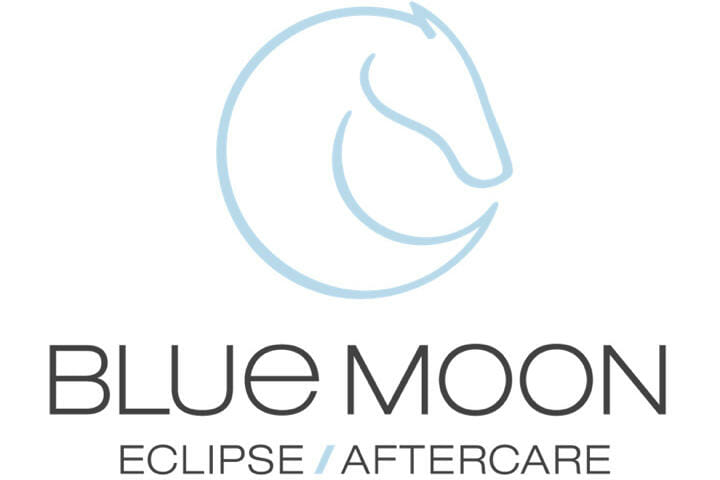 Blue Moon 2022 Happenings
2022 was another banner year for Eclipse Blue Moon Aftercare.  Eclipse's in-house Aftercare Program was once again busy helping retired Eclipse horses, 3rd party thoroughbreds in need as well as participating alongside our top industry charities.

For those partners who are new to Eclipse, Blue Moon Aftercare, which was launched in July of 2018, is essentially a 401k to ensure the safety of our past and present horses that need to be retired.
Thanks to our partners, who make a contribution to Blue Moon every time an Eclipse partnership is formed, which is matched by Eclipse, Blue Moon has devoted significant funds towards meaningful causes, including donating to relevant charitable organizations, claiming horses in "danger zones" and also responsibly retiring numerous horses to Thoroughbred Aftercare Alliance accredited facilities.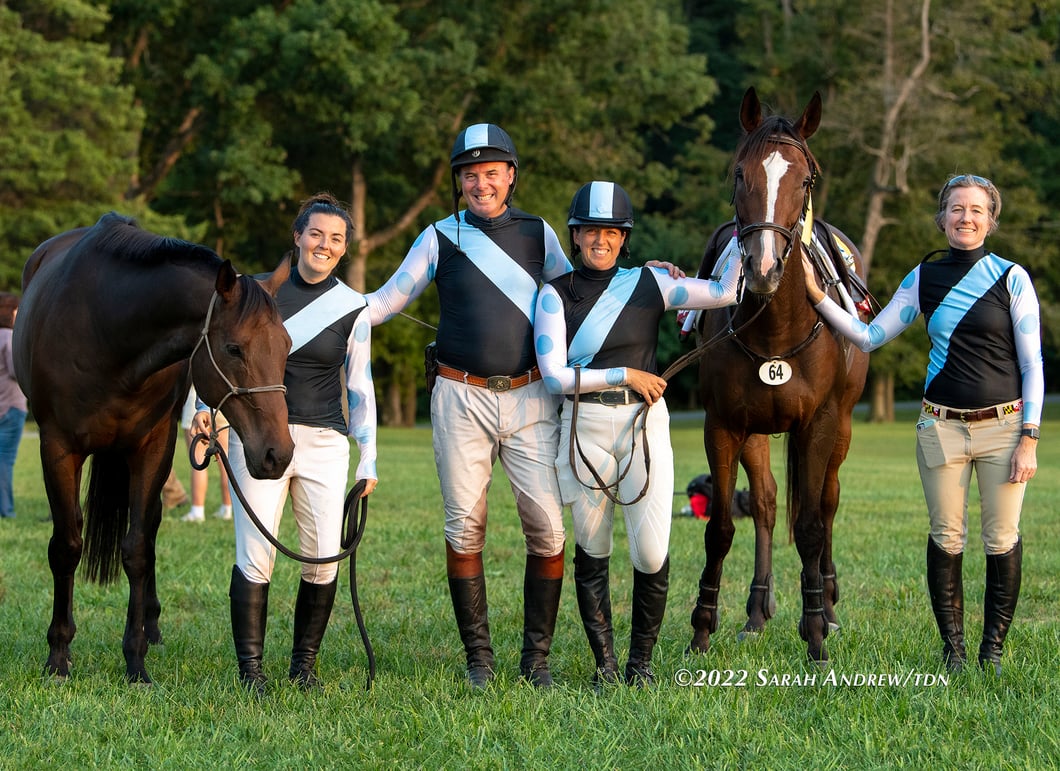 Here's a look at what Blue Moon was able to accomplish this in 2022:
Retiring Our Horses
Exact, a filly by Competitive Edge, won 3 races for Eclipse and was claimed from us in July 2021. We continued to keep a close eye on her but after bouncing around to several tracks and trainers, Eclipse and Blue Moon Aftercare decided to put in a claim to retire her at Charles Town for $5,000.00. Exact ran last in that race but it was a successful claim for us. She was claimed with the help of a local trainer who has helped us in the past with several other Eclipse horses. Exact went to New Vocations in Lexington, KY where she is currently waiting to be put up for Adoption. She is a quick learner and easy to please!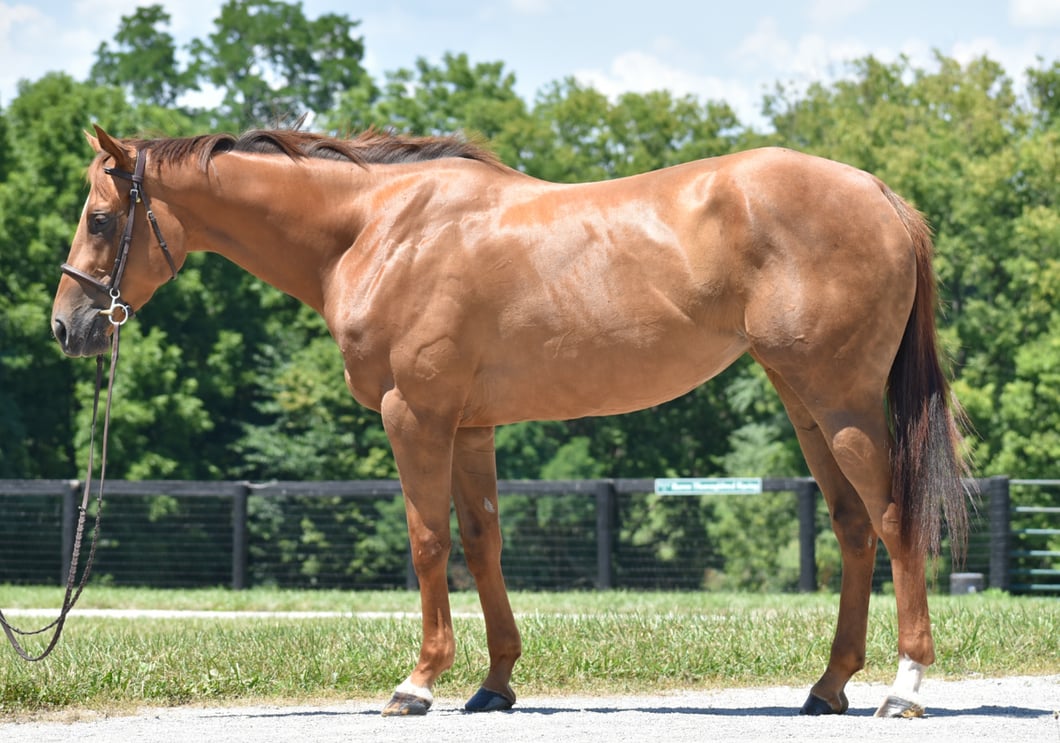 American League, a 2015 2-Year-old in training purchase at March OBS, had raced 79 times at 14 tracks in 7 states and 2 countries with a total of 13 wins. We had followed him for a while and had many eyes on him throughout his journey but when he ended up in Canada running for $2,500 at 9 years old, we knew we had to bring him back to the US. It wasn't an easy task to find someone to help us at Assiniboia Downs in Manitoba, but low and behold a friend of a friend was up for the challenge. After a successful claim, the next hoop to jump through was finding a van to Kentucky. After waiting about a month, American League made the journey to the states. He has settled in well at New Vocations where he is affectionately known as "Bill". We hope Bill gets the home he rightfully deserves. You can see his profile here:
https://newvocations.org/horse_detail/835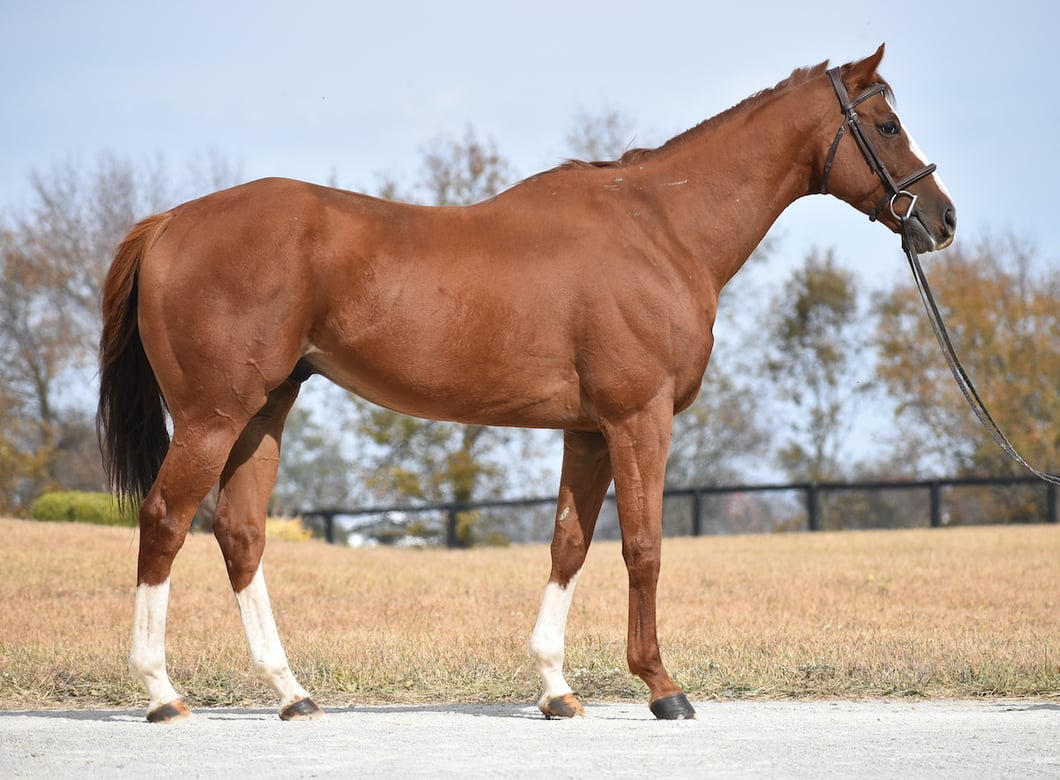 Quick Time, an Import from Europe, was claimed back by Blue Moon this past July with the help of Eclipse trainer, Frank Lucarelli. She entered the CARMA program in California where she went to CANTER to find her new home. The farrier at the facility fell in love with her and decided to adopt her himself. We love happy endings like this one!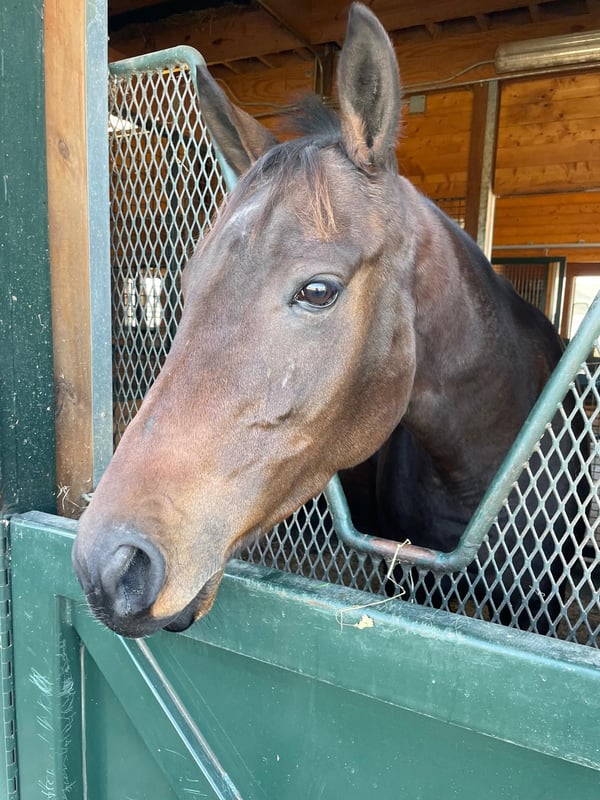 Corresponder, an Eclipse homebred out of our mare, Capriana, was claimed from Eclipse in March at Turfway Park. In June, we received a call from her former trainer and my father in law, Scooter Hughes, saying that we might want to claim her back. He had some friends/trainers of his watching her for us and thought it was probably in her best interest and we agreed. She was in for $4,000 at Mountaineer and with the help of Scooter and two local trainers, we were able get her. She needed some attention to her feet and some groceries. While she waiting to go to New Vocations, she quickly captured hearts with her sweet presence and love for attention and mints. She is now at New Vocations in Lexington where she currently up for adoption. She is patiently waiting for Santa to fill up her stocking as seen in this cute video: https://youtube.com/shorts/7mQc9ljLuLc?feature=share
You can see her adoption profile here:
https://newvocations.org/horse_detail/840
Hieroglyphics was a stakes winner for Eclipse in the Better Talk Now at Saratoga in 2017. After being claimed from us, he ran 33 more times with 7 more wins. He ran for a varied number of claiming prices but when it came to a $6,000 tag, Eclipse and Blue Moon wanted to retire him to make sure he was safe and sound and could go on to a second career. After we were able to secure him at Meadowlands, he came back to his old stomping grounds at Todd Pletcher's barn at Belmont, where he had a few easy weeks until there was a van to Kentucky. He is now at New Vocations where he is getting some time off.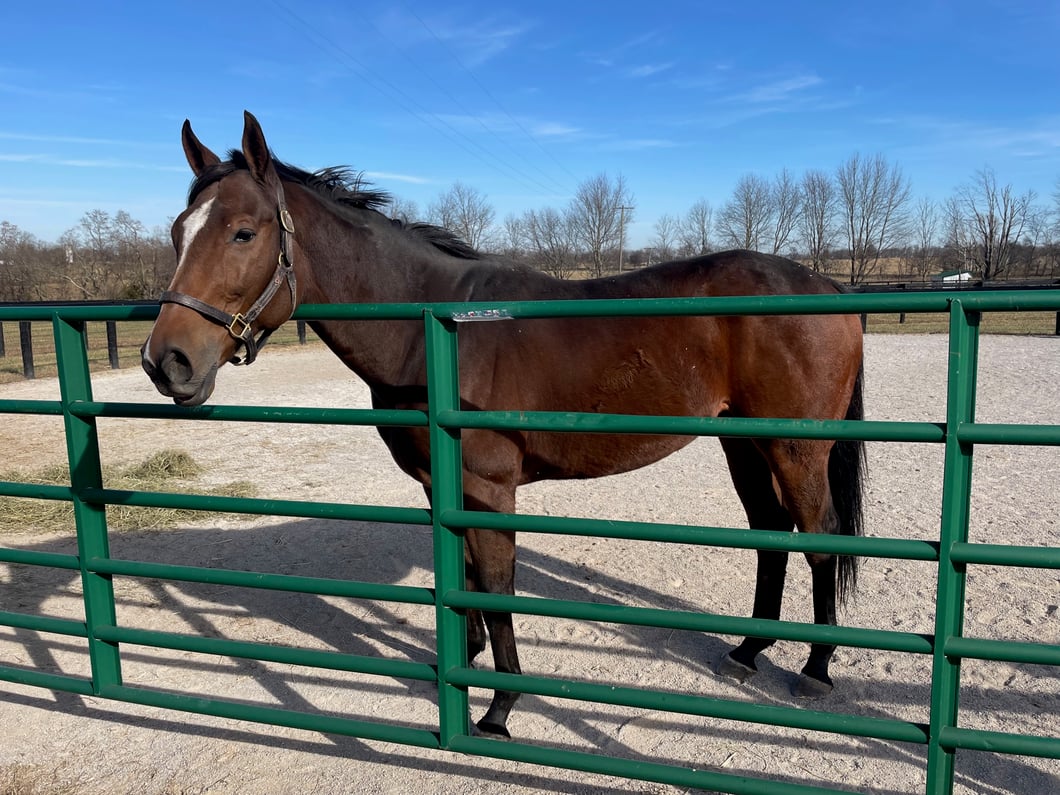 Several other Eclipse horses have been retired this year and have gone to CARMA, New Vocations or Second Stride, including Two Socks, Lea/Capriana '21, Thrive, Nocturnal and Mubarmaj. We are grateful to these wonderful organizations who help our Thoroughbreds transition from the racetrack to new careers while providing safe, forever homes. Retirement from racing for many of these Thoroughbreds is just the beginning and it is our duty, our responsibility and our passion to ensure that we look after them as best we can even when they can no longer race. We are always watching our former horses and have our eye on a couple to hopefully help retire in 2023.
Update on Past Horses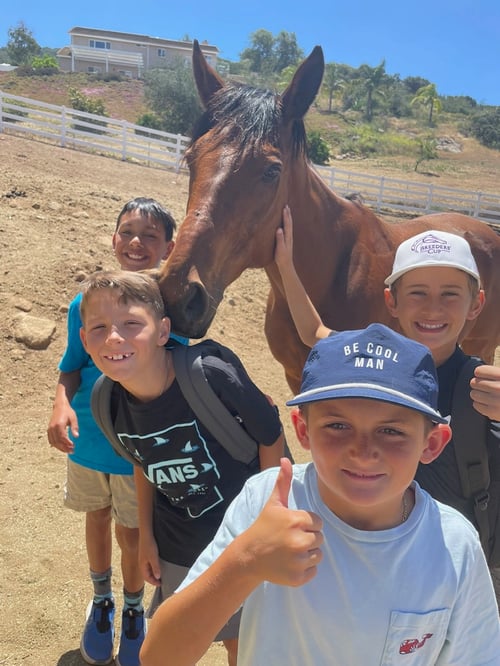 Ohio, a Grade 1 winner of the $400k Frank E. Kilroe Mile at Santa Anita in 2019 is now a lesson horse at Lucky Kid Farm in East County San Diego. Lucky Kid Farm is owned and operated by Maggie House, daughter of Michael House, who is our partner on Nest. He is patient and kind to all that are around him. He will forever be part of the Eclipse family. Here is Ohio and his crew wishing Nest good luck in the Oaks!
Curlingo is Todd Pletcher's full time barn pony at Belmont Park. He has accompanied Eclipse's own Multiple Grade 1 winner, Nest, to the track in the morning, as well as Malathaat, Life is Good and Forte. Curlingo enjoys grazing in the sun and lots of mints! Here are a few clips of him in action with Malathaat and Jouster: https://youtu.be/LQRHaj9HyB4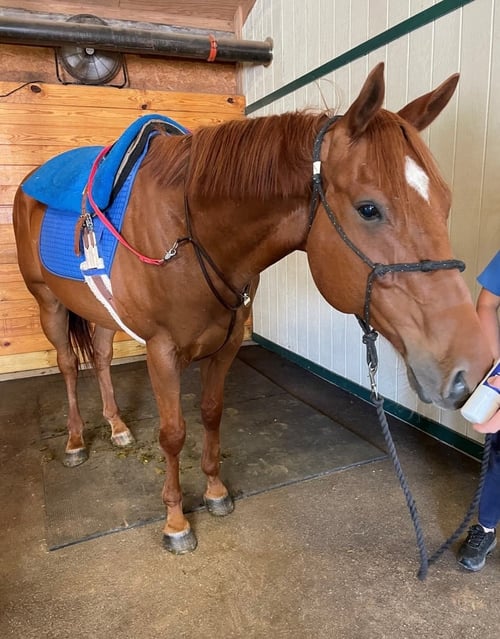 Courage retired at the beginning of 2021 to New Vocations and was adopted by the Central Kentucky Riding For Hope, where they are dedicated to enriching the community by improving the quality of life and the health of children and adults with special physical, cognitive, emotional and social needs through therapeutic activities with the horse. Below are the adopter comments on how thrilled they are to have him. You can learn more about their program at this link: https://www.ckrh.org/
"Thank you so much for the opportunity to adopt Courage. We all absolutely love him and think he is going to be a great asset to our program! He is beginning his first mounted lessons soon and we are so excited!"
Blue Moon Mama Updates
Camorra was claimed back by Blue Moon in 2020 and has really settled into broodmare life at Stone Farm in Paris, Kentucky. After unfortunately losing her Coal Front Filly earlier this year to colic, she is currently in foal to Eclipse's own Independence Hall.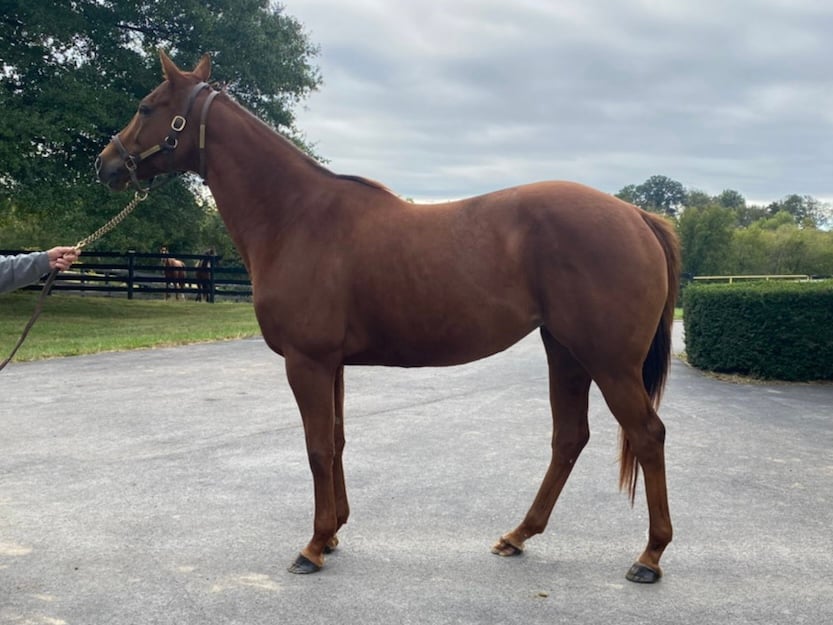 Speakers, our CA-Bred filly that was in a rescue situation in 2020, has a rockstar foal by Sir Prancealot at Checkmate Thoroughbreds in California. She is currently in foal to Halladay, a Grade 1 winner by War Front that was trained by Todd Pletcher.
Whisk was another rescue situation we first told you about in 2020. She now lives at Stone Farm where she has had a Mizzen Mast filly named Ladle who's currently being broken in Ocala by Susan Montanye, a Mr. Speaker filly and is in foal to Independence Hall. Here is a photo of her 2-year-old filly, Ladle, who is in Ocala with Susan Montanye at Winding Oaks. We are looking forward to seeing her hit the track!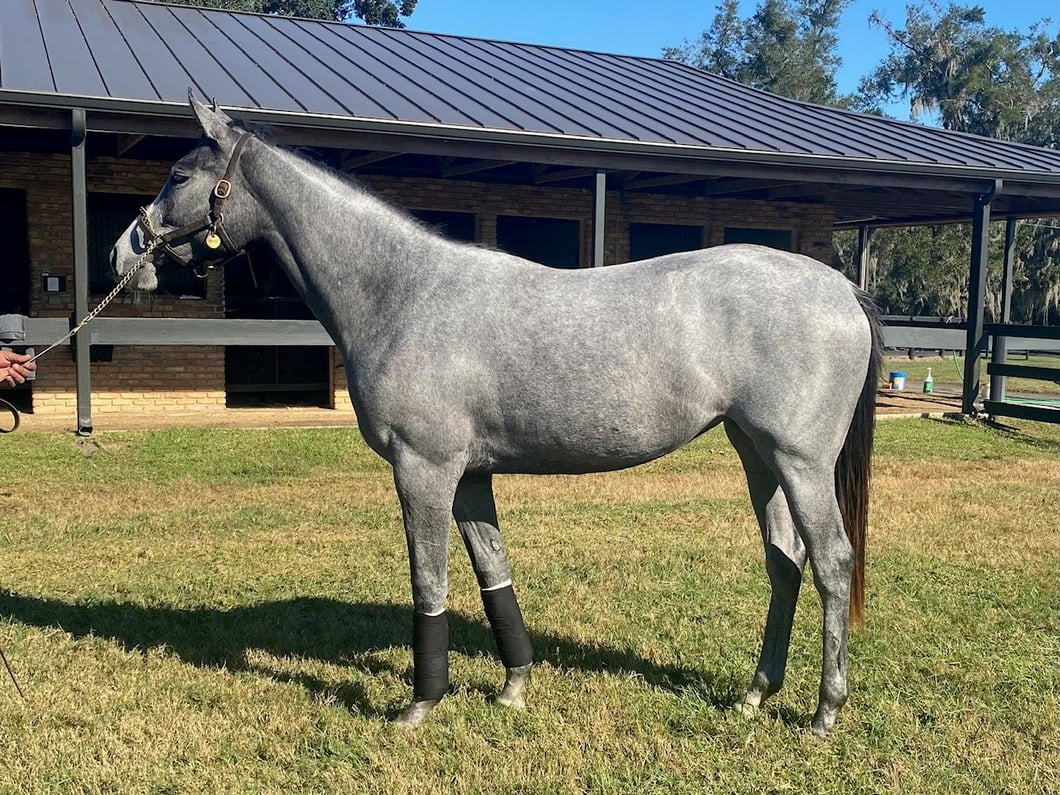 Charity
Since 2018 Blue Moon has donated over $90,000 to several charitable organizations, including the Thoroughbred Aftercare Alliance, Thoroughbred Retirement Foundation, New Vocations, CARMA, Second Stride, New York Racetrack Chaplaincy, The Jockey Club Safety Net Foundation and The Real Rider Cup. We are proud to be able to do our part to keep the industry's horses and human participants who make it all possible safe and healthy on and off the track.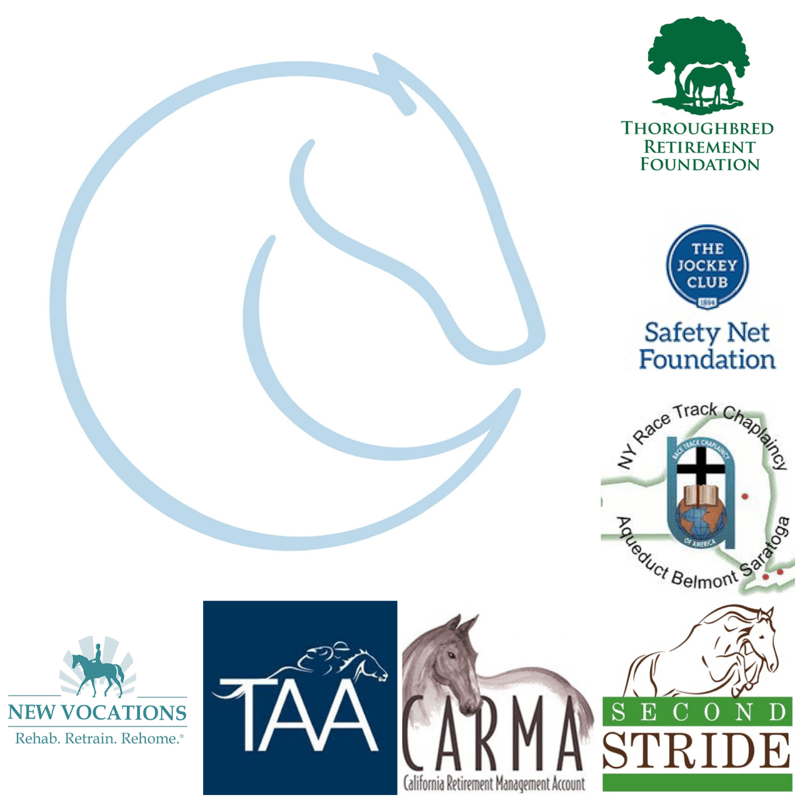 Thank you to all our partners who believe in our program and support the aftercare of our horses. We couldn't do this without all your generosity and for always having your priorities and hearts in the right place! If you would like any suggestions on the different aftercare organizations to donate to this holiday season, please don't hesitate to ask!
Happy Holidays!
Kelsey