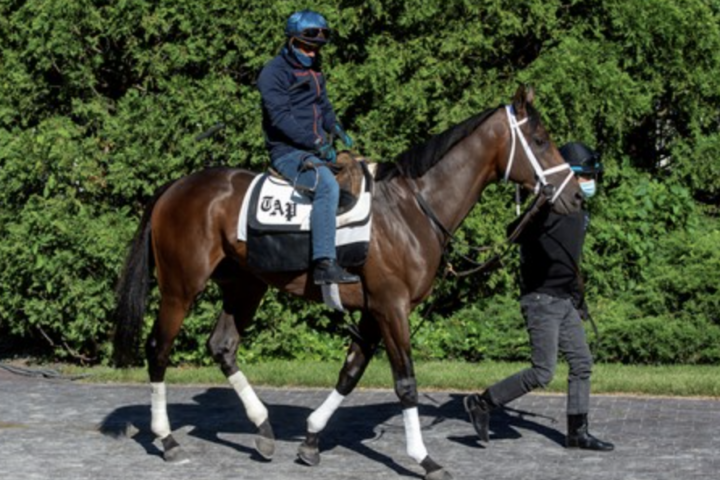 Belmont Stakes Goes From Longest Classic to Shortest
By Bob Ehalt BloodHorse
All it takes is one glance from afar of the Belmont Park oval to understand why the Belmont Stakes (G1) is known as "The Test of the Champion."
No other American racetrack can match its size and scope, with its 1 1/2-mile circumference, wide sweeping turns, and long, demanding backstretch run.
That challenging distance can take a huge toll on a young 3-year-old, and it is those 12 furlongs that have on 22 occasions (excluding the injured I'll Have Another ) presented the final roadblock that prevented some high-quality dual classic winners, such as Spectacular Bid, Alysheba, Sunday Silence, Smarty Jones, and California Chrome , from joining the ultra-elite roster of Triple Crown champions.
Ever since 1926, including five years when construction at Belmont Park caused the race to be contested at Aqueduct Racetrack, the Belmont Stakes has been a 1 1/2-mile battle of speed, stamina, and will. Yet due to the COVID-19 pandemic and the widespread cancellation of racing and major 3-year-old preps across the country in March and April, that tradition will be interrupted June 20 when the 152nd edition of the $1 million Belmont Stakes will open a temporarily restructured Triple Crown at a one-turn 1 1/8-mile distance.
The move, turning the longest Triple Crown race into the shortest of the three, was understandable, given how there has not been a major prep for 3-year-olds beyond the 1 3/16-mile distance of the March 21 Twinspires.com Louisiana Derby (G2), yet the change to nine furlongs has drawn some mixed responses from horsemen involved in the American classic.
Barclay Tagg, the trainer of the strong favorite for Saturday's race, Sackatoga Stable's Tiz the Law, would have preferred at least a 1 1/4-mile distance.
"I was upset that they changed the distance," Tagg said. "I know why they did it, but I would have preferred if they kept it at least a mile and a quarter, so it's at a classic distance."
Aron Wellman, the founder and president of Eclipse Thoroughbred Partners, would have been delighted if the Belmont Stakes remained at its traditional 1 1/2-mile trip but admits that was strictly for personal reasons. In probable Belmont Stakes starter Farmington Road, who is trained by Todd Pletcher and also owned by Robert LaPenta and Chrysalis Stables, Wellman has a closer who figured to thrive with added furlongs.
"Ever since Farmington Road walked into Todd's barn as a 2-year-old, we really pegged him as a Belmont Stakes horse, and by that I mean the 12-furlong Belmont Stakes we all know," Wellman said. "We're disappointed because the mile and a half is a real separator for 3-year-old colts. I thought that would be his biggest advantage, the 12 furlongs. We're still very much looking forward to a nine-furlong edition of the Belmont Stakes. We would have preferred a mile and a half, but we're still going in with quiet confidence that we can sail in under the radar and he can make his presence felt."
While some may have preferred a longer distance, several factors went into the change that made the one-turn, 1 1/8-mile distance the optimum choice.
The main problem with 1 1/4-mile dirt races at "Big Sandy" is that they start on Belmont Park's sweeping clubhouse turn, and an outside post in a large field could pose a huge disadvantage. While the Jockey Club Gold Cup (G1) is run at that distance, the fields for that stakes have averaged just six runners in its past five editions.
Given how the May 2 Arkansas Derby (G1) was split into two divisions, in advance planning for moving the Belmont Stakes from its original June 6 date, a large field seemed inevitable, and New York Racing Association senior vice president of racing operations Martin Panza wanted to eliminate the chance of bad posts coming into play in a Triple Crown race.
"A mile and a quarter isn't really a favorable start at Belmont Park, so we didn't want to put a favorite in the 12 post and have his run into the turn jeopardized. It made sense to make it a mile and an eighth. You have a long run to the turn with everyone getting a fair trip no matter what post they get," Panza said. "At the time, it was the best we could do."
As it turned out, a field of about 10, instead of the maximum 16, seems likely for the race, but Pletcher, who will send out Farmington Road and St. Elias Stable's Dr Post, is fine with the nine-furlong distance.
"I think given the circumstances this was the best choice. A mile and a half wasn't going to fit many horses at this stage. It was the right move," the three-time Belmont Stakes winner said. "Who knows what they would have done if they knew there was only going to be (10) horses? It's hard to predict something like that. It's the nature of the beast."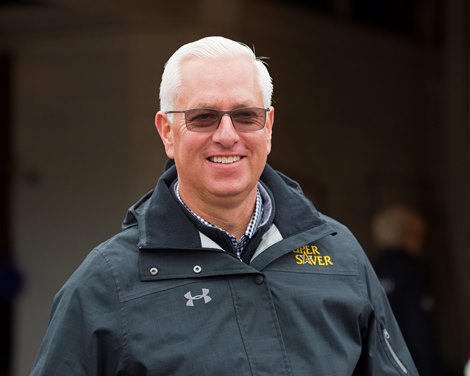 Trainer Mark Casse, who will send out Live Oak Plantation's Tap It to Win, called it a "no-brainer" to run the Belmont Stakes at nine furlongs.
"If the Belmont Stakes was at a mile and a half, the field would not be as good or big as it is," said Casse, who won last year's Belmont Stakes with Sir Winston. "Hey, whatever you say about the field, they have the best 3-year-old in the country (in Tiz the Law). This distance was a big a factor for me in running Tap It to Win. To me, it was a no-brainer to make it a mile and an eighth."
When Belmont Park reopened in 1968, 1 1/4-mile races were contested out of a chute and run at a one-turn distance, much like the 1 1/8-mile and 1 1/16-mile races. But that setup was used infrequently and was scrapped in the aftermath of the 1 1/4-mile 1975 match race between Ruffian and Foolish Pleasure when Ruffian suffered a fatal injury in the early stages of the race.
The Breeders' Cup has run the Longines Breeders' Cup Classic (G1) at a 1 1/4-mile distance on the turn during its four visits to Belmont Park, often eliciting an angry response from horsemen who landed outside posts in a large field.
During the 2001 Breeders' Cup at Belmont Park, the favored Aptitude landed post 12 in a field of 13, prompting trainer Bobby Frankel to storm out of the draw, describing the positioning of the starting gate with words ill-suited for print.
Aptitude, the 2-1 betting choice, finished eighth, drawing a comment of "Aptitude was strung out seven wide along the backstretch" in the Equibase chart.
Yet all in all, regardless of the distance, the lack of fans, or the two-week delay from its original June 6 date, there's no doubt that in a year marred by a pandemic, all the participants are happy to have the chance to run in a $1 million Triple Crown race.
"There will be some deviation and changes," added Wellman, whose group was a part-owner of the 2017 Belmont Stakes winner (with LaPenta and Bridlewood Farm), the Pletcher-trained Tapwrit , "but compared to the alternative, which is not having the Belmont Stakes at all, everybody that lines up and runs in the race should feel very fortunate to be there in that position. I tip my hat to everyone at NYRA and (the New York Thoroughbred Horsemen's Association) and all the powers that be that worked so hard while being in the eye of the storm during the coronavirus spread. When people work together and there's good leadership, great things can happen."