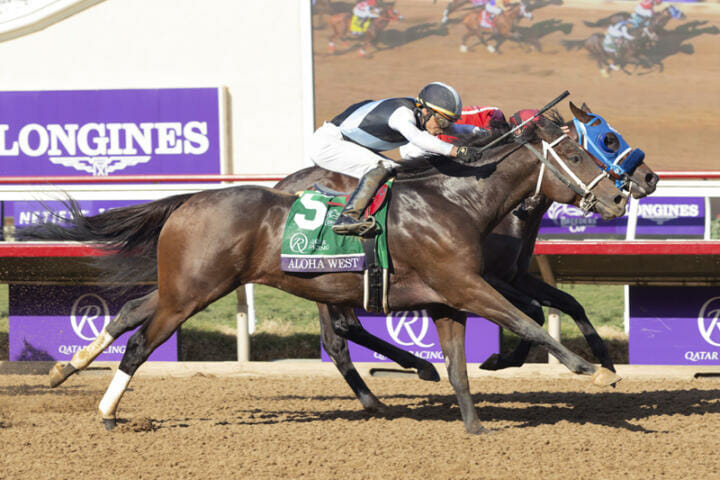 Aloha West Edges Dr. Schivel in BC Sprint Thriller
By Tracy Gantz BloodHorse
Jose Ortiz doesn't ride at Del Mar regularly, but that doesn't stop him from winning there. As the finish line loomed in the Qatar Racing Breeders' Cup Sprint (G1), Ortiz kept scrubbing on Aloha West . The gallant little colt was flying from sixth, laser focused on leader Dr. Schivel . The question was, could Aloha West get there in time?
Dr. Schivel never gave up, but neither did Aloha West. Aloha West drew even with the leader, and the two raced together right to the wire. It would be not a nose bob but a nostril bob, and Aloha West's nostril got the job done.
"I just ride hard, three or four jumps to the wire," said Ortiz. "I thought I had it, but I wasn't sure."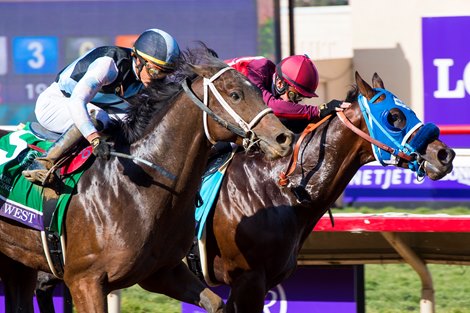 The six-furlong Sprint can be a duel for speedsters, and this year Jackie's Warrior  was considered the fastest, accounting for his 1-2 favoritism. He zoomed to the lead at the start, just as expected, but Special Reserve  and the Japanese horse, Matera Sky , were right there with him.
Dr. Schivel lurked in fourth, waiting for his opportunity, while Aloha West raced farther back in seventh as Jackie's Warrior clocked the first quarter-mile in :21.91. Around the turn, Dr. Schivel moved up on the outside of the first three, and he caught leader Jackie's Warrior when they turned for home.
Just as Dr. Schivel put away the leaders, Aloha West came hard, charging on the outside. Aloha West closed ground relentlessly, gamely never giving up, to score about as narrow a victory as possible without a dead heat. Dr. Schivel finished second, 1 1/2 lengths ahead of Following Sea . Favored Jackie's Warrior faded to sixth. Aloha West completed the six furlongs in 1:08.49.
Trainer Wayne Catalano liked what he saw.
"I liked where we were early in the race, and the head-bob was a tough one," he said.
For the Aron Wellman-led Eclipse Thoroughbred Partners, which owns Aloha West, the Sprint marked the best way ever to celebrate 10 years of racing. Those in this particular partnership range from longtime owners to first-timers, and they all must have brought a bevy of friends to swamp the winner's circle.
"This is surreal," said Wellman, Eclipse's president. "This is my home track—I just live five minutes down the road."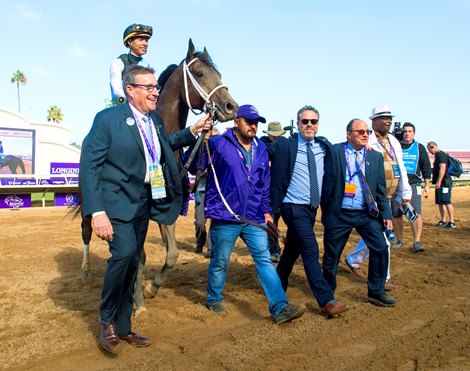 Wellman immediately turned to Catalano and began heaping praise on him.
"This guy is a treasure," Wellman said. "He has done an incredible job developing this colt. (Aloha West) only ran for the first time in February this year as a 4-year-old, and 10 months later he's a Breeders' Cup Sprint champion. That takes master horsemanship to be able to accomplish something that monumental."
Catalano was winning his fourth Breeders' Cup, following Dreaming of Anna  and She Be Wild  in the 2006 and 2009 Breeders' Cup Juvenile Fillies (G1), respectively, and Stephanie's Kitten  in the 2011 Breeders' Cup Juvenile Fillies Turf (G2T). Eclipse has also had success in the Breeders' Cup, winning the 2019 Breeders' Cup Juvenile Fillies Turf (G1T) with Sharing , owned in partnership with Gainesway Stable.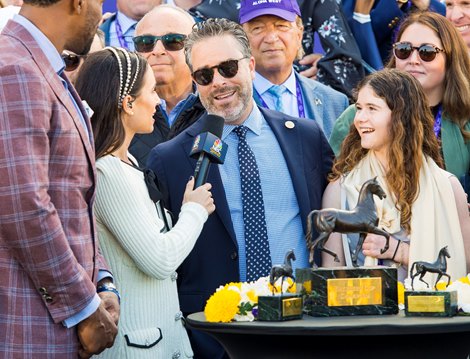 Robert Manfuso and Katharine Voss bred Aloha West, a son of Hard Spun  —Island Bound , by Speightstown  , in Maryland. Ben Glass as agent bought the colt at the 2018 Keeneland September yearling sale for $160,000 from the Nursery Place consignment.
Aloha West made his first career start as a 4-year-old at Oaklawn Park Feb. 7, winning by three-quarters of a length for owners Gary and Mary West. In his second start, he ran into all kinds of trouble and finished fifth.
"I talked to Wayne shortly thereafter about a horse I was sending him," Wellman recalled. "I said, 'What about that horse Aloha West, that horse that ran sneaky good?' He said, 'That horse can run.' I bought some horses off the Wests in the past that have similar profiles because their program is predominantly geared toward the (Triple Crown races). This is a horse that had missed his 2- and 3-year-old season, so for them, with the kind of volume that they have, he's the kind of horse that they need to turn over to make sense of their operation."
Eclipse bought Aloha West privately, and the colt made his third start, at the Keeneland spring meeting, for Eclipse, finishing second. In his second start for Eclipse, May 22 at Churchill Downs, Aloha West won an allowance race by five lengths.
Fourth in the June 25 Kelly's Landing Overnight Stakes at Churchill, Aloha West then had a splendid Saratoga meeting. At the Spa he won back-to-back allowance optional claimers.
That still didn't necessarily scream Breeders' Cup. Then came the Oct. 8 Stoll Keenon Ogden Phoenix Stakes (G2) at Keeneland. Special Reserve won the race, but Aloha West employed the same style he would a month later, coming from far back, this time just missing by a neck.
Aloha West continued to improve in his training, prompting Catalano to confer with Wellman. Aloha West worked a half-mile at Keeneland in :47 1/5 Oct. 19, and Catalano said something momentous to Wellman: "This might be the best horse I've ever had my hands on."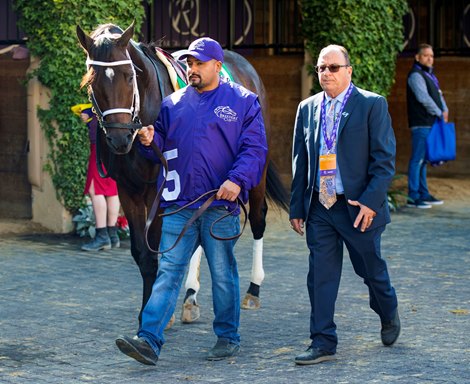 Wellman was impressed because, as he explained about the trainer, "This man has had his hands on some pretty serious horseflesh in his day. So we were coming in here with all kinds of confidence."
That confidence was well placed, but after the race, Wellman was in awe, saying, "He never even won a stakes race, so to do what he did today is just magical."